An ultra-light face cream
This organic and 100% natural day face cream boosts skin hydration thanks to a gentle, non-greasy formula. Vegan and certified organic, it contains nutrient-rich avocado oil that helps plump skin to better reduce the appearance of fine lines. Thanks to its high content of plant compounds called polyphenols, this day cream transforms tired and stressed skin. Manuka flower oil helps restore a flawless complexion. The pleasant scent of sweet almond and vanilla awakens the senses.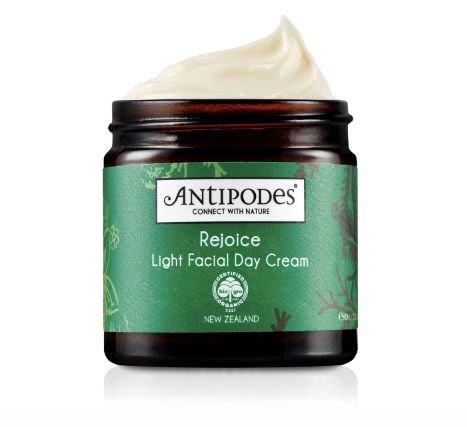 Face cream – ANTIPODES – 35€
• An organic micro-peeling in the form of foam
Based on gemmotherapy, the science of buds, Biovive has developed a range of certified organic and vegan skincare products, with scientifically proven regenerating and anti-aging properties from 3 days of application.
If you have a dull complexion, dilated pores and uneven skin texture, get a makeover with the new 100% skin-friendly organic peeling treatment. Enriched with extracts of mini-apples, this treatment makes the skin fresher and more luminous and gives you an immediate new skin effect.
Universal micro-peeling mousse – BIOVIVE – €24.95
• A good-looking dry oil
It was after a great meeting with a local salt worker from the Ile de Ré that Virginie and Oliver Matharan had the click and decided on Biosalines, their beauty brand inspired by local biodiversity. Doctor of pharmacy and already convinced by the powers of nature, Virginie has thus worked on the development of natural formulas enriched with ingredients from the ocean and the coast of the products, all in a "Clean Beauty" approach. At the heart of the range, a good-looking dry oil, ideal for revealing the radiance of the complexion. Formulated with golden seaweed, brown seaweed with golden reflections, it has been enriched with oily macerate of carrots to provide an immediate healthy glow effect. This illuminating oil with shimmering colors brings radiance and luminosity to the skin. Composed of vegetable oils with recognized moisturizing properties, it is very quickly absorbed and does not leave a greasy film.
Healthy glow dry oil – BIOSALINES – 34,90€
• A mattifying fluid that gives smooth peach skin
At Melvita, the "Nectar Pur" range is the favorite for combination to oily skin. The treatments are indeed designed to free them from anything that clogs the pores and dilates them. Say goodbye to sebum plugs, dust, make-up residue, blackheads and blemishes, the skin regains its smoothness and the complexion is fresh thanks to peppermint essential oil which regulates sebum production, tea tree essential oil which purifies and in aqueous extract of birch which is rich in sebum-regulating zinc. For a smooth and radiant complexion, the mattifying fluid is ideal because its natural pigments mask redness and its rice powder gives a mattified peach skin effect.
Mattifying Fluid – MELVITA – 21,90€
• A light eye contour
Known for its face oil that boosts radiance and which is sold in large numbers around the world, the Paï brand has developed an extremely light cream to soothe the eye contour. Viperine moisturizes without weighing it down and improves the appearance of fine lines. An organic and vegan treatment enriched with argan.
Eye contour – PAÏ – €39.90
• A solid shampoo for dry hair
Divinely scented, 100% natural and vegan, solid shampoos from I Love Bio are a real invitation to pleasure. Surfactant-free and silicone-free, they contain no synthetic preservatives and gently cleanse effectively. In addition to lasting twice as long as a bottle of traditional shampoo, they are perfectly portable and sold in recyclable and 95% recycled cardboard packaging. This formula for dry hair combines macadamia oil known for its nourishing and sheathing properties and moisturizing shea butter which strengthens, softens and restores shine to the hair.
Solid shampoo SOS Dry Hair – I LOVE BIO – €6.20 for 65g
• A face mask to rebalance the microbiota
To support the skin's microbiota, Mademoiselle Bio has developed a range of care products with prebiotics, this super ingredient that feeds the good bacteria and starves the bad ones, which ultimately end up dying. The latest addition to the Balance and Purity range, the Intense Purifying mask which concentrates the benefits of prebiotics, combined with those of key purifying active ingredients such as charcoal, sea mud and white clay to overcome imperfections.
Intense Purifying Mask – MADEMOISELLE BIO – 19€
• A dry cleansing oil
The On The Wild Side philosophy: organic care, 100% natural and wild origin, respectful of the skin and the planet. It's an invitation to get back to basics, reconnect with the wild, and reconcile beauty and simplicity in complete serenity. The brand has developed formulas based on active ingredients from wild harvesting, an artisanal, ancestral and sustainable practice. From a preserved nature, the wild plant grows at its own pace and thus has richer active ingredients than a cultivated plant. The Cleansing Oil, organic and 100% of natural origin, dissolves make-up, including mascara, and impurities. As easy to use as micellar water, it removes make-up without stripping or dehydrating the epidermis, and leaves skin clean, soft, purified and fresh.
Cleansing oil – ON THE WILD SIDE – 36€
• An award-winning organic roll-on deodorant
Did you know that Cien Bio products, Lidl's organic skincare range, are now permanently available in stores? Composed of 97% ingredients of natural origin and ECOCERT certified, they meet the needs of the whole family: shower gel, shampoo, hand cream, micellar water…
At the heart of the range, a freshness deodorant, awarded at the Victoires de la Beauté 2022, which is enriched with Aloe Vera and is very complete despite its very low price.
Organic roll-on deodorant – CIEN – 1,29€
• A natural oil that gives the skin a satin finish
Concocted in the South of France, this oil is 100% natural and contains only 9 ingredients: vitamin E, a natural fragrance and 7 vegetable oils (baobab, almond, flax, sunflower, borage, olive and meadowsweet). It moisturizes the skin and allows it to retain its elasticity and suppleness. Without greasy finish, it allows you to dress directly afterwards, provides a good dose of daily hydration, and leaves the skin supple, soft and satiny. It is noted that it reduces acne-related marks, nourishes dry areas, fades stretch marks and is suitable for pregnant women.
Oil with 7 wonders – ENERGY FRUIT – 12,49€
• A perfect scrub for dull skin
The "Pur Bamboo" range from So Bio Etic includes organic bamboo from a French fair trade sector, a purifying plant capable of filtering polluted water but also freeing the skin of impurities to reveal its radiance. This scrub gently exfoliates, smoothes skin texture, purifies pores, detoxifies the skin and protects against pollution. Result: fresh, clear, unified skin and boosted radiance.
Smoothing scrub – SO BIO ETIC – €8.25
Elizabeth Sall