The creators of textured hair hairstyles finally have a competition at the height of their art, it is the Cantu Curl Awards. In 2022, the third edition will take place and this competition is open to all.
In France, in 2022, there is still no training in styling textured hair, and God knows the misfortunes that can cause, as a hairdresser, but also as a customer. Furthermore, the few hairdressers who know how to handle curls do not have any certificationand are not considered at fair value.
Give visibility to textured hair in the media space with events such as Cantu Curl Awardscan only help advance the collective unconscious towards a normalization of naturally curly, frizzy and frizzy hair.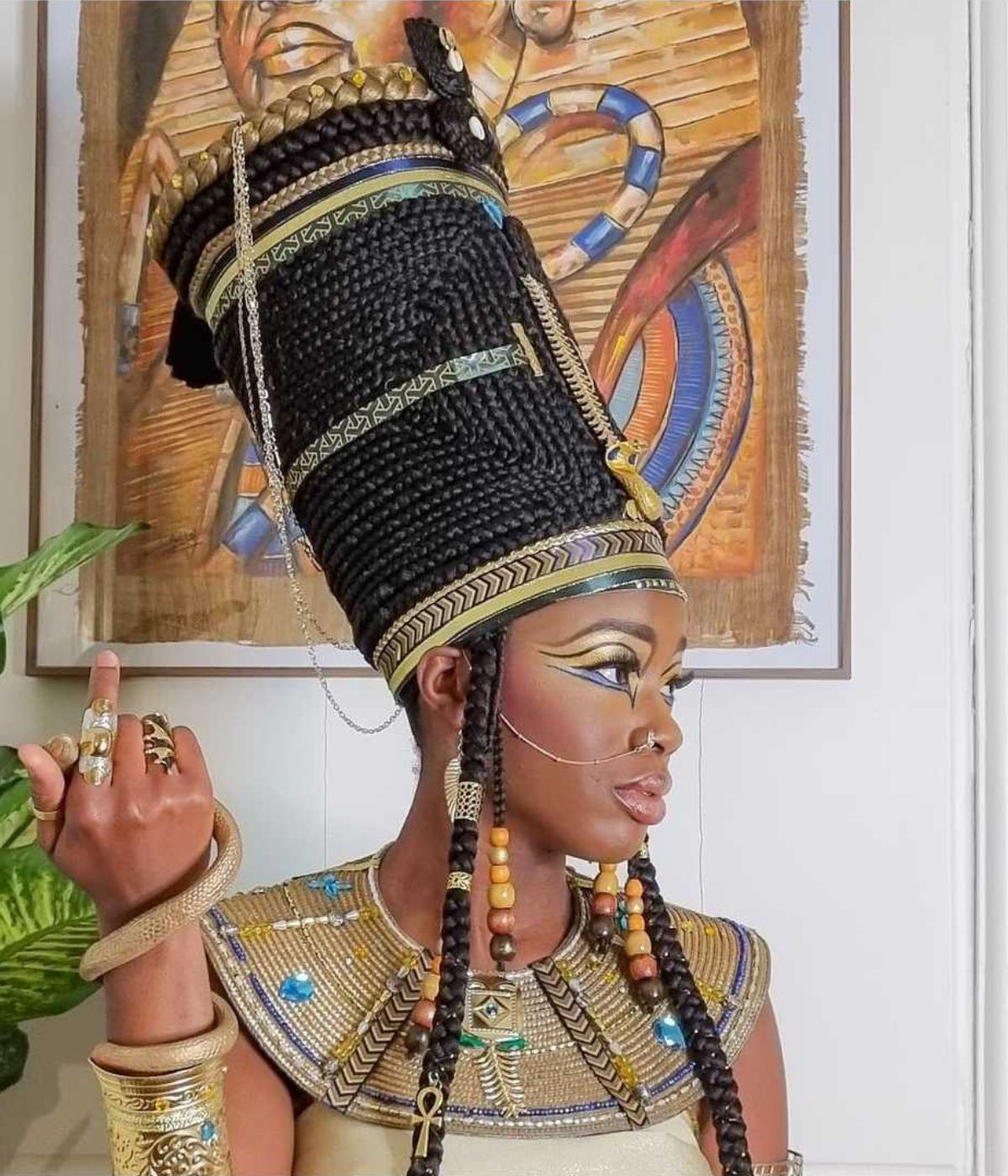 What are the Cantu Curl Awards?
You are passionate about hairdressing, professional or amateur, and you want the world to know about your skills? To register for the only competition in France that praises the artistic creation of textured hair stylistsall you need is an Instagram account.
From September 9 to 28, challenge yourself to achieve a creative hairstyle, film yourself and share the video on your Instagram account by tagging @cantubeautyfr, adding the hashtag #CantuCurlAwardsen and don't forget to register online at www.cantubeauty.fr.
the October 4, the eight most impressive videos will be selected. This is where the real competition begins since the eight participants will have the mission to carry out two videos: a video of a hairstyle according to an imposed challenge and a second presentation video. This year's theme is to this day kept secret. In previous editions, the creative challenges focused on the themes cosmic queenmagical wedding or ancient Egypt.
Subsequently, the two videos of each participant will be submitted to the votes of Instagram users who will designate their winner by the greatest number of likes. The grand finale will take place in front of a jury on November 4 in Paris who will determine the winner by taking into account the votes of the public.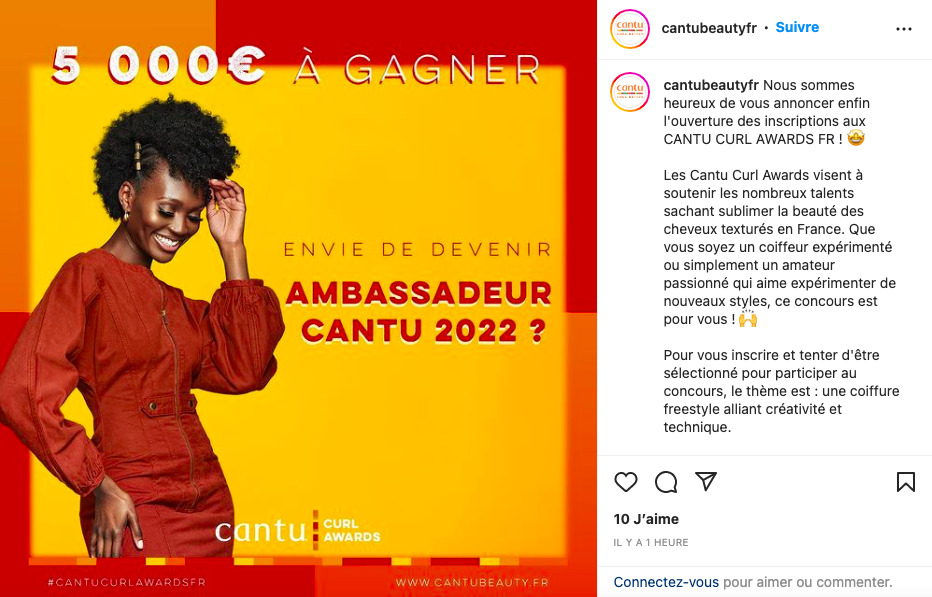 Want to try your luck at the Cantu Curl Awards? Registrations are open from September 9 to 28, 2022

What are the prizes for the winner of the competition?
The winner of the competition will be awarded a check for €5,000 and will become the ambassador of the hair and body care brand Cantu in France for one year. The lucky second place will receive the sum of €2,000 and the third place a check for €1,000.
For all the competitors, a competition like the Cantu Curl Awards is the way to show the full extent of their talent. It also makes it possible to restore the prestige of curly, frizzy and frizzy hair. The latter are too often badly perceived, because supposedly difficult to style. These hair types are invisible because they do not fit the standards of integrated Caucasian hair..
Obviously, mentalities are slowly changing, and the trend of " curly hair » has something to do with it. However, it is easy to see that highlighted curly hair is frequently reworked by heatnatural curls not being sufficiently "harmonious"…
It is the nature of textured hair to be dry, unlike the nature of Caucasian hair. The naturally produced keratin does not go all the way to their tips which can make them less smooth in texture. They are lighter so go up to create a loop. A true work created by nature that it is good to celebrate through competitions carried by international brands such as Cantu and the competition of Cantu Curl Awards.
Lucie aka Amy, the winner of the 2021 edition of the competition has agreed to answer Madmoizelle's questions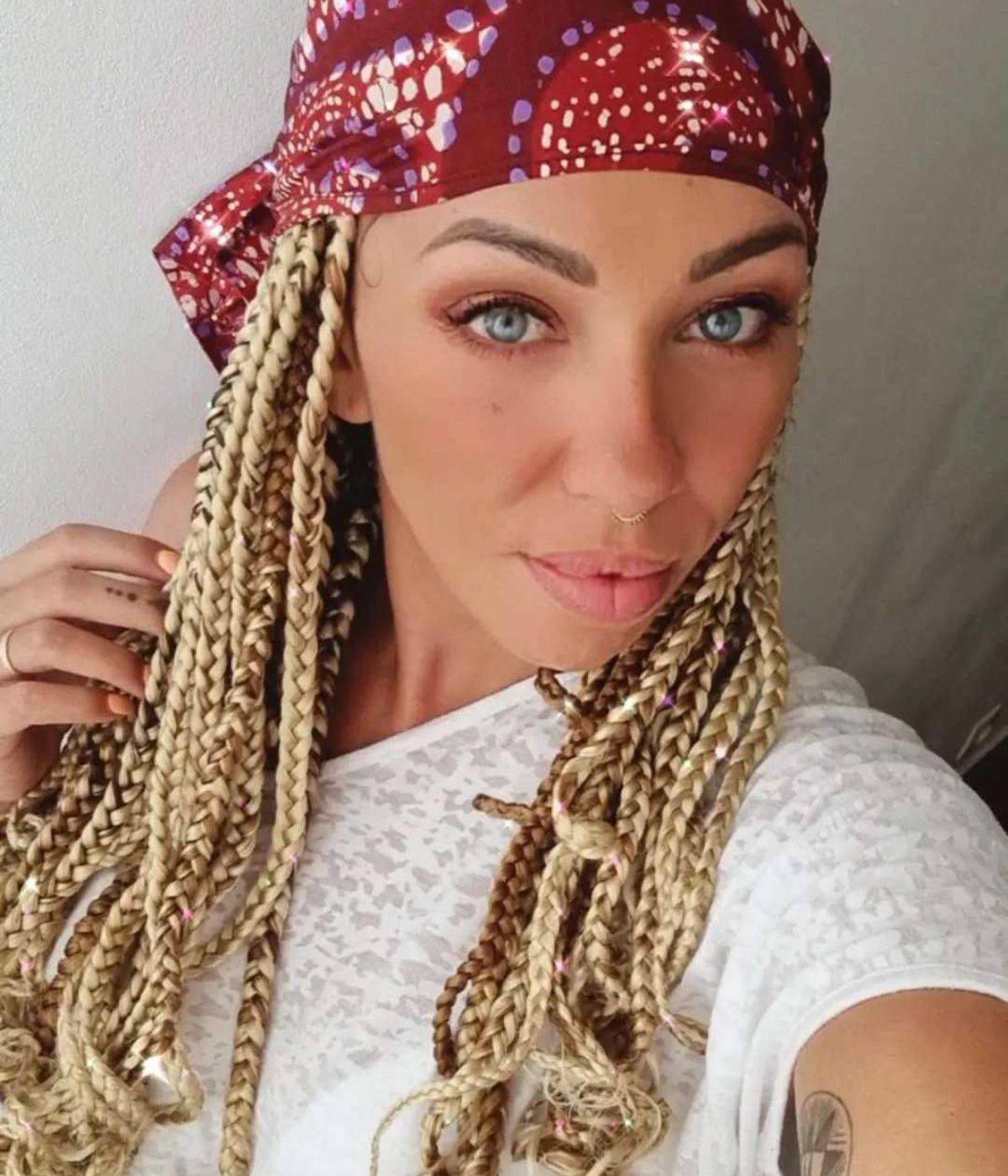 Madmoizelle: Can you introduce yourself and tell me a few words about your professional background?
Amy : I am Lucia aka Amy, beauty artist specialized in textured hair, I'm 36 years old and I started braiding when I was very young. I have a hairdressing CAP and professional make-up training. The universe of multicultural, modern or ancestral beauty fascinates me. I also like the world of personal development and make it a point of honor to advise my clients on "self love" and "self care".
I had the opportunity to work in the audiovisual sector, on shoots, weddings, fashion shows… I like the fact of being free and versatile
Madmoizelle: How did you learn to work with textured hair creatively?
Amy : I have always loved the artistic universe (artistic hairstyle, artistic make-up, painting, drawing..) I did not necessarily have a concrete apprenticeship, I followed my creative instinct and my artistic fiber. I grew up in the double Franco-Guinean culture and African beauty very quickly fascinated me. So I wanted to express this passion and creativity in what I know how to do best, which is through hair and makeup.
Madmoizelle: What was your relationship with the Cantu brand and did you use the products before winning the competition?
Amy : I actually already knew Cantu and used one of his best sellersthe leave-in, and I had also had very good feedback on the brand, which prompted me to take an interest in it. Nevertheless, I was able to learn more about Cantu thanks to the competition, which allowed me to discover a perfect and very complete range for my status as Braider (person who braids hair).
Madmoizelle: What motivated you to take part in the competition?
Amy : It was one of my loyal customers who knows my taste for artistic hairstyles who sent me the contest announcement. I was immediately motivated! The idea of ​​getting out of my comfort zone and being able to give free rein to my creativity while still respecting the imposed themes was a real challenge.
Madmoizelle: What changed in your life after winning the Cantu Curl Awards?
Amy : In my state of mind, it boosted me professionally in my projects. This changed my relationship to content creation where I invest more in social networks. I share my creations and advice as an ambassador. In addition, I was much more driven to dedicate myself to creative and artistic hairstyles, my real passion.
*This contest is subject to general conditions that you can find just on the site

Read also :

5 essential products to tame your baby hair and give you top edges