The 48-year-old star model who founded her own talent agency is now launching her beauty and wellness brand, dubbed COSMOSS. She teases its release on September 1, 2022 in the simplest device.
"Never complain, never explain" such is the saying of Kate Moss. The stainless twig who started in fashion at the age of 14 has just announced the surprise release on September 1, 2022 of her beauty brand: COSMOSS.
Kate Moss launches her beauty & wellness brand, COSMOSS
To play it nature-painting, Kate Moss appears in a black and white teaser video. We see her advancing naked in a body of water, in the middle of the reeds. The 48-year-old star model, who also founded her own talent agency, therefore gave of herself to grow her business. She presents her brand as follows:
"Fascinating and magical. COSMOSS offers well-being adapted to modern life. Launch on 01.09.2022 »
That is. We still don't know more about the requirements for formulation, conditioning, packaging, delivery methods, and other ever more important issues to consider in order to know if a brand really cares about our skin, human rights, fauna and flora, and the planet. But on the brand's Instagram page and the cosmossbykatemoss.com website, we already use and abuse green tones, references to nature and the stars, to give the idea of ​​a natural, spiritual, "holistic" brand. . You know the marketing song.
Exit clothing merchandising, long live beauty products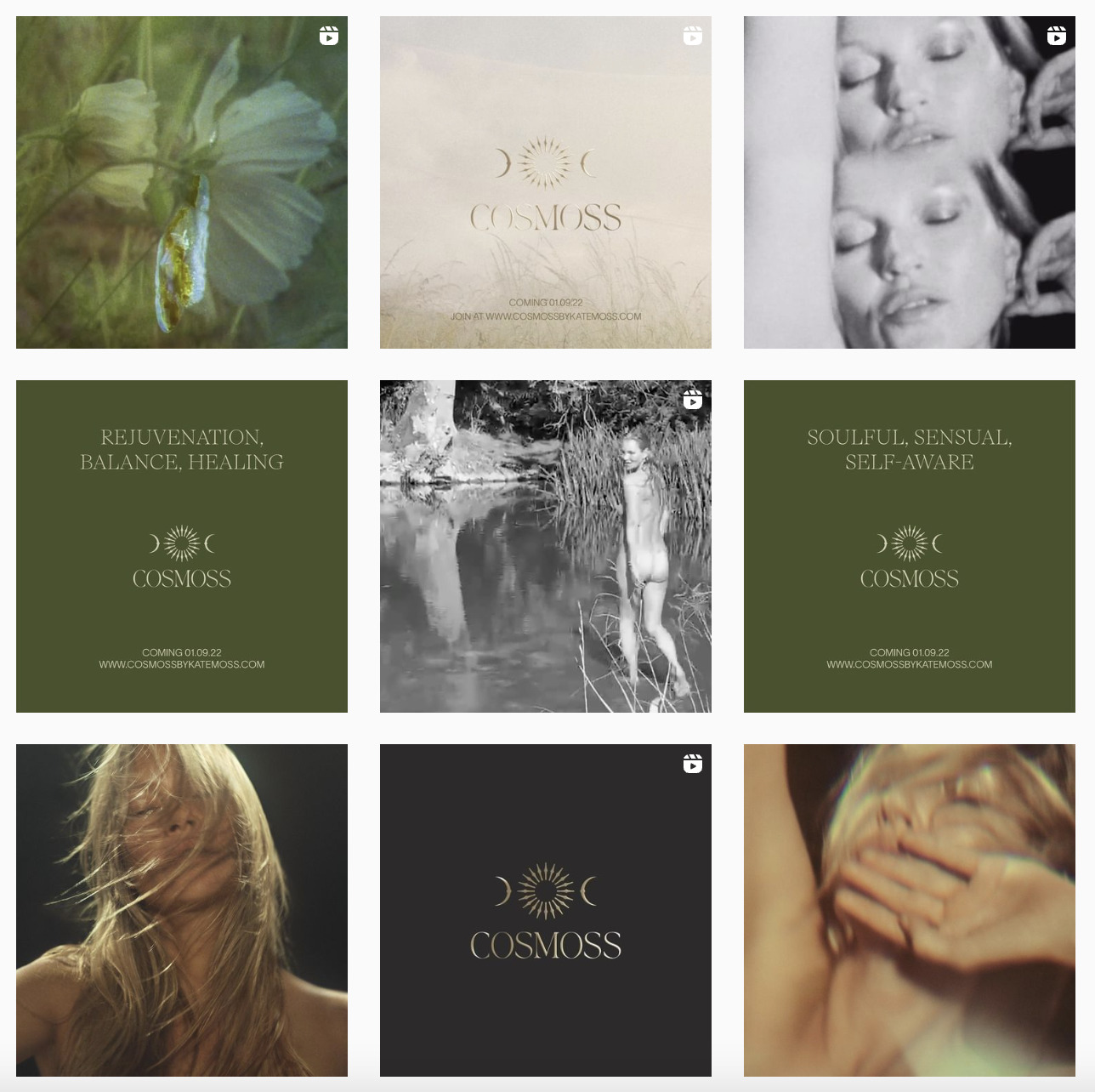 You are a star and you have not launched your beauty brand like Rihanna, Alicia Keys, Selena Gomez, Jennifer Lopez, or even Kim Kardashian? You may not have missed your life, but still missed a great opportunity to capitalize on your name and the physique that part of the world envies you.
So even if injections of hyaluronic acid and a few strokes of the scalpel may have helped, in addition to home chefs and sports coaches dedicated to sculpting your dream plastic, you can still make believe that buying your products will help you look like you. . And therefore maintain the illusion that we can become like you with a simple shot of serum. That's the whole point of this kind of derivative products particularly in vogue.
The merchandising of your celebrity is reinvented: exit the t-shirts and hoodies bearing your image (too many size problems, and therefore deliveries and returns), long live cosmetics which take up less space to store, are easy to ship, slip into the mailbox and no one thinks of returning once opened.
This being recalled, you are free to believe that buying COSMOSS will make you look like Kate Moss, better known for her rock'n'roll lifestyle than for her taste for naturalness.

Read also :

Rihanna's Fenty Beauty releases 'gloss or ketchup' Russian roulette with MSCHF artists
Headline photo credit: Screenshot from Instagram of Kate Moss Agency, still face of Diet Coke.