Globally, French women have a reputation for being very elegant and effortlessly chic. This is also why Paris is the first capital of fashion. And in addition to envying us for our effortlessly perfect style, Americans also envy us for our cuisine, our bakeries, our wines, our cheeses…and our drugstores!
Admirers of the beauty routine of French women who also have a reputation for having very beautiful skin, American women (and English women) would obviously give everything, to be able to go down to the local pharmacy and buy in a few minutes, all the care that seem very commonplace to us. If we know that the Uriage, La Roche Posay and Avène brands are very popular internationally, other treatments from French pharmacies are currently going viral, in particular because of TikTok.
It's been a few weeks since videos showing rankings of must-have products to shop in French pharmacies have been relayed en masse on the social network with the hashtag #french pharmacy skincare, which has already generated more than 75 million views. Here is 7 treatments that have been highly cited in these rankings and that American women are tearing up because they are effective and safe for the skin:
1#: Prodigious Oil from NuxeDo we still need to present it? Iconic over the decades, Huile Prodigieuse from Nuxe seduces with its simple formula: a mythical cocktail of 7 precious 100% vegetable oils to nourish and repair the face, body and hair in a single step… and with its legendary fragrance. that smells like summer. The light texture makes you radiate with an irresistible satin shine without a greasy finish thanks to its inimitable dry-touch texture…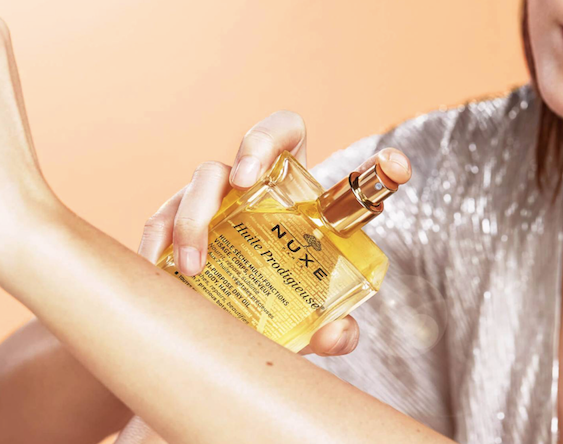 Prodigious Oil – NUXE – on sale HERE €25.23 per 100 ml bottle
2#: Ialuset cream
Anti-aging treatments are among the most sought after in the world. The proof is, "retinol" is the most searched ingredient on google in 2021, and it is known for its effects on wrinkles and fine lines on the face. This is why Ialuset cream is on the rise and has been at the heart of a huge global buzz on TikTok for the past few months. This top quality product is reputed to be a healing cream, enriched with hyaluronic acid. It can thus be used as an anti-aging cream and is essential for quickly healing non-infected superficial wounds.
Endowed with a high hygroscopic power, it guarantees perfect hydration of the skin, which helps promote tissue regeneration. Its application is recommended on dehydrated skin, which tends to feel tight after cleansing. Despite its effectiveness on scars, the lotion also acts on wrinkles.
Hyaluronic Acid Cream – IALUSET – 15,70€
3#: Eye drops from Innoxa
Prolonged use of screens and excessive exposure to outdoor light, wind, dust, pollen, chlorine, air conditioning and pollution can cause eye discomfort and dryness. In case of tingling, burning or foreign body sensations, blurred vision, difficulty blinking or itching, the famous "blue drops" of the Innoxa brand remain a must-have. They immediately relieve and lubricate the cornea while reducing discomfort and signs of eye fatigue. A must-have that everyone is tearing up at the moment.
Blue formula drops – INNOXA – 9,99€
4#: Beauty water from Caudalie
Created 25 years ago, the famous "Eau de Beauté" from Caudalie is now used and recommended by the greatest make-up artists and celebrities. Inspired by the Queen of Hungary's elixir of youth in the 17th century, Eau de Beauté is a unique formula, full of powerful plant extracts. It is an ideal treatment for skin that lacks radiance because it contains refreshing extracts of grapes, rosemary which invigorates, an astringent balm with organic mint and uplifting firming mint essential oils. This Beauty Elixir soothes, tightens pores and prepares the skin to receive several treatments and to fix make-up.
Beauty water – CAUDALIE – €13.95 for 30ml
5#: Dexeryl Body Cream
Known for its effective care on eczema, the Dexeryl brand offers a complete range of products capable of restoring the driest and irritated skin. The "Skin dryness" cream is a summer must-have because skin dried out by the sun regains all its radiance and is instantly nourished thanks to the advanced formula that can be used by the whole family.
Skin Dryness Cream – DEXERYL – 5,49€
6#: Biafine emulsion
Created in 1971, this essential treatment is renowned for its effectiveness on burns and sunburn. That's why in summer, the tubes sell like hotcakes in pharmacies. On TikTok, the treatment is buzzing because it has been shown to accelerate healing on the face and some have therefore decided to use it throughout the year. On the other hand, it is advisable to use it only for these benefits on sunburn.
Emulsion – BIAFINE – 5,60€
7#: Homéoplasmine balm
A complete treatment for soothed skin in summer and winter! The famous little tube with the pink cap is known to relieve skin irritations from small redness born after a scratch to small irritations that appear around the nose in winter, it is literally the little magic balm to have for soothed and nourished skin.
Homéoplasmine ointment – BOIRON – 4,20€
This article contains affiliate links that may be subject to remuneration from our partners.
Elizabeth Sall