Heat, humidity, and sun exposure can cause sweat-clogged pores and dark spots. This is why it is necessary to prevent these common skin problems by adopting the right gestures. The perfect skincare routine is going to work for you all year round, but there are a few tweaks you can make to help minimize the seasonal side effects summer can have on your skin. Discover the best skin care during the summer to have flawless skin all year round.
Take into account that once summer arrives, you have to adapt your beauty routine to the new climatic conditions, such as heat or humidity. For example, if you use heavier, oil-based cleansers, it might be time to try a milder version, like a foaming cleanser. Above all, pay attention to photoactive ingredients. These ingredients react when exposed to sunlight, making your skin more sensitive to the sun or making the product less effective.
You have to adapt your beauty routine to the climatic conditions
Know that there are a few basic skin care products that you absolutely must not miss, especially during the summer!
Solar cream
If you're doing nothing else for your skin this summer, at least put on some sunscreen. In this way, you will protect yourself from the sun's rays that damage your skin. Remember to bring a sunscreen that offers:
at least an SPF 30
broad spectrum protection
lip protection
Keep in mind that if you don't protect your skin with sunscreen, it will age faster and increase your risk of skin cancer. It is essential to apply sunscreen whenever you go out in the sun, including during the winter months. Know that even daily use of SPF 15 can reduce the risk of developing melanoma by 50% and the risk of developing squamous cell carcinoma by approximately 40%. What's more, sunscreen protects the skin against premature aging. Remember to apply the product every two hours to ensure the best sun protection.
Protect yourself from the sun's rays that damage the skin
---
---
Hydration
As a rule, the air is not as dry in summer as in winter. However, you should not do without moisturizer: your skin can still dry out in summer. Take into account, however, that it is better to opt for a lighter moisturizer during the summer. Better yet, try to find a moisturizer with an SPF to provide an extra layer of protection. In this case, do not apply it instead of sunscreen. It's just not enough.
Do not miss the moisturizer
Light makeup
In hot weather, wearing a ton of makeup can feel like an unnecessary extra layer. And if you sweat, your makeup will come off more easily. Take advantage of the season and lighten up your makeup routine. Your skin will appreciate this break. What's more, wearing less makeup allows the skin to breathe. Note that you have the option of opting for makeup with an SPF 30. For example, a tinted moisturizer can provide the minimum coverage your skin needs. Experts advise patients to wear a tinted moisturizer with at least SPF 30 or a broad-spectrum powder as a base. Still, keep in mind that these products shouldn't be the only sunscreen you use.
In hot weather, opt for light makeup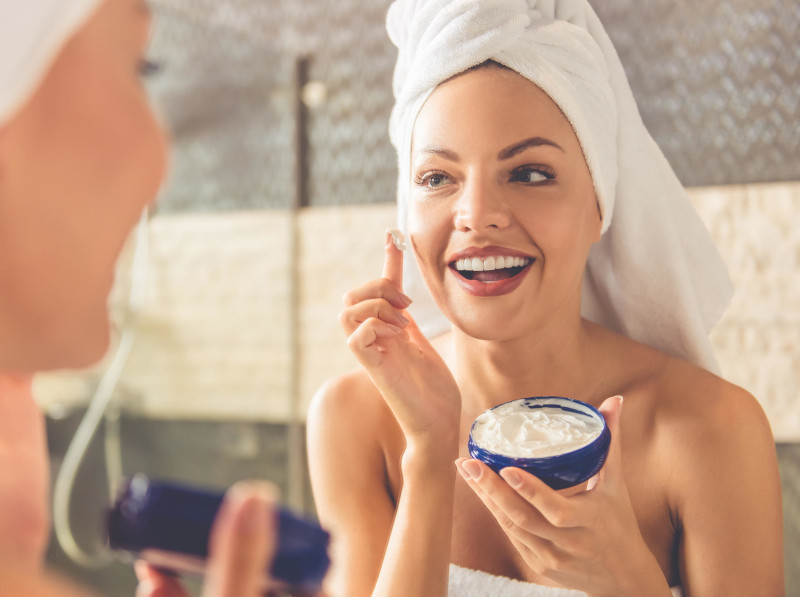 Weekly exfoliation
Know that the greatest advantage of exfoliation is that it helps to unclog pores and reduce imperfections. However, it should not be abused. Note that it is best not to exfoliate if you have a sunburn. Let the skin heal on its own without adding any irritants. While it's possible to exfoliate the skin more frequently in the summer than in the winter, dermatologists still suggest limiting yourself to once or twice a week.
Exfoliate facial skin once or twice a week
Non-comedogenic products
It's also important to make sure the products you use are non-comedogenic. Clogged pores can cause breakouts in the summer. An easy way to prevent sweat and oil from building up in your pores is to use non-comedogenic skincare and makeup products. Remember to avoid deeply hydrating or greasy formulas during the summer months.
Use non-comedogenic skincare and makeup products
Accessories that protect from the sun
Don't just browse the beauty aisle when revamping your summer skincare routine. Specialists advise you to bring accessories that will also protect you from the sun. Consider betting on:
wide brimmed hats
UV-400 sunglasses
Take good care of your skin. Minimize sun exposure, eat lots of summer fruits, and think about your whole body. Apply body lotions or creams and exfoliate. Treat your skin to something special: facials, masks, whatever it takes. Especially if you stay in the sun for a long time or get sunburned.
Here's how to take care of your skin in summer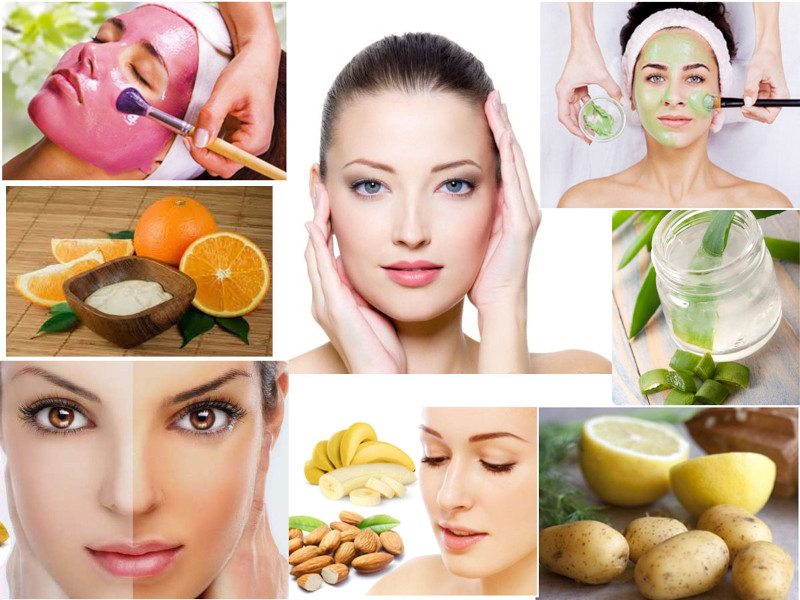 Is it important to hydrate your skin?
Note that the skin of the face, ears and neck is very sensitive to environmental changes. These areas are most commonly affected by skin cancer. They shed cells faster than other parts of the body and need hydration to repair themselves. In addition, the massage used during the application of the moisturizing products stimulates blood circulation and the regeneration of skin cells. What's more, the use of a moisturizer can camouflage imperfections. Indeed, hydration tends to give the skin a slight glow, and products containing a tint or a self-tanner even out the complexion.
When to moisturize your skin?
The most important times to use moisturizer are after a bath, shave, or exfoliation. It is very important to stay hydrated after showering, as hot water strips all the moisture and oils from your skin, leaving it parched. Never forget the moisturizer.
It is very important to stay hydrated after showering.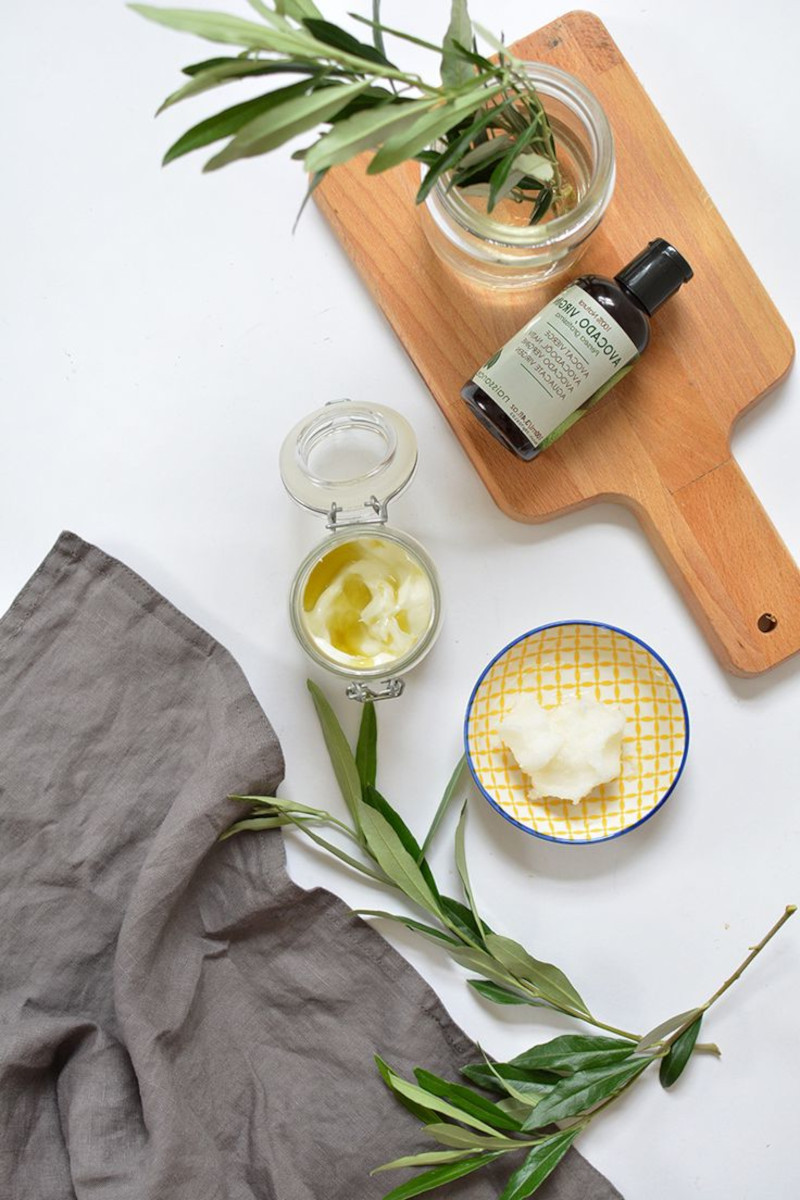 Be aware that your skin can look dull and aged when it is dry. It is therefore essential to keep skin hydrated and healthy. Luckily, there are plenty of ways to hydrate your skin. A moisturizer is necessary to have a beautiful skin in any season. Using a moisturizer daily can give your skin a healthy glow and deeply hydrate it. You need to moisturize your skin every day if you want to keep it dry.
A moisturizer is necessary to have beautiful skin in all seasons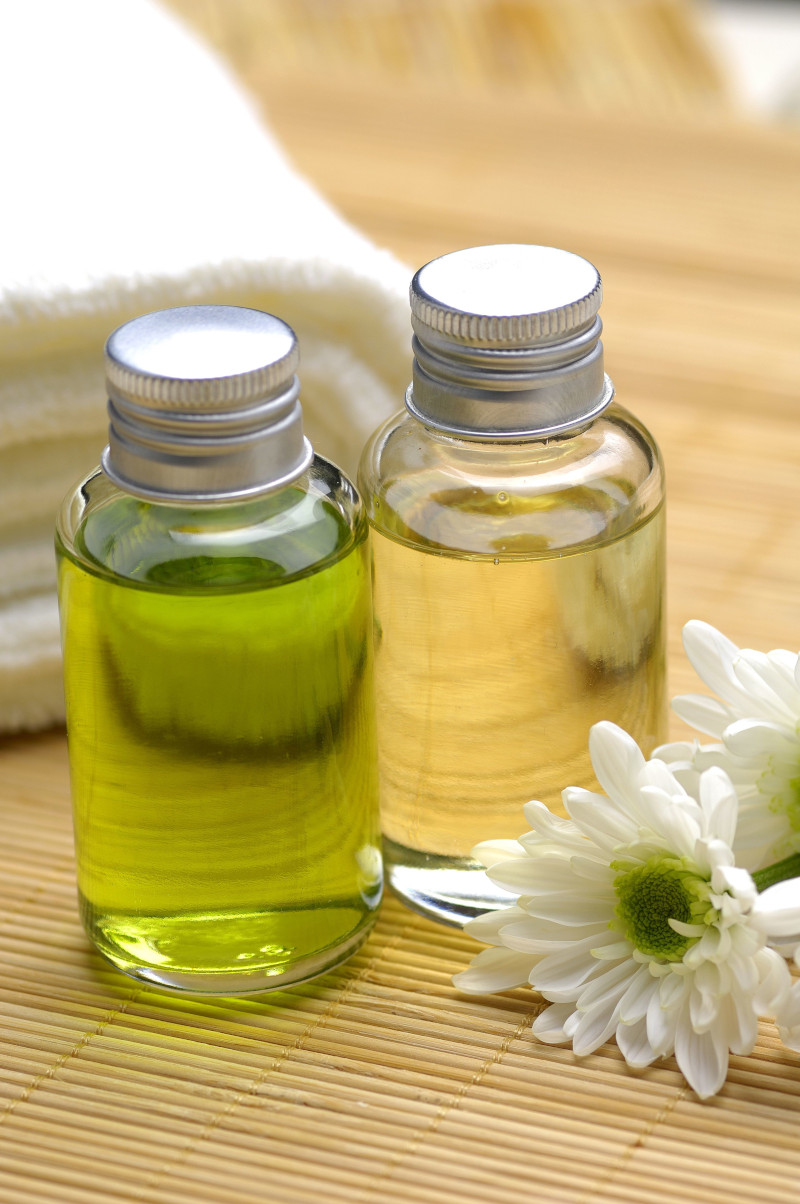 Homemade Moisturizing Mask Grandma Recipes
Honey
Take into account that honey is one of the best natural moisturizers for the skin. In addition, it cleans the pores of the skin and restores its natural glow thanks to its antioxidants. Moisturize your skin with this natural product.
How to do :
Apply a thin layer of honey on the face.
Leave the honey to act for 15 to 20 minutes.
Then, rinse with lukewarm water and pat your face dry.
Repeat the procedure twice a week or more often, in case of severe dryness.
Honey is one of the best natural skin moisturizers
Aloe Vera Gel
aloe vera gel contains many nutrients like vitamin E and vitamin A which are great for the skin. It also has anti-inflammatory properties. You only need one leaf of the plant.
How to do :
Peel the outer part of the leaf and remove the inner stem which secretes the gel.
Extract the gel and apply it on the face and neck as soon as possible.
Let it dry for 10-12 minutes, then rinse with warm water.
Repeat every two or three days, if necessary.
Be aware that you can store leftover aloe vera gel in an airtight container in the refrigerator for a few days.
Aloe vera gel contains many nutrients like vitamin E and vitamin A
Milk or buttermilk
Milk and buttermilk are effective ways to moisturize all skin types. They are quickly absorbed by the pores. Plus, they can help keep wrinkles away.
How to do :
Apply milk or buttermilk to face and neck.
Leave on for 10 to 15 minutes.
Then rinse with lukewarm water.
Repeat the procedure twice a week before taking a shower.
These products are effective ways to moisturize all skin types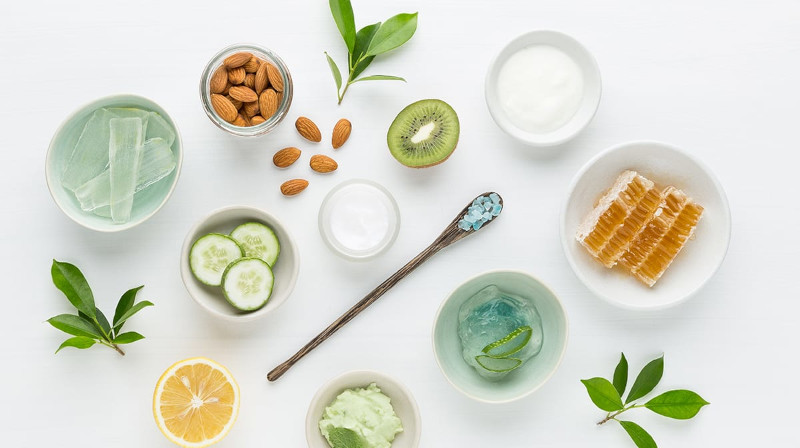 Focus on natural products
Sources: