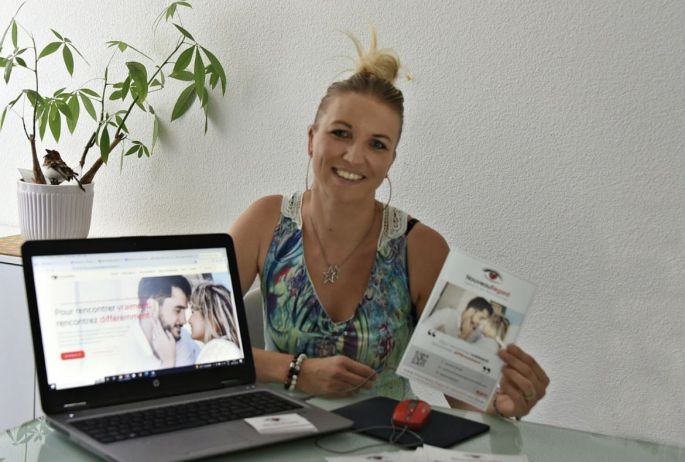 © Justine Nalouei
A "New Look" on the future, for your well-being and your better life!
The new Nouveau Regard dating agency will be present at the Salon Santé-Forme-Beauté et Plus to be held in Blotzheim on October 15 and 16, 2022. Its manager, Nadia Ruetsch, will be happy to welcome you to her stand to explain the new concept to you. of his dating agency and answer all your questions.
By opening her dating agency, Habsheimoise Nadia Ruetsch set herself the challenge of finding a soul mate for lonely people in Alsace and Franche-Comté. The Nouveau Regard agency is a top-of-the-range agency aimed at single people who are really ready to commit to a serious relationship.
The members of the agency, mostly aged between 35 and 75, are all looking for a serious and lasting relationship with a person compatible with their interests, their expectations and their vision of the future.
Confidentiality clause
The website of marriage counselor Nadia Ruetsch does not display any profile, in order to respect a confidentiality clause. The registration procedures are done virtually, online, as well as by telephone, because the agency contacts each member to verify their identity to avoid false profiles or non-compliant profiles. For people interested in the agency's services but not comfortable with computers, the advisor also offers face-to-face appointments, defining the place and time of the interview.
Compatibility search
The marriage counselor analyzes the profiles of its members through a discovery questionnaire followed by a personality test, in order to offer them singles who are compatible with them. It then creates for each member a complete file with a recent photo and connects the compatible profiles. "It is obviously important to take physical criteria into account, but the values ​​of the heart, the desire to share and the sincerity of the members are essential".
An agency close to its clients
Members of the Nouveau Regard agency are advised, monitored and supported throughout the duration of their subscription. The agency can be contacted directly, without a telephone platform, which greatly facilitates exchanges and trust between the advisor and her clients.
Exclusively for its members
Nadia Ruetsch also has several years of experience in tourism to her credit and has decided to put her skills to the benefit of her clients, by offering them the organization of privileged moments for two, weekends and trips, on request. of those who have met their better half.
Finally, the agency uses all its skills to serve its clients who trust it and who wish to meet a beautiful person with beautiful values, all based on respect, sincerity and the desire to share.