The advantage of spending 18 days in the United States is that you have time to do some shopping. Just enough to bring back beauty nuggets that have not yet arrived in France.
When a Beauty Journalist (Me) Travels to Uncle Sam's Country, She Can't Help to bring back in your suitcase some beauty products found by chance during your wanderings (which often led to Sephora, Target, Ulta or CVS). If it is obviously not possible to test everything (unfortunately) I was still able to establish a small list beautiful finds that I was able to make during my trip. Have any products disappointed me? Yes too. Scroll, I tell you everything!
Tower 28 Beauty: the aesthetic and soft brand
If the Tower 28 brand is very aesthetic, it is not only based on well-thought-out transparent packaging. The Californian label, created by Amy, an American suffering from eczema, was also developed to pamper the most sensitive and reactive skinby proposing formulas loaded with soothing and nourishing ingredients. Obviously, the products are vegan, cruelty free and non-toxic.
For my part, I had the opportunity to test the SuperDew Highlighter Balm, which brings radiance to the skin without a glittery effect (a big hit) but which may not be suitable for the oiliest skin. I was also able to test the BeachPlease creamy blush, which was a very nice surprise as it is pigmented, pleasant to apply and its hold is unstoppable. Not bad Tower 28!
To shop Tower 28 Beauty products, click here

Glow Recipe: Glow Glow and Glow
If you have not already spotted this brand on social networks, know that you will not be able to miss it in this article. And for good reason, Glow Recipe was my discovery of the year. Clean, vegan, cruelty-freethis brand hasstrives to create gentle yet effective products formulated by blending the best of biotechnology and nature. Having naturally dry skin, it's sometimes hard for me to get the glow I want. Suffice to say, I clearly saw the difference when I got my hands on the Plum Plump Hyaluronic Serum (a bestseller in the US) and the moisturizer from the same line. In concrete terms, my skin has never been so well hydrated, plumped up and radiant all day long. 10/10!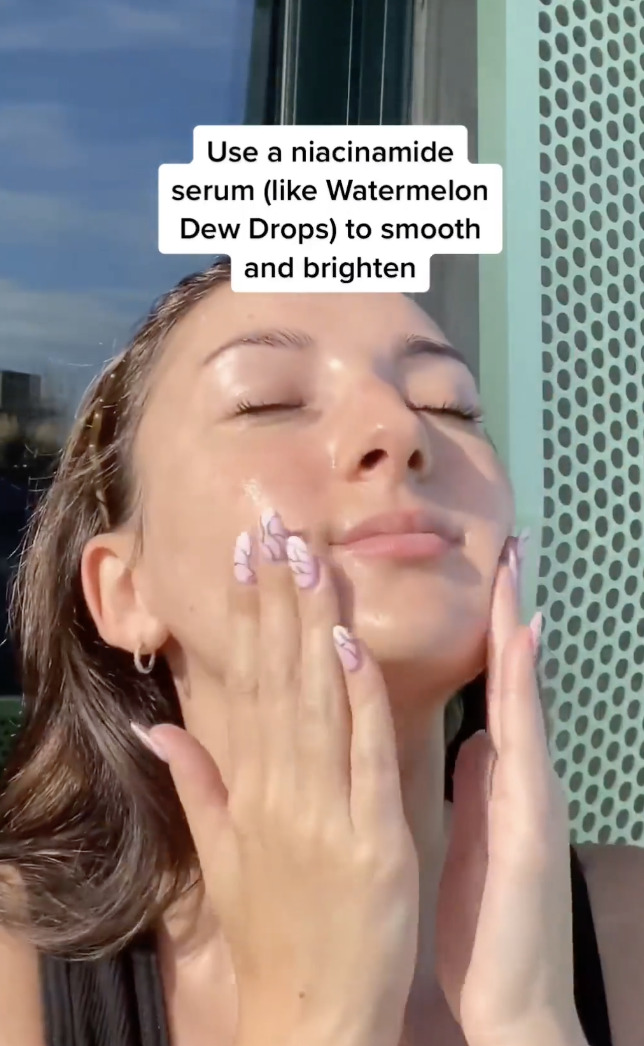 To shop Glow Recipe products click here
Inn Beauty Project: my beauty surprise
Randomly visiting Crédo Beauty, a very sophisticated boutique in West Hollywood, I got my hands on a few products from the Inn Beauty Project brand. With clean formulas devoid of more than 1400 controversial ingredients and relatively low prices (for a brand of this type), Inn Beauty Project racks up the good points. First, you have to know that the claw is engaged. And not for fake! It donates a percentage of every product purchase to fund the collection of 17,100 pounds (approximately 7,756 kg) of low-value plastic waste from oceans and landfills each year.
But what do the products do to the skin? Well I was pleasantly surprised once again. I tried the 10 + 10 more-sturizer moisturizer (a hydration killer with 10% vitamin C and 10% peptides (enough to pamper the hydrolipidic barrier) and glazed #5 which is a lip oil. This last one was a real favorite it moisturizes, leaves a super luminous glossy effect on the lips which are visibly fuller. Plus, she's vegan… what do people want?
To shop Inn Beauty Project products, click here

One/Size: disappointment
At Sephora, the One/Size brand has a place of choice. Created by Patrick Starr, beauty YouTuber with 4.31 million subscribers, it is mainly based on the popularity of its founder. And what does it give if not? Well, being curious, I bought myself a brown waterproof eyeliner (oily eyelids team) and the Ultimate Lifting & Lengthening mascara.
I might as well tell you right away: I had no expectations for this brand as I hadn't specifically heard of it in France. What I thought about it ? To make it simple: I had never tried such a dry liner in my life ! Admittedly, the latter lasts a long time, but when applying it, having to pass and iron the brush to obtain a satisfactory result can be quite annoying. Basically: it quickly makes you want to go back to a safe bet: the KVD Beauty tattoo liner. Same observation for the mascara, which, although it does the job, is not really breathtaking for its price ($25)… Too bad!
To shop One/Size products, click here

Read also :

Do you know the "Chin bangs", this fringe that adds movement to your hairstyle?
One image credits: @Anna Shvets
The affiliation on Madmoizelle
This article contains affiliate links: any order placed via these links contributes to the financing of Madmoizelle. To learn more, click here.