Mamadou Faye and Lilaafa Amouzou, with BBC Health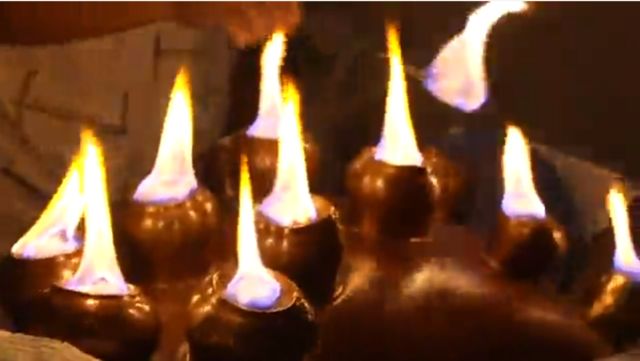 Medicine has evolved a lot over the years. But despite all these advances, we find ourselves from time to time drawing on ancient practices to find remedies and manage pain. In Morocco, fire therapy is a common practice to feel better. Our reporter Lilaafa Amouzou experienced it.
To feel better about themselves, some people in Morocco use fire and heat as a remedy.
They believe this ancient Chinese practice can help relieve joint and muscle pain and reduce stress, among other ailments.
Lilaafa Amouzou traveled to the city of Agadir, in the south of the country, to experience this.
The Cherifian kingdom is a land of sunshine where markets, beaches, spices and numerous public squares display their charm.
From the moment you set foot there, it's nearly impossible not to fall in love with the breathtaking scenery.
The local cuisine is of course equally delicious.
A safe practice
Traveling in the country for a few weeks, Lilaafa Amouzou was looking for different relaxing activities, hammams or even massages, until we told her about fire therapy.
What was scary at first, ended up arousing in her a certain curiosity. The journalist wants to discover this age-old practice for herself.
"I know it's a little scary, but everyone here told me about the extremely relaxing virtues of this method. So I decided to go check it out for myself," she says.
After the usual salamecs, standing at the doorstep of Hana En-Naciri's office, Lilaafa gets to the heart of the matter.
"So today we're going to do fire therapy," she says from the outset. Only, a little skeptical of this unknown practice, she hastens to ask the therapist if the cure was dangerous. .
"No, no, don't be afraid. Everything will be fine. God willing, you will appreciate it. It will do you good. Welcome," Hana En-Naciri replies to put her at ease.
The health check
Fire therapy is not a widely known practice on the African continent, but you may have heard of it in parts of Asia or Southern Europe.
Originally, this treatment of Chinese origin can treat muscle pain, arthritis, digestion problems or even fatigue. As with any treatment, Lilaafa had to pass a series of tests to be sure that she is well suited to follow this treatment.
"In addition to your height and weight, I need to check under your feet. I need to check your health to see if you have any heart or blood problems, we need to take care of that first before starting fire therapy. ", explains Hana En-Naciri, specialist in alternative medicine.
After the tests, a certificate of good health is given to Lilaafa by the therapist.
"Which means that I have the green light! We can start! Remember that this treatment must be carried out by highly qualified professionals, under the strict supervision of a person with medical training", specifies the journalist whose the smile hid a certain nervousness.
fire therapy
Fire therapy is a process that combines various ancient techniques.
The body must be well prepared… The therapist learns a lot about your state of health thanks to a process such as the suction cup, which notably makes it possible to identify the possible presence of toxic substances in your blood.
Here we go ! Cupping helps to open the pores of the skin, release tension in the muscles and circulate the blood.
"During this fairly vigorous stage, my mind is elsewhere, I'm already thinking about what's next", confesses Lilaafa Amouzou.
After checking the level of toxicity in the journalist's body by applying lit suction cups to her, place the white towels on display.
"This treatment is also called the fire towel, so the first thing is the towel and then we use oils. Then we place lots of wet towels to keep the client safe," says therapist Hana.
"And once the patient has received the right amount of heat, we extinguish the flames," she continues.
"If the burning towel is not done properly, and all procedures are not followed, if it is not done by professionals, it can burn. It can burn someone very badly" , she warns.
Beyond the procedures to be followed, the patient must also be properly controlled.
"First of all, the people who are allowed to do the fire towel can be people with no physical health issues," she says.
"Patients may also be treated for muscle twitching, sclerosis, rheumatism, joint problems, cold in the chest, pneumonia, herniated disc or sciatica, or when a vein is compressed in the waist and causes pain in one leg."
But it is not only in Morocco that we find this therapy in Africa. Egypt, Algeria and Tunisia are also experimenting with it.