We had been waiting for their return for a while, and Petit Bain was packed to welcome the Norwegians from Madrugada, who gave us a generous set but ultimately lacking in intensity and madness.
call each other madrugada when you're Norwegian, that was the kind of thing in the late 90s and early 2000s, when Of Montreal came from Athens and I'm from Barcelona from Jönköping in Sweden. We inevitably dream of a Portuguese or Spanish group called Tidlig Morgen, but hey, far from idle considerations, the public of madrugada is numerous and passionate: everyone arrived two hours in advance at least, creating an improbably long queue on the bank of the Seine: it's almost unheard of! And it's reassuring to see such enthusiasm for an indie rock band.
9:20 p.m.: it's a bit late for a group like madrugadawhose sets normally exceed two hours. Only when you're gone is a perfectly posed introduction: the voice of Sivert Hoyemmagnificent, is ahead, then it's the rise in power, with the guitars which, finally, go on the attack… Everything madrugada summary in less than 5 minutes. Sivert is already shaking hands in the front row, we are – while the room is crowded – among friends. If I was the Captain makes the offshore wind blow, but it's the superb Look Away Lucifer which really looks like a sea shanty, which would almost end in a rock'n'roll storm. Almost… And it's this almost that we can see will constitute the limit of a concert that is nonetheless very beautiful.
Sivert temporarily abandons his acoustic guitar, drops his jacket and grabs a tambourine: on the rampant hands-up and – again – its long ascent to an explosion that won't happen, you can raise your hands or just let yourself be lulled by the electric guitar. "Its a small place but we will take you on a long journey. This is the Last show of a small European tour! ", announces Sivert, before bringing us back to the very beginnings of the group: return to 1999 with the waltz of Electricalgreeted with cries of joy.
Nobody Loves you like I do finally gets the fans singing along to the chorus, but otherwise the audience remains very focused, almost collected to let Sivert's voice unfold. This calm of the spectators, unusual for a rock concert, is clearly not going to help madrugada to get his set off the ground. Sivert tells, to introduce honeybeethat he was inspired by George Moustaki ! Laughter in the room… but who are we to judge?
We have to wait – we are approaching an hour of set, and the time is starting to seem a bit long – Black Mambothen Bloodshot to get close to real peaks of intensity… but in the end we stay in the cool and threatening atmospheres. The audience clapped their hands enthusiastically, and Sivert donned a spectacular faceted jacket that apparently kept him very warm.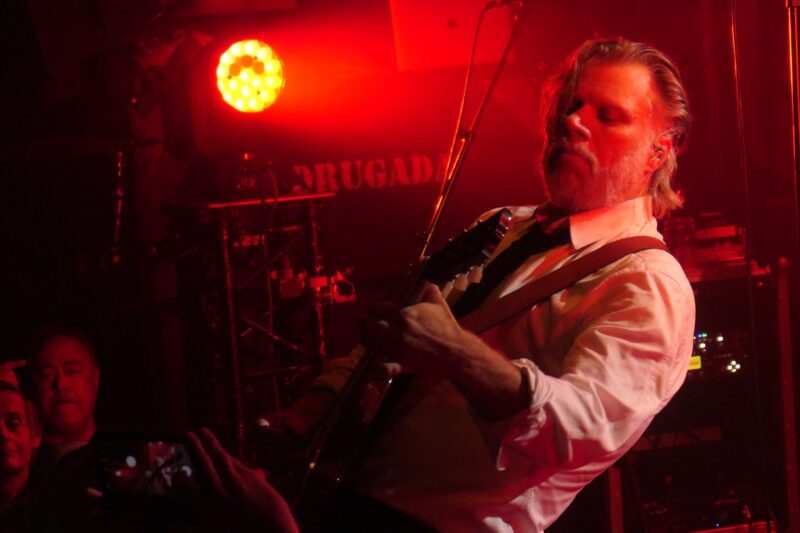 To prove to us that they are an "Everything Band", as Jagger about the stones, madrugada return very quickly to a ballad with majestywhich indeed ends with the most beautiful stonian "ooh, ooh" as the guitar goes into a solo that can only be described as classic. Strange Color Blue ends the 1h30 set: crooner's cavernous voice, reverb on the guitar, rhythm like a trotting horse or a train crossing the meadow, while Sivert brandishes a projector which he points at the pit: " Please don't stop it…! »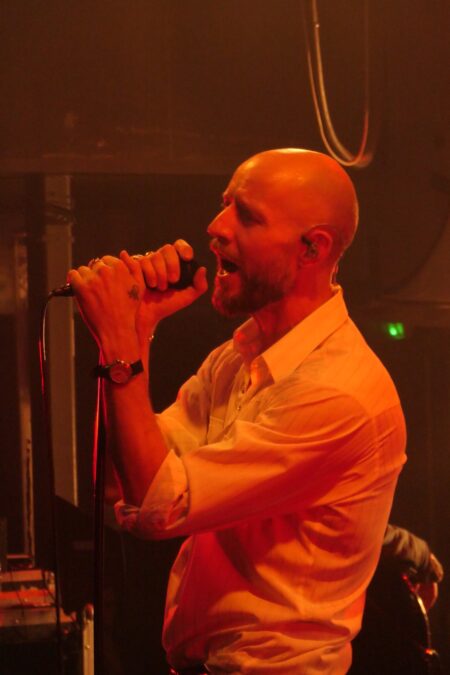 No risk of them stopping, the regulars know that we will be entitled to a reminder of at least half an hour… However, the problem is that this reminder does not increase in power either, we continue in the same register of 'an intense beauty but ultimately not engaging enough, too wise. We even go down a little on a The World could be falling down which evokes more the misty ballads of Chris Isaac than an expansive title crowning a concert. The finale will still be more unifying with the choirs of the public on What's in your mindthe magnificent melody of The Kids Are on High Streetbefore closing in a more intimate way with Valley of Deception.
In short, a very nice evening, from which we will nevertheless come out frustrated, the group never completely keeping its emotional promises, and the public having also remained much too wise.
Photos and text: Eric Debarnot