Because they are particularly fragile, it is useful to protect frizzy and curly hair with hairstyles that help them stay healthy. Braids, vanilla, twists and chignon, discover the best protective hairstyles and how to take care of them.
In summer, the ambient humidity and the warm climate help natural frizzy hair to stay well hydrated. But as soon as autumn arrives, it is interesting to adopt hairstyles that protect curly hair which tend to dry out.
By protecting them from handling, mechanical external aggressions such as friction (against clothing, scarves or even your pillow which create knots), and thermal aggressions (such as the cold and heat from styling appliances which quickly cause hair to break hair), the protective hairstyles help maintain healthy hair. Those that are also called "protective style" in English, notably maintain hydration at the heart of the hair fiber. A beneficial effect that also prevents breakage along their lengths or having the ends so dry and damaged that they end up splitting. Offering a overall protective effect on the hair : this kind of hairstyles also promotes better hair growth, in addition to giving you healthier hair every day.
Finally, the last asset and not the least of the protective hairstyles: they also avoid having to resort to manual smoothing or other more aggressive straightening processes to discipline hair volume afro. Moreover, they save frizzy hair from the weight of hair extensions which are often used to expose them less, but which end up irritating the scalp or harming the health and beauty of Afro hair by creating tension on the hair. hair bulbs. While helping to keep it as natural as possible, protective styles are great allies for frizzy hair.
When to do a protective hairstyle?
If they are suitable at any time of the year – and day or night – when the hair is very fragile, protective hairstyles are especially useful in winter to avoid damaging your lengths and ends with the vagaries of the weather.
How to make a protective hairstyle?
If the appearance of the latter will be different from one hairstyle to another and many styles of ties are suitable (bun, braid, vanilla), a protective hairstyle must always meet a few basic criteria:
It shouldn't be too tight so as not to exert too much tension on the scalp and hair roots. It should therefore not generate pain or discomfort. Be careful, if you feel such pressure and keep your hairstyle, you run the risk of causing your hair to fall out and create long-term traction alopecia.
It keeps only a few weeks. Ideally 2 weeks, sometimes up to 3 to 4 weeks at most, or about a little less than a month. It should not be worn longer because otherwise it loses its benefits and could, on the contrary, harm the health and beauty of your hair.
It must be performed on clean and hydrated hair, but also healthy.
It must be maintained with care for hair that continues to provide nutrition and hydration to the hair fiber.
It must protect all of the hairthat is to say all the lengths to the tips to really reduce manipulations.
The best protective hairstyles for afro hair
Whatever your hair style, you can find hairstyle ideas for frizzy hair that flirt with hair care. Braids, twists, vanilla, buns.. The look of your protective hairstyle can easily adapt to your preferences and your clothing look. Here are the best protective hairstyles to find your ideal "protective style"!
Retaining the lengths to the ends, braids are very effective protective hairstyles. On the look side, you will be spoiled for choice between the box braids which create square-shaped portions of hair on the skull to delimit each small braid, the cornrows which form straight lines of braids which start on the edges of the face and extend to the nape of the neck, or the most classic twists, double twists and vanilla which are all achieved by creating more or less numerous twists with your locks. If these hairstyles are made just with natural hair, there are also variants with added highlights. This is the case of crochet braids (spaced braids under which we slip synthetic locks) and yarn braids or "wool braids", which are made by mixing natural hair with wool yarn.
In the form of a single chignon bun or several small buns that multiply over the entire scalp like bantu knots, the chignon is also a commonly used "protective style".
Prepare your hair before a protective hairstyle
It is essential to prepare your hair well before attaching it in the way of your choice. For this, first make an oil bath to intensely nourish your hair. Then, follow with a shampoo and the application of a nourishing mask. Before styling, also apply a leave-in moisturizer to your locks.
Care to use before styling your hair
The ideal leave-in treatment to put before and on your hairstyle
Loly's Secrets – Magic Twist Cream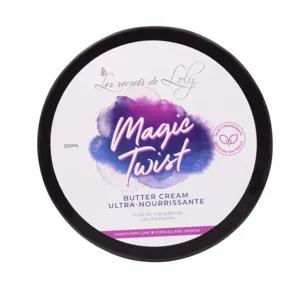 © The secrets of Loly
DocMorris

16.02

Amazon Marketplace

17.9

Marionnaud

18.99

La Redoute Marketplace

19.9

Blissim

20

atita | Healthdiscount

21.5

Monoprix

21.5
How the pricing table works

See more offers
See less offers

The price offers are listed in ascending order of price. The prices displayed are inclusive of VAT (all taxes included). The price of postage displayed corresponds to the cheapest home delivery offered by the merchant. aufeminin.com references in its price tables the merchants who wish to be present on the condition that they display prices with VAT (including VAT – all taxes included) and that they present an excellent level of quality of service and customer satisfaction. This referencing is paid. Our price tables are therefore not exhaustive of all the offers and merchants present on the market. The offers present in the price tables are updated daily and several times a day for certain shops.
How to maintain your protective hairstyle?
A protective hairstyle is not just styling, it needs to be maintained! It is therefore also necessary to take care of your hairstyle once it is done. During the few days you keep it, do not forget to moisturize your locks daily with moisturizing and nourishing care that does not rinse like the one applied before the realization of the hairstyle. Even if your hair is braided or twist, you must continue to take care of them every day to find beautiful curls when you undo your protective hairstyle. You can also massage your scalp with an oil (to promote growth for example) because these hairstyles leave your roots accessible.
What about shampoo?
If you keep your hairstyle for a maximum of fifteen days as recommended, you may not even need to wash your hair during this time. If you play sports in the meantime or if you feel the need to, you can otherwise focus the application of the shampoo on the scalp and let the rinsing water wash the lengths without touching them so as not to damage your hairstyle.
Sleep with a protective hairstyle
At night, whatever hairstyle you choose, you will always need to protect it from friction on the pillow by wrapping it in a scarf or a hat or even by sleeping on a silk pillowcase. Silk and satin preserve the hydration of the hair and have the advantage of not creating static electricity so that your hairstyle stays clean when you wake up day after day.
Passionate about writing and beauty, Elodie swaps her lipstick for her laptop to find you the best makeup, hair and skincare trends, and pro tips…