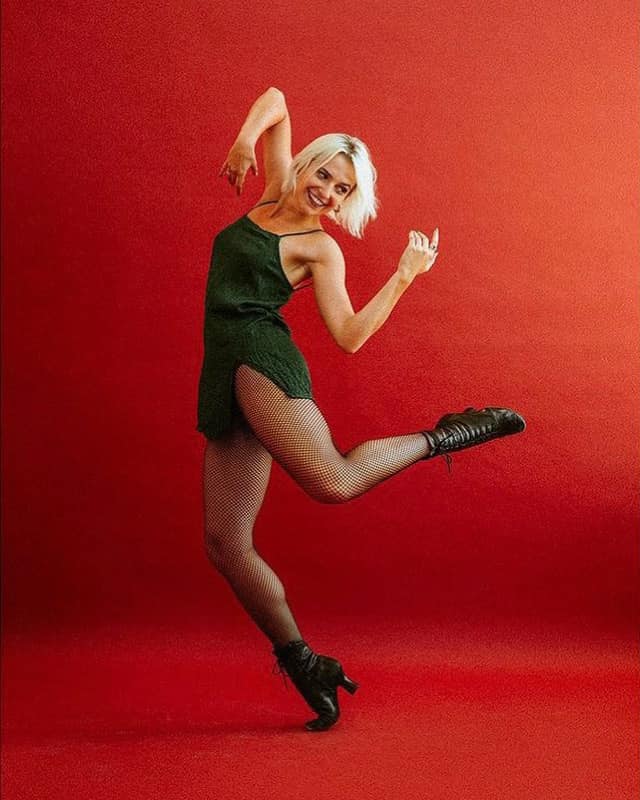 After studying stylistic jazz theater in New York, Sixtine created choreographies for the program "Dancing with the Stars". She is also one of the four artists behind the creation of the Misty Dance Theater company. Based in Paris, the company aims to promote jazz theater, this choreographic style created on Broadway in which dance mixes with fiction, movement serves to tell a story and the body sublimates emotions.
In 2022, Sixtine joins the first cast of Red Mill! in Cologne, she tells us about her experience in what she calls her "dream job".
How's the body?
The aches are there, but that's normal. The feet are also sore, even though the production provides us with rehearsal LaDucas (LaDuca is a brand of stage shoes supplying major Broadway and West End productions). It's very nice to have your own pair just to rehearse, but you have to do them. So we have a little sore feet.
Despite this, the production is aware that this show requires a lot of bodily commitment. This is why they often take note of our needs, our ability to do certain lifts, etc. We also have sports doctors who come regularly to treat us if necessary. In this regard, one day, after a long day of rehearsals, the associate choreographer took the dancers aside and told us that this show was very demanding for our bodies, more than for the dancers. She asked us to be very careful of ourselves. But, after having finished setting up act two, and particularly having worked on the lifts of the "Roxanne" and "Bad Romance" numbers, I find that the dancers also have an interest in taking care of their bodies. (laughs).
Compared to the first day, how does it feel after six weeks of rehearsals?
My feeling is to feel much less overwhelmed. The first week, we had to learn our voices, our harmonies – not always in a language that we master well – while being available to swallow a substantial load of a vocabulary of atypical movements. Today I feel more at ease, we are moving quickly, while taking the time to work on details. It's very interesting and much more enjoyable.
A defining moment?
Yes, the first full reading of the show. In rehearsal, the ensemble works on the choreographies on one side and the actors rehearse on the other. When we were able to put everything together, it was a very emotional moment — I was far from being the only one crying — and we were finally able to realize the story we were going to tell. together. And then, a few days ago, Baz Luhrmann — director of the films Red Mill! and Elvis — came to the rehearsal studios to meet us. Again, a highlight.
Disappointment ?
It's hard to find anything to complain about… I dreamed of doing this show even before there was a stage version. Well, I admit to feeling a slight frustration with the German translation of certain mythical songs. But we're not even sure it's going to stay. The creative team works day by day to find the necessary harmony between the two languages, so nothing is lost yet. (laughs).
Previews start on October 18. Cologne is only a few hours away by train… Why hesitate?
– Advertising –