Because all women like to have beautiful and healthy hair, all means, even the most unusual, are good for beautifying our hair. And if gelatin was precisely the secret ingredient to sublimate our mane? As strange as it may seem, it's a great ally to integrate into your hair routine. His strength? It repairs, thickens and completely hydrates the scalp. To overcome dry and damaged hair, this is the tool you need!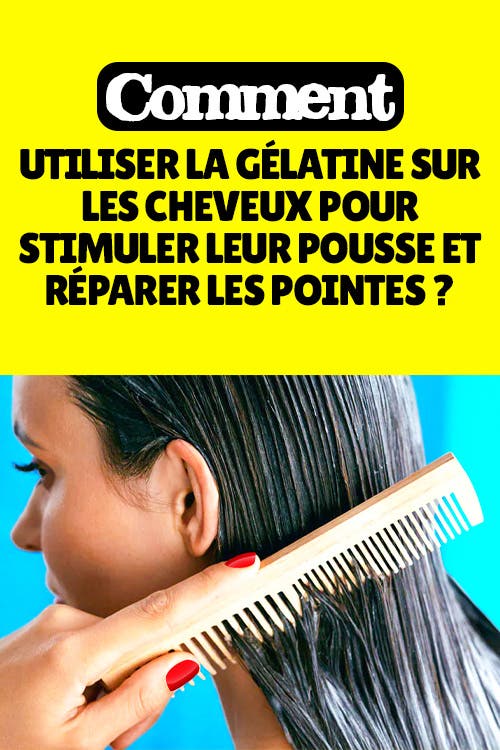 This translucent, colorless and painless substance has the advantage of containing an element essential to the health of our hair: collagen, a protein that supports the structure of connective tissues such as skin and cartilage. Therefore, using rich products like gelatin will provide many benefits. In addition, this substance is equipped with amino acids that act directly on the hair fiber to make it more resistant to external aggressions and much more voluminous. The gelatin thus repairs the ends and exterminates the forks. Not to mention that it also has many proteins that maintain hydration, boost the density of fragile hair and boost shine. When your hair is really damaged, split ends and brittle, gelatin powder comes to repair it in depth.
Here's how to improve your hair texture, boost hair growth and banish split ends!
Gelatin for damaged hair with split ends
Why does hair tend to damage? Due to a number of factors: It may be excessive use of chemicals, such as dyes, straightening, frequent ironing. But also climate change, excessive exposure to the sun, pollution, too frequent washing…Similarly, a lack of vitamins and minerals, especially iron and folic acid.
Stress is also an issue to consider. It causes hair to fall out, leaving it without strength to grow. Using poor quality shampoo can also affect strand growth and health. To heal the hair, the process first begins with deep hydration and gelatin can provide this treatment.
Heat 250 ml of water in a saucepan and when it begins to boil well, remove it from the heat and add 20 g of powdered gelatin and 50 g of aloe vera gel. Mix well to combine the ingredients and let cool. Then store the mixture in the fridge. You can use it as a hair mask once a week.
How to use: apply to damp hair for 10 minutes, then rinse thoroughly with cold water. The result is truly remarkable, from the first application you will feel your hair softer, silkier, nourished and hydrated.
NB : aloe vera gel is both moisturizing and fortifying. It will strengthen the hair fiber by compensating for the lack of sebum and bringing shine to all the hair.
Hydrate your hair with gelatin
Bring the water to a boil, add the gelatin and stir until completely dissolved. Leave to cool and pour this mixture into the conditioner bottle. Shake well to combine the ingredients and use your conditioner as usual, immediately after washing your hair. This remedy is especially useful for hair that is prone to dryness.
Gelatin mask to give hair volume
For the preparation of this mask you need:
1 tablespoon of vinegar
100 of water
1 tablespoon of honey
1 tablespoon gelatin powder
In this mask, to complete the gelatin powder, we integrate vinegar and honey. Two ingredients that are particularly beneficial for the health of your hair. Used after shampooing, during rinsing, vinegar has the ability to tighten the scales of the hair fiber and thus prevent hair loss. In addition, it eliminates limescale deposits and brings an immediate shine to the hair.
For its part, honey is renowned for its protective, nourishing and moisturizing agents. It can be suitable for all hair types: it moisturizes dry hair and purifies oily hair. A really sharp treatment!
Application
First heat the water, remove it from the heat and add the gelatin. Mix well without stopping to avoid lumps, then add all the other ingredients until you get a creamy consistency. Then apply the mask to the hair, taking care to distribute it from roots to ends. Leave for 10 minutes, then rinse thoroughly and wash as usual.
The key is healthy, beautiful and silky hair!
Read also 3 awesome ways to use gelatin in your hair to repair, thicken and hydrate it