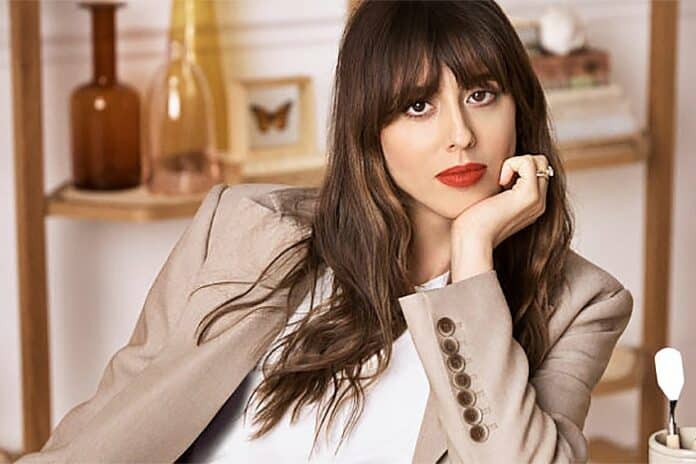 The little Parisian has everything of a big one. Exiled to New York, Violette Serrat has already conquered 460,000 followers on Instagram, and Americans are fighting over her brand of eco-responsible cosmetics.
The very recent creative director of Guerlain makeup, Violette Serrat, has a busy life. Whether for this emblematic brand of French cosmetics or for her brand Violette_fr, she criss-crosses France and the United States in search of new ideas and inspirations. Her tutorials hit the mark and her ever-growing audience follows her well beyond our borders.
19 YEARS, THE DREAM BECOME REALITY
Stylist, painter, such was his vocation, design, fashion and the Ecole du Louvre were his path. Endowed with an artistic temperament, it will ultimately be "make-up artist", in English in the text, a phrase that corresponds well to Violette Serrat's vision of the profession. To achieve your goals, there's nothing like daring, especially when you're only 19 years old.
Neither one nor two, it was at this age that the young Parisian flew to New York with some savings, without pre-established plans. For lack of means, she buys and mixes pigments to concoct her first products, but training alone has its limits.
No dream life in perspective, Violette returns to Paris. However, she decides to follow her instinct, a rule of life for this obstinate young woman. This time, she sets herself a time limit to achieve her goals, and at least make a living from this job, or even better. It will be 4 years, no more.
This make-up enthusiast, with no classical training, wants to present her creations and not take the usual beaten path. It is through her pure talent that she intends to impose herself and seduce with her vision of make-up. 17 years later, Violette Serrat can be satisfied. She has worked with the biggest magazines, developed products for Dior, Sephora, Estée Lauder without forgetting today her appointment at Guerlain, and her personal apotheosis, that of Violette_fr.
THANK YOU SOCIAL NETWORKS
Instagram and YouTube are the two networks used by the designer to successfully develop her notoriety. His tutorials, advice and sharing have allowed him to build a strong community of fans and followers. The entrepreneur has in her panoply the talent to communicate in a 3.0 way, but also.
It is this quality that is at the origin of his company. By talking and reading the comments of her "followers" she noticed the difficulty for some of them to accept being outside the canons of beauty imposed by the net, and all the more difficult to highlight its own strengths and differences. With some 400,000 "followers" ​​on Instagram, and more than 300,000 on YouTube, the personal market research that Violette Serrat was able to do is a faithful reflection of her future clientele.
This network pro is worried about the pressure of the latter on teenagers who today are reluctant to accept themselves as they are in order to try to resemble the image offered to them, with the help of filters or cosmetic surgery not assumed.
A VISION OF MAKEUP
The launch of its brand was carried out as soon as the development of vegan, environmentally friendly and high-performance products was completed. For a little over a year now, Violette_fr has been offering specific products, with a very specific approach.
The young woman has a precise idea of ​​beauty, the names of her products reflect this philosophy. Whether it's Boom Boom Milk or Hot Caramel, the objective is to move towards a global approach that allows you to feel better, physically and therefore mentally. It is therefore not a question of transforming oneself into someone else, but of using the
shadows and colors to feel good without erasing the personality that is expressed through a face. Not at all Kardashian, nor contouring, the tutorials of the thirties are clear, do not require hours in the bathroom, in short, products that aim to improve self-esteem, including in the days difficult. No recipes, advice for a restorative approach without surgery.
FRENCH BEAUTY IN BROOKLYN
The entrepreneur says it, she trusts her instincts and nothing can stop her when she is convinced that she is on the right track. Make-up is not a superficial sector, it plays a real role in the way you look at yourself, positively and negatively, and knowing how to use this weapon simply is a plus.
Being French has played a role in New York where she has lived for several years, French women being, according to Americans, less perfectionist, more natural in the way they wear makeup, less obsessed with perfection, with an acceptance certain imperfections such as expression wrinkles, which are rarely found in the net starts made in the USA. The thing is, the spring launch of the brand shattered Violette Serrat's expectations. In one day, the forecast sales for the month were reached.
TWO CENTURIES OF GUERLAIN
Since her appointment at Guerlain last summer, Violette Serrat has been living in a dream. She can drown at all costs in the history and archives of an almost bicentenary brand. A new challenge for the young mother of a little Inès who has lived in New York for more than six years with her husband Steven.
Passionate about interior decoration, the young woman is a fulfilled self-taught start-up, well in her life, who has not finished surprising. There is no doubt that we will soon find her in new creative adventures in France as in the United States, she who has only ever dreamed of independence.
Anne Florin