Marianne Vic, Yves Saint Laurent's niece, dressed her family in style. And opens a scary Pandora's box.
It's not just about evacuating the memories of that weird and all too famous uncle, Yves Saint Laurent. With a precise, superbly literary pen, Marianne Vic unravels the YSL myth, gently reveals the horrors of her dark family. Cocktail of the pages: rapes, incest, lies and denials. Vic wrote to understand, to kill deceptive appearances. It's violent, beautiful, astonishing, sickening.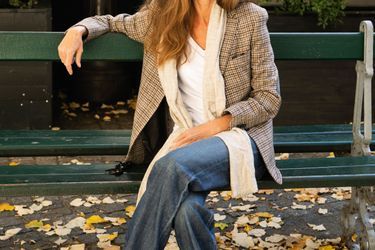 I wrote so my sons know where they come from

Marianne Vic
Paris Match. Why write again, because you had told about your childhood, the alcoholism and the abandonment of your mother, Brigitte, who was Yves Saint Laurent's sister?
Marianne Vic. How to get rid of a hyper-toxic family, without denying its origins? I loved Constance Debré's books. However, I didn't go so far as to spit in their face. I wrote to free myself, to do myself good, for my two sons. Let them know where they come from. Behind the incredible dresses, there was horror.
What's next after this ad
Lucienne Saint-Laurent, your grandmother, was born from the rape of her mother by her brother-in-law. And she herself was raped as a teenager by her stepfather… Did Saint Laurent know that?
Michèle, Yves and Brigitte, the three children of Lucienne, had accepted, on the death of their father Charles Mathieu Saint-Laurent, who was not their biological father, the fable of Lucienne. She had lied to them, claiming that their grandmother had had a love affair with a married man. Lucienne knew the identity of her rapist father, who never had to answer for his actions. She preserved her children, all a little frapadingues, and swung these secrets… only to me! Lucienne and all the women in the family were silent, the first rapist was the father of her cousins, the second, of her brothers and sisters.
What's next after this ad
Yves Saint Laurent was not the shy that one would think. He was made of steel

Marianne Vic
You mention Lucienne's sex life, her orgies with her husband, her number of lovers…
Out of self-hatred and not in the name of bodily freedom. Total depression.
There is a poignant scene between mother and son on Christmas Eve: Yves doesn't open his mouth, Lucienne goes home and ends the New Year's Eve in the concierge's lodge…
Yves was destroyed by this family, he went very far with drugs, alcohol… Was this madness the driving force behind his creation? Yves created when he could and, one day, he couldn't anymore. A tragic life. What interested me was to understand how he had been able to foment this dream of having his name inscribed in letters of gold on the Champs-Élysées – and how he had succeeded. Yves was not the shy one thinks, even if he rocked after a sexual assault as a teenager. It was steel.
What's next after this ad
What's next after this ad
I heard noises sometimes at the bottom of the apartment, I did not approach it

Marianne Vic
You seem relatively balanced…
I was not mistreated, even if I was not taken care of. My father left for South America when I was 7 years old, my mother could not take care of me, I went to live with Yves and Pierre rue de Babylone. My room overlooked the entresol, the butlers Albert and Bernard, the cook, the laundry, all took care of me, the driver accompanied me to school. I heard noises sometimes at the back of the apartment, I didn't go near them.
To read you, you loved your uncle, despite everything…
Yes, and I hated him sometimes, especially on my wedding day when he arrived drunk. For this occasion, I had asked her for the color dress from the time of "Peau d'âne", that is to say my denial! I could see that they were siphoned off, I moved away, I built my little life. The man deserves better than the myth. Which was shaped by Yves and Pierre Bergé.
Luckily Pierre Bergé was there

Marianne Vic
Was Pierre Bergé attentive or horrible?
I was a kid who lived with them. Of these two men, Pierre seemed the more balanced. Luckily he was there. For everyone.
However, you regret that he did not explain to Yves the nature of his illness, incurable…
I project this fantasy of the last words, but Yves would perhaps have been incapable of it. Pierre kept this secret to himself. When Pierre understood that Yves was going to die and that the three people he hated the most, Lucienne and her two daughters, were going to receive money, he made a peace with Yves. Between Pierre and Lucienne, there was only hatred. I can understand Pierre, she paid him back.
Yves did not liberate women, he hated them

Marianne Vic
Between you and Pierre Bergé, what was the link?
I stayed close to him. I depended on them financially at one time, Yves and Pierre allowed me to be free. Then Pierre gave me his time, he was aware of being interesting. He advised me "Un amour impossible" by Christine Angot… When my mother died, after Yves, a coup de grace, I learned that I was disinherited. I was devastated. Pierre replied: "We are going to fight!"
What does the Saint Laurent brand inspire in you today?
It is without future, everything will be diluted. And I don't care about fashion. Yves did not liberate women, he hated them. My book allows us to understand the origin of this misogyny. And to go beyond appearances.