No need for drastic changes to do something for the planet on a daily basis. The proof with these good reflexes to take to adopt a more eco-responsible beauty routine.
Have you ever thought about changing your habits to better respect the planet? You are not the only one ! As Carrefour recently pointed out in a press release presenting its new soft green brand, which is more environmentally conscious, 80%* of French people say they have already changed their habits to reduce the impact of their consumption – particularly in terms of organic products. hygiene and care – on the planet. The online beauty service reservation site Treatwell explains that 7 out of 10 French people regularly buy eco-responsible beauty products in search of a greener beauty routine.
But if everyone now seems ready to compromise and adopt new reflexes to embrace a vision of more lasting beauty, not everyone necessarily knows which approach to take to achieve this without denying their needs. As every gesture counts, let's take stock of those to easily adopt on a daily basis to preserve the planet.
What's next after this ad
Choose natural and organic beauty products
The advantage of natural and organic care is that they are thought to be more respectful of the environment both in their choice of ingredients and through the way in which they are produced. Containing at least 95% of ingredients of natural origin, they are free of controversial substances and therefore benefit from better biodegradability. Choosing them is an easy way to adopt an eco-responsible beauty routine. We therefore put a maximum on this type of cosmetics that are more respectful of the environment.
Reduce the number of products in your bathroom
This is one of the most effective ways to avoid waste (open products that will never be finished) and put an end to the logic of overconsumption which is harmful to the environment. In truth, you only need 5 products in your bathroom to adopt a minimalist beauty routine that will make a difference. It's also much easier than you think thanks to multi-purpose care such as vegetable oils or aloe vera.
What's next after this ad
Review your make-up removal ritual
Are you one of those who use a dozen cotton pads to remove make-up each evening? Simply swap out your disposable cotton pads for their reusable counterparts to reduce your waste. For the maintenance of reusable cotton pads, it's simple: wash them after use. Another possible option to do without cotton if the chore of cleaning slows you down: cleansing oil that is simply used with your hands.
Forsake your face scrub for a dry exfoliation
To put an end to the vicious circle of exfoliants in tubes or jars that we open but never finish before the expiry date, we can decide to do without them in favor of a new gesture that saves us the purchase – and wastage – of care: dry brushing of the face.
On the same principle as dry brushing for the body, this routine consists of making small circular movements on clean, dry skin using a brush, in order to get rid of dead cells. A good way to save products and water!
What's next after this ad
Facial Exfoliating Brush, Faciology
19,90€
Avoid samples
We like them to test new products without having to invest in formats full size but the samples, due to their minimal capacity, require a lot of plastic for very little product. They are therefore a significant source of waste. And if the capacity/packaging ratio isn't there, it's full steam ahead for the planet. Better to avoid them. If we like them for their practicality and their lightness when we go on a trip, we will gladly replace them with reusable plastic containers on each vacation so as not to feel the difference in the luggage.
Swap your conditioner for a leave-in conditioner
After washing, it is not uncommon to need a moisturizing and detangling treatment, especially when you have long hair. The good news is that a new kind of conditioner is becoming more popular lately: leave-in conditioners, which promise to save water for the planet. By abandoning your rinse-off treatment for one of them, you will easily do something for the environment. Great water savings in the shower in perspective!
What's next after this ad
Adopt solid cosmetics
Less greedy in water and energy than liquid care (for their production), solid cosmetics such as facial cleansers or scrubs, bars of soap and shampoos, also have a reduced carbon footprint thanks to their compact format. Their minimalist packaging has the advantage of reducing unnecessary waste and is often recyclable or, failing that, eco-responsible. So many good reasons to swap one of your essential liquids for its solid version. Are you afraid of ending up with a soggy solid care product in the soap dish? In another article, we reveal a trick you need to know to keep your solid shampoo well.
Read also: Solid deodorant: nomadic format and natural composition, our selection for the start of the school year
Switch to reusable eye patches
We love them to refresh our eyes and treat ourselves to an express treatment at home, but single-use eye patches produce a lot of waste, especially if you use them often. To not be deprived of their effectiveness, opt for their reusable versions. The main difference is that they are not soaked in formula, but will give your eye care the benefit of their occlusive effect so that it penetrates the skin better and is more effective. As you will have understood, you must therefore put on your eye care before putting them in place and then take advantage of their boost before cleaning them after each use.
What's next after this ad
Adopt rechargeable beauty products
We grant you, we do not always find happiness in organic cosmetics and not everything we want among solid cosmetics. To produce less waste without changing your habits too much, refillable beauty products are ideal! Hygiene products such as shower gel, hand soap or toothpaste, but also refillable make-up (lipstick, mascara, blush, eyeshadow), you have a wide choice of options to adopt them! These products designed so that you can keep their packaging as long as possible have everything to please. With them, you just have to take the reflex to remove the empty refill to put in a new full one, and you're off again for as many uses without having (almost) put anything in the trash. Today, even major brands like Dior offer them!
Switch to a washable cotton swab
Among the routine cottons that are problematic, there are also cotton swabs, which are the source of significant environmental pollution, as they are regularly flushed down the toilet rather than in the trash by those who use them. To overcome this concern, reusable cotton swabs have been invented. In silicone, they are now available in several forms to replace all your cotton swabs, whatever your needs (ear cleaning, manicure touch-ups, etc.).
Greenable – Reusable Bamboo and Silicone Cotton Swab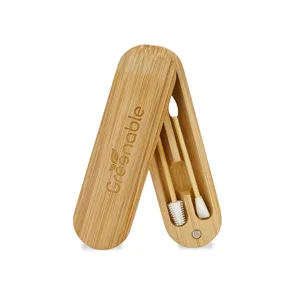 © greenable
Amazon Marketplace

8.9
The price offers are listed in ascending order of price. The prices displayed are inclusive of VAT (all taxes included). The price of postage displayed corresponds to the cheapest home delivery offered by the merchant. aufeminin.com references in its price tables the merchants who wish to be present on the condition that they display prices with VAT (including VAT – all taxes included) and that they present an excellent level of quality of service and customer satisfaction. This referencing is paid. Our price tables are therefore not exhaustive of all the offers and merchants present on the market. The offers present in the price tables are updated daily and several times a day for certain shops.
Passionate about writing and beauty, Elodie swaps her lipstick for her laptop to find you the best makeup, hair and skincare trends, and pro tips…