The wisest know it, November 1st is World Vegan Day. And faced with the certain enthusiasm for the phenomenon in recent years, veganism is now celebrated throughout the month of November. A month of awareness during which, followers recall the definition and the different forms of this practice but also share their experiences and their opinions on food and lifestyle in general. Because being "vegan" is not just a question of food! Here is a selection of essential vegan makeup care…
A vegan balm foundation that is causing a stir
The Good Apple balm foundation has conquered the digital sphere thanks to its lightweight high coverage. A small amount is enough to achieve a natural finish and a fresh, flawless complexion. In just one swipe, it conceals everything from blemishes to skin discolorations and tattoos – and it stays on all day while looking like you're foundation-free with no plaster or shine. Enriched with apple extracts and sodium hyaluronate to nourish and hydrate skin, it's creamy, non-comedogenic and minimizes the appearance of pores for a fresh, smooth complexion. It is ideal for dry and combination skin, but can also be suitable for oily skin with the application of a setting powder.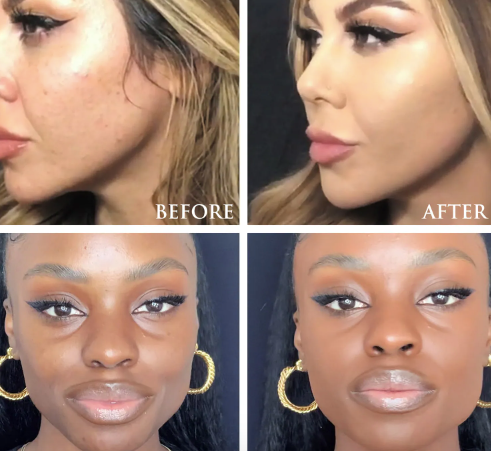 Good Apple Foundation Perfecting Balm – KVD BEAUTY – 39€
A vegan cream lipstick with intense colors
Faced with the resounding success of the Lady Bold collection, the brand wanted to create a collection of nude lipsticks that are out of the ordinary. Scented with the iconic ultra-delicious chocolate scent, these nude lipsticks have been designed to flatter all skin tones while offering an incredible result in a creamy texture. On the menu: 8 intensely pigmented sexy cocoa nude shades with, despite everything, a feeling of lightness.
Em-Power Coke Bold Cream Lipstick – TOO FACED – 26€
A vegan mascara that hits the spot
Pharmacists, graduates of a master's degree in marketing and management and drawing on their experience as product managers in a cosmetics start-up, Agathe and Charline, the founders of the Pomponne brand have worked to give make-up a new power: take care of the skin with a makeup that heals, that is natural, that is holy, that is effective, that is vega, that is eco-responsible and finally made in France.
The brand thus stands out with its vegan mascara which boosts the length of eyelashes in 6 weeks. Co-created and validated by makeup artists, it was designed for an eyelash effect and a curling effect, all without clumping… and improving the quality of eyelashes that grow over time. Enough to make this product number 1 in sales on the Blissim website!
Lash Booster Mascara – POMPONNE – 29€
A vegan mattifying foundation
Made with 90% natural ingredients, this primer sets makeup, blurs pores and controls shine. It is enriched with niacinamide and bakuchiol to reduce pores, smooth skin texture and even skin tone over time. Like all Milk Makeup brand products, it is vegan, cruelty-free, paraben-free and silicone-free.
Pore ​​Eclipse mattifying foundation – MILK MAKEUP – €36
A pretty vegan palette with essential shades
Known for its vegan products and so beautiful that you wouldn't want to use them, the Dear Dahlia brand is back with a new refined and delicate collection in rosy-brown tones, ideal for fall/winter. Sophisticated and easy to wear, the palette is made up of 9 shades in velvety matte, satin and metallic glitter textures. Rich in pigment, the soft formula glides on the lids for a long-lasting finish.
Timeless Bloom Collection Palette – DEAR DAHLIA – 57€
An organic and vegan foundation
Mademoiselle Bio recently released its first certified organic make-up range. The pioneer brand of certified organic cosmetics has taken its time to develop the best of nature's active ingredients in a range focused on the complexion.
At the heart of the range, a collection of foundations available in 10 shades. Exit the gray mine, make way for a radiant complexion! Its medium coverage smoothes pores and evens out the complexion, for a long wear of up to 16 hours. Its plus: an SPF 15!
Luminous foundation SPF 15 – MADEMOISELLE BIO – €24.50
A highly pigmented vegan eye pencil
KVD Beauty recently launched its new Tattoo Pencil, an ultra-smooth gel pencil inspired by the brand's flagship liquid eyeliner.
Available in 10 shades with intense colors and bold matte finishes, it is easy to apply to offer a fluid line, a diffused effect or a graphic look in the blink of an eye. It is also waterproof, anti-transfer and stays in place all day on the eyelid or along the eyelashes.
Tattoo Liner Pencil – KVD BEAUTY – 21€
An organic and vegan compact powder to unify the complexion
Ideal for mattifying the skin and unifying the complexion, the new compact powders leave a light and natural veil on the skin.
At the heart of the formula: organic rice and tapioca powder (with mattifying properties) and organic aloe vera (known for its moisturizing, protective and soothing properties). Always with an ethical concern, the case is 100% recyclable and the packaging is made of cardboard from sustainably managed forests.
Teint Divin unifying foundation powder, available in 2 shades – SO BIO ETIC – €19.90
Vegan matte lip pencils
Selena Gomez has expanded her makeup range with the arrival of a new super creamy, water-resistant, balm-like lip liner to define lips with rich, resilient color. Its intense, pigmented, long-lasting and waterproof formula lasts all day and helps keep lipstick intact.
Kind Words matte lip pencil, available in 10 shades – RARE BEAUTY – 17€
A cream foundation with sunscreen
Ideal for combination to oily skin, this vegan foundation provides lightweight coverage and imparts a radiant glow with its light-diffusing formula without highlighting fine lines. The long-wearing formulation is easy to apply and blend for buildable sheer to medium coverage. Available in 13 shades, without any greyish coloration on darker complexions, it is also suitable for sensitive skin and dry skin. Finally, it protects the skin from daily sun exposure with 4-star UVB SPF and UVA protection.
Foundation – FACE THEORY – €18.74
A silicone-free foundation
This fragrance-free, 90% naturally-derived, gentle primer contains soothing Damask Rose Water, vitamin-rich Prickly Pear, and powder technology that locks in moisture and helps preserve the protective barrier of the skin. The refreshing formula blurs pores and extends makeup wear for up to 12 hours and blends with all skin tones.
Blur Jam Blurring Primer – WISHFUL – 33€
An iconic vegan highlighter
Make your skin sparkle with an incredible diamond powder effect. Diamond Bomb Highlighter unleashes the power of glitter with a sparkling 3D formula that will coat your face and body in crystal, Rihanna style. The Diamond Bomb has a unique flexible formula, pleasant to the touch, which melts on the skin. This complexion illuminator brings shine for a perfect final touch that sublimates any type of skin.
Diamond Bomb Highlighter – FENTY BEAUTY – €39
A set of vegan and sustainable brushes
Sephora Collection brand brushes are known to be some of the strongest and most durable in the world. If you are looking for vegans, here is a set that includes 8 essential brushes for complexion and eye make-up, accompanied by their pouch to carry them everywhere. This kit consists of 3 face brushes and 5 eye brushes and has been specially designed to achieve complete makeup, from the complexion to the eyes! Each brush has been selected to achieve all types of looks, from the simplest to the most sophisticated. From the perfect complexion, to the precise cut crease through the no make up make up. Grouped in a reusable cardboard case, these brushes also come with a washable cotton pouch to carry them everywhere.
Set of 8 advanced brushes – SEPHORA COLLECTION – 59€
Elizabeth Sall