Manor AG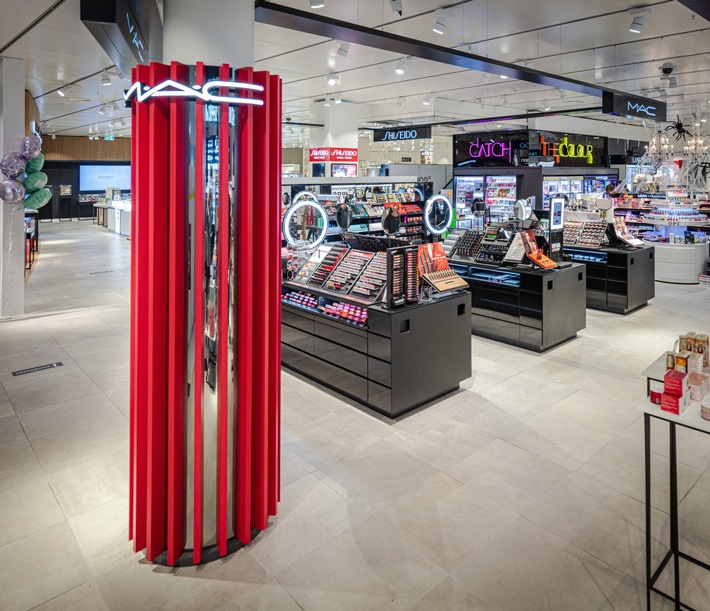 Lausanne (ots)
For its new concept in the fields of beauty, jewelery and accessories, Manor Lausanne is betting on "youth, diversity, dynamism and modernity". Thanks to new collaborations with both trendy niche brands and established international brands, the department store offers its customers a unique shopping experience and an exclusive offer.
Unique beauty expertise and Swiss firsts
Covering approximately 1,250 square meters, the entire beauty department presents various cosmetic treatments and a diversified offer. "With this completely new concept, which includes many Swiss firsts, Manor is launching a new form of shopping experience combined with beauty services that is unparalleled. New exclusive brands, trendy and long-term cooperations in the form of a shop -in-shops, changing event areas and exclusive beauty services at "Le Studio" represent an uncommon offering for a department store in Switzerland – all concentrated under one roof and accessible six days a week. Manor is the number 1 beauty destination in Switzerland and will continue to develop its offer for its customers", explains Felix Potocnik, Category Director Beauty and Partnerships at Manor.
The largest Sephora corner in Switzerland
The largest Sephora corner in Switzerland covers an area of ​​122 square meters. It offers popular classics and emerging brands, as well as a wide range of own brands to guarantee a unique beauty experience. In May 2016, the first Sephora shop-in-shop in Switzerland opened its doors at Manor Geneva. Today, the French brand is present in 25 Manor department stores.
"The collaboration between Sephora and Manor, both close and important, marks the beginning of a new era with this exceptional upgrade in Lausanne. Our Sephora corner within Manor Lausanne is the largest in Switzerland and offers, besides the Sephora collection, a full selection of exclusive brands.In addition, we not only launched new brands like Tarte, Fresh, Natasha Denona, Drunk Elephant and Rare Beauty this year, but also trendy and attractive services like Brow Lamination at the Benefit Brow Bar. We offer what our customers love: make-up, skin care and hair care – easy to use, affordable and accessible to everyone," explains Patrick Morliere, Managing Director of Sephora Switzerland.
Another Swiss first concerns the Rituals brand, now represented at Manor Lausanne with the largest counter inside a Swiss department store. The luxury brands Chanel, Dior, Lancôme, Yves Saint Laurent, Guerlain, Kiehl's, Estée Lauder and MAC also present themselves in a very modern store concept. An omnichannel space allows customers to order missing products directly from the store to their home and to discover other flagship products from the brands.
Exclusive cosmetic treatments at "Le Studio" salon
In 2019, Manor Lausanne opened its very first beauty and hair salon, "Le Studio", in collaboration with L'Oréal and Clinique Matignon. This is the largest area dedicated to cosmetic care in Switzerland. Six renowned international partners offer a wide range of services to offer a unique 360-degree beauty experience:
L'Oréal Professionnel: the vast L'Oréal salon of 300 square meters offers, in addition to the classic services of a hairdressing salon, special services such as a hair diagnosis, a color bar where customers can observe the process creation of different hair colors or a digital space to test the different shades on a tablet.
Clinique Matignon capsule: leader in aesthetic medicine in Switzerland, Clinique Matignon offers in its capsule a dedicated and confidential space for specific treatments for the face and body with the cutting-edge dermo-professional Skinceuticals range. Mesotherapy for the face, scalp, anti-cellulite or skin firming, peelings, deep cleansing or intense hydration of the face with Hydrafacial: a rich and varied offer meets all needs.
Alessandro: the new Alessandro nail bar, with over 25 years of experience, will sublimate customers' hands and feet with excellent products and techniques.
Vanity Lab: The Vanity Lab offers daily professional treatments in the field of microblading, eyelash extension and lifting, as well as coloring. Waxing for the face and body are also offered.
Anastasia Beverly Hills: this Beauty Corner specializes in hair removal, eyebrow shaping and day, evening and wedding makeup. It also offers various beauty workshops.
Whitening Artists: a new treatment cabin opens its doors at Manor Lausanne. From now on, customers will be able to benefit from scaling and dental whitening, all this in the heart of a department store!
Various pop-up stores and trendy shop-in-shops
The jewelery and accessories section also makes it possible to accommodate shop-in-shops of international brands and small local companies which complete the offer. The new sneaker store Hideout with its limited edition models and the luxury second-hand store Closet Genève are in tune with the times. Here are the other brands represented by a shop-in-shop at Manor Lausanne from November:
Closet Geneva: until the end of 2022, the luxury second-hand store offers a pop-up store at Manor Lausanne. For the first time, real unique pieces and choice items from major brands, such as Chanel, Gucci, Fendi, will be sold at Manor Lausanne.
Hideout: In recent years, sneakers have become more and more trendy. The limited edition models are particularly popular with younger generations. The rarer the model, the higher its price and popularity in the market. Hideout is a successful retailer of sneakers and collectible trainers and now displays its assortment as a shop-in-shop at Manor Lausanne.
Sole Savaz: sneakers are entitled to a second life. In the new Sole Savaz shop-in-shop, all sneakers are repaired, cleaned and given a new design. An offer that is both durable and trendy!
Swatch Group Corner: in the jewelry department, Swatch Group is opening its own boutique of approximately 100 square meters, which houses six of the group's major brands: Rado, Tissot, Balmain, Certina, Mido and Hamilton. The brands have their own individual presentation in the shop-in-shop, which has been deliberately furnished with a predominance of wood and offers customers a high-quality and comfortable shopping experience. Customers can try on watches in peace in the lounge specially designed for this purpose and receive advice from a professional and well-trained team.
Aeschbach Chaussures integrates Manor Lausanne as a shop-in-shop and notably offers the latest models of shoes from Dr. Martens, Ugg, Tamaris, New Balance, Geox, Karl Lagarfeld and Veja.
For the inauguration of the new beauty, jewelery and accessories departments, Manor Lausanne is offering a special program from 1 to 12 November. Exclusive beauty and jewelry events are held daily, including with local artists. Manor Lausanne invites you to join the greatest beauty experience!
The Manor Food supermarket in Lausanne is getting a makeover!
Customers have been enjoying the offer, diversity and freshness of the Manor Food supermarket for years. The ultra-fresh food sections, such as vegetables, meat and fish, are brand new and offer many local offers! The vast assortment of wines is just waiting to be discovered – the Manor sommeliers will be happy to advise and welcome you!
Site
Manor Lausanne
Rue de la Louve 8
CH-1003 Lausanne
Business hours
Monday to Friday 9 a.m. – 7 p.m.
Saturday 9 a.m. – 6 p.m.
Close on Sunday
Press release online here.
Pictures
Download photos here
About Manor
The largest group of department stores in Switzerland welcomes its customers in the most attractive places in the country, and thus contributes to the animation of Swiss cities. At the same time, the company pursues an omnichannel strategy (use and linking of stationary sites and online shops) and also operates an online marketplace for selected suppliers and brand partners on manor.ch. Manor AG, headquartered in Basel, is represented in all regions of the country. The company employs approximately 8,000 people and currently trains 200 learners. The Manor Group consists of 59 Manor department stores, 27 Manor Food supermarkets and 24 Manora restaurants. In total, Manor markets over one million items from approximately 2,800 suppliers worldwide. These include approximately 700 local producers who supply Manor Food Markets with local, seasonal produce.
manor.ch
Contact:
Media contacts
Manor S.A.
Corporate Communications
media@manor.ch
.