Serum, moisturizer, mascara, foundation… Buying beauty products is expensive. So try to find the best value for money when looking for a particular cosmetic. To help us, a trend has emerged on TikTok and it's called "Save vs Splurge".
Each skin has specific needs to be treated. And while a beauty product may work for one person, it may also be particularly ineffective when applied to a different skin type. This is why it is sometimes difficult to get an idea of ​​the effectiveness of a cosmetic. To help us navigate through the multitude of products available on the market, TikTok make-up artists, dermatologists and beauty experts participated en masse in the trend. "Save vs Splurge" in other words "save or splurge". The goal ? Rationalize our cosmetic expenses.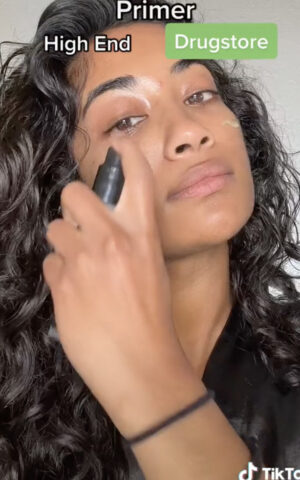 Save vs Splurge, what is it exactly?
Overall, this is a format in which each person shares which cosmetic (makeup or skincare) they would or would not recommend according to more or less objective criteria. A rather interesting and informative content (when it is personalized, commented), which allows us to save some money. And while many beauty TikTokeurs have participated in this trend, the makeup artist with 361.6k subscribers @makeupbymonicaa has taken it a step further by talking about each product category. She drew a comparison between cosmetics that can be found in supermarkets and those from more expensive cosmetic brands.
"Being a beginner can be so difficult when there are over 95,000 brands," she says. "I'll tell you what you should save or splurge on. »
It teaches us, via this content for example, that there is no point in investing in a primer or a concealer from a big brand, when a less expensive version does the same job perfectly. On the other hand, on the foundation side, it is rather the opposite. According to her, betting on a more upscale brand would make it easier to find the shade that matches the undertone of your skin and reduce the risk of reaction when you have sensitive skin. It's the same thing when it comes to loose powder since according to her, the Easy Bake Loose Baking & Setting Powder from Huda Beauty (brand sold at Sephora) is unbeatable for blurring dark circles without drying out the contour of the face. 'eye.
What defines whether a product is worth it or not?
If this type of content can provide real help in the choice of beauty products that we use on a daily basis, a question still arises: what defines whether a cosmetic is worth it or not? The answer is nuanced, because in the end, it all depends on which family he belongs to.
When it comes to a serum, moisturizer or essence, the lucky winner's choice will depend on the rate of active ingredients it contains. Care oils, on the other hand, are more accessible, because they only need to be vegetable and pure to bring their benefits to the skin.
On the make-up side, the task is more complex because it all depends on its rendering on the epidermis, its comfort, its pigmentation and its hold. Very personal criteria that depend on the needs and priorities of each of us…

Read also :

La crème de la crème: the beauty editor shares its favorite October products
Image credits for one: @Karly Jones