bubble gum eye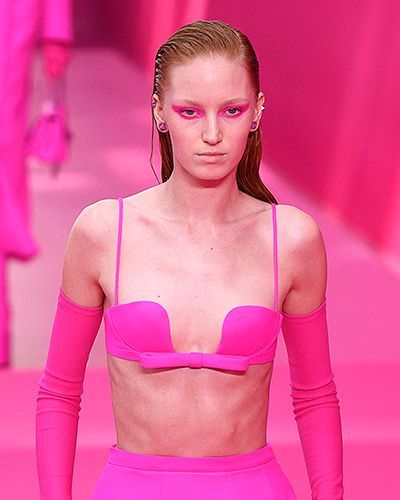 @ABACA
• The concept
Pink is the new black! Pop or pastel, melted or solid, full blush on pink, which imposes itself on all eyes for an assumed baby-doll style.
• Where was it spotted?
At Valentino and on actresses Camila Mendes and Ella Purnell.
• The warning
Estée Lauder expert make-up artist, Patrick Lorentz advises not to bet on red and pink shades after a short night…. The shades of red tend to bring out small vessels in the eye, which are already more marked when you are tired .
• Manual
For a melted and delicate make-up, opt for a ball brush. For a pop finish, bet on a flat brush, previously moistened to intensify the pigments.
Hot for Hue 9H Palette, Morphe €14
The bleached eyebrow
@ABACA
• The concept
This new must-have riding the bizarre beauty trend is as intriguing as it is desirable. Erased by fading, brows blend in for an ultra-sharp look.
• Where was it spotted?
On the Burberry, Richard Quinn, Versace, Givenchy shows…
• The warning
Before embarking on bleaching, Joss Devilleneuve, founder of L'Atelier du sourcil, reminds us that this trend is not for everyone and that it is best, at least initially, to try it by betting on makeup. Finally, our expert only recommends it on flawless skin!
• Manual
Create the illusion with a matte concealer: cover the brow, then brush it out before applying a fixer.
Tweezers with brush Stylbrow+, Atelier du Sourcil €24.60
Flash Perfector Concealer, Dior Backstage €32
Arty liner
@ABACA
• The concept
Forget the chic and sexy BB-style eyeliner line, the trend is for an arty brushstroke: fine, delicate and worked.
• Where was it spotted?
On the shows Giambattista Valli and Roksanda, and on the influencer Lena Situations.
• The warning
Beginners or with two left hands, pass your turn! This trend is for the experts who have landed their master eyeliner.
• Manual
Isis Moënne-Loccoz, backstage make-up artist, advises drawing light dots with a brown or black pencil before drawing your eyeliner to ensure that the two eyes are symmetrical. Finally, we trace it on the bare eyelid for an arty and minimalist make-up.
Brushstroke 24-Hour Eyeliner, MAC Cosmetics €23
skin jewelry
@Bestimage
• The concept
Like piercings, skin jewelry, whether rhinestone or beaded, adorns faces in an offbeat but elegant grunge spirit.
• Where were they spotted?
On the Givenchy, The Blonds, Fendi…
• The warning
Less is more. This trend must remain minimalist. So don't be heavy-handed and place your jewelry sparingly, and ideally symmetrically.
• Manual
Be sure to apply the jewels on bare or matte skin to optimize their adhesion. If your embellishments are not self-adhesive, apply a dab of false eyelash glue. Hypoallergenic and tested under ophthalmological control, it can be applied without fear on the face, including as close as possible to the eyes.
Rhinestones, Make Up For Ever €24
The pop corner
@ABACA
• The concept
A well-pigmented touch illuminates the inner corner of the eye for a discreet but particularly stylish make-up.
• Where was it spotted?
On the Dior fashion shows and on the infl uencers Paola Locatelli and Thylane Blondeau.
• The warning
Simple but present, this makeup only works if the mobile eyelid is bare or slightly warmed up. In addition, we take care to keep a light mouth and complexion in order to keep the fresh side of this make-up.
• Manual
Pink, orange, sky blue or even white, the shade must be luminous to open the eyes. We opt for an eye pencil or for eyeshadow applied by tapping to ensure that as much pigment as possible is deposited.
Butterfly Babe Ethereal Eye Palette, Too Faced at Sephora €43
The dark mouth
@ABACA
• The concept
A bit goth but terribly sexy, the dark mouth accentuates your dark side to the end of your lips.
• Where was it spotted?
On the Giambattista Valli, Valentino and Versace fashion shows.
• The warning
Sublime on full mouths, we forget the dark lipstick if we have thin lips because it tends to make them appear even smaller.
• Manual
For a clean result and a color that does not fade, be sure to moisturize your lips beforehand and always trace the contour of the lips with a pencil chosen in the same shade as your lipstick. And, for a perfect result, it is recommended to apply it with a brush. Dark lipstick does not forgive! Finally, we contrast with nude make-up to maintain a refined spirit.
Epic Kiss Lipstick, KVD Beauty €23
Marine Boisset