Natacha Rivalan
Affiliate Editor
Published on
Updated
Sweating is never very pleasant. If there is no shortage of deodorants on the market, they are not always super effective during the day, especially if you tend to sweat easily and/or excessively. Nivea offers a new 96h antiperspirant deodorant which could be a solution for some. I tested it, here is my verdict.
Sweat is a natural phenomenon aimed at maintaining our body at a constant temperature of 37°C and protecting our skin against certain aggressions. But it sometimes happens that this phenomenon becomes annoying when you sweat too much. Presenting unsightly halos under the arms because of this excessive perspiration is indeed nothing to cheer about. If the phenomenon is regular, very abundant and disturbs your daily life, of course, it is better to consult a doctor (general practitioner, dermatologist) in order to be sure that it is not linked to a disease, a hormonal problem or even taking of a drug. Only he can make a diagnosis of the causes and possibly give you a treatment adapted to your case.
But what solution if it is more punctual? How about a good antiperspirant? I tested the latest from the Nivea brand, the Derma Dry Control 96h antiperspirant, specially dedicated to excessive sweating. Is it really effective on long days? Here is my verdict!
The brand promise
Nivea is a brand of our everyday life. It is found at different levels in the field of skincare and in particular in the deodorant and antiperspirant market. The latest in its range is an antiperspirant called Derma Dry Control 96h. The promise is therefore quite obvious: protection against excessive perspiration for 96 hours, as well as against humidity and odors of perspiration. Thanks to its patented DermaDry formula and the lactate it contains, this antiperspirant also protects against irritation and leaves the skin soft.
The Nivea DermaDry Control 96h antiperspirant review
I tested the 200ml spray version for women. I am prone to heavy perspiration when it's a little hot or when I move a lot, I admit that I was intrigued by the product's promise of effectiveness. I have already had the opportunity to test cream products from other brands but which tended to leave ugly white marks on dark clothes and which took a long time to dry. In short, the spray format was therefore an interesting novelty for me.
I used the product for over a month every morning as a regular deodorant. The bottle is rather practical since the cap is integrated (it avoids dropping it in the mornings when you are not too awake). Just twist the top to open or close the product. The application is very easy: a pchit 15cm (approximately) from the armpits. Then let it dry for a few minutes before putting on your top and leaving for a hectic day. The scent is rather light for my taste and not unpleasant. Personally, I'm not a big fan of strong smells for this kind of product.
Benefits :
Its efficiency : that was my main criteria. I, who often had to reapply deodorant during the day to stay fresh until evening, was able to do without it without worry.
The diversity of formats and versions: as often at Nivea, the product is available in spray and ball, for men and women. A compressed format could however be interesting to save a little space in small bathroom cabinets or when you go on a trip.
The inconvenients :
The composition : like most antiperspirants, it contains aluminum salts that are still very controversial. Studies have been passing the buck for many years on possible links or not between aluminum salts and breast cancer, so the debate is far from being settled. This could therefore be a hindrance for some.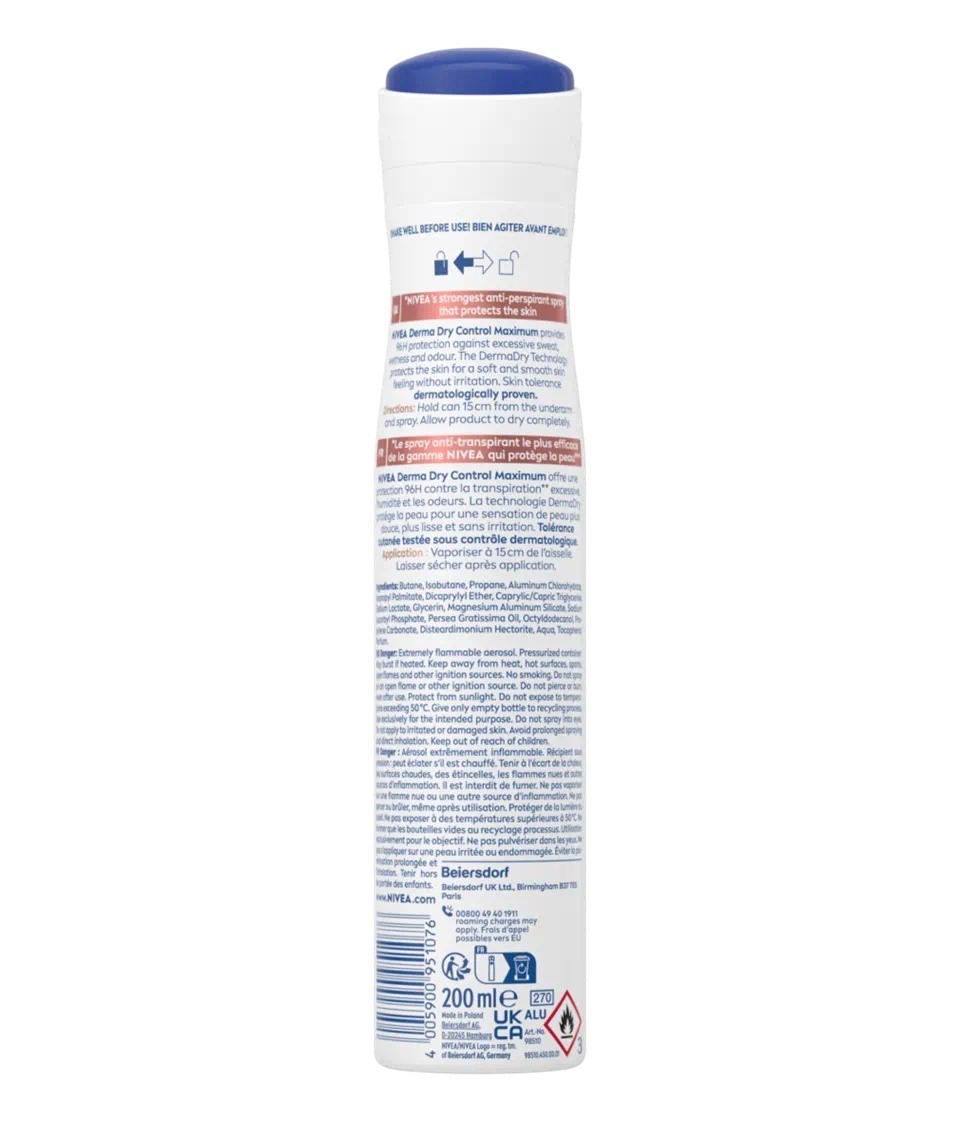 Note however: the Scientific Committee for Consumer Safety, an independent group of experts to the European Commission, issued an opinion on the subject in 2020 and "considers safe the use of aluminum in antiperspirants, toothpastes and lipsticks in the usual concentrations of marketed formulas". For its part, the National Agency for the Safety of Medicines and Health Products (ANSM) recommends "do not use deodorants containing aluminum salts after shaving or in the event of an injury, as these situations obviously favor the penetration of the metal into the body" (a recommendation that has not been reviewed since 2011, however).
The price : around 4.50€, it's not the cheapest.
My Review of Nivea DermaDry Control 96h Antiperspirant
I was looking for an antiperspirant that would allow me to stay fresh all day in my daily life and I was not disappointed with the product. It is indeed more effective than conventional deodorants and helps to avoid halos and feelings of humidity throughout the day. It doesn't have the drawbacks of cream antiperspirants either (no streaks on clothes in particular), leaves the skin rather soft after use and has a pleasant fragrance, not too overpowering.
Note however: I used it daily at a time when it was certainly hot but not very hot either. I was therefore unable to measure whether its effectiveness is the same under conditions of intense sporting activity or during severe heat waves.
>> Buy Nivea DermaDry Control 96h antiperspirant
In addition to a deodorant or antiperspirant that suits us, there are a few things to do to fight against perspiration on a daily basis.
Certain foods actually promote sweating. We will therefore take care to limit our consumption of exciting drinks (coffee, tea, alcohol) and spicy food. If you sweat a lot, also remember to hydrate yourself by regularly drinking water at room temperature (drinks that are too hot or too cold can, on the contrary, further accentuate the phenomenon of sweating).
To fight against perspiration, it is better to opt for breathable materials such as cotton and natural fibers (linen, wool). Also avoid fabrics that are too thick or too tight, which could retain heat. Also keep in mind that dark colors capture heat, so prefer light colors under the sun. Also pay attention to your shoes if you tend to sweat on your feet: choose quality ones if possible, preferring leather to plastic for example. To limit perspiration, you can also choose insoles that absorb moisture (charcoal for example) or put a little talc on your feet after the shower, especially at the level of the toes, to limit the heating of the feet.
To fight against bad odors due to bacteria and eliminate sweat, nothing beats a good shower. Depending on the need and the activity, we can go up to 2 daily showers. Also take care to dry yourself well, emphasizing the areas that sweat the most. And, of course, put on clean clothes after your shower.
If the peaks of sweating appear during stressful situations or in the event of strong emotions, relaxation techniques can be a good way to reduce the pressure. Yoga, meditation, breathing techniques… it's up to you to find what calms you most effectively.
.