The wisest know it, November 1st is World Vegan Day. And faced with the certain enthusiasm for the phenomenon in recent years, veganism is now celebrated throughout the month of November. A month of awareness during which, followers recall the definition and the different forms of this practice but also share their experiences and their opinions on food and lifestyle in general. Because being "vegan" is not just a question of food! Here is a selection of essential vegan hair care…
A solid vegan shampoo for oily hair
This solid, plastic-free shampoo is one of Sephora's current bestsellers. Despite its solid format, its formula is ultra foaming which cleanses the scalp, allows you to space shampoos for at least 1 extra day and helps eliminate dandruff. Enriched with purifying white clay and purifying tea tree essential oil, it gently cleanses your hair without drying it out (soap-free), reduces excess sebum and leaves hair light, soft and shiny.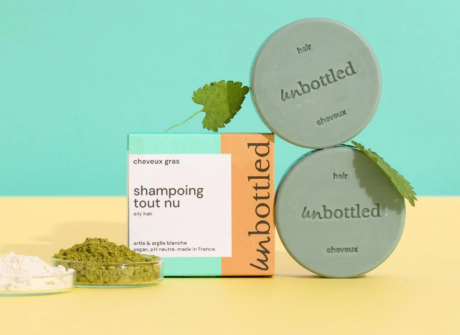 Bare Solid Shampoo for oily hair – UNBOTTLED – 14€
A vegan detangling balm to activate shine
Known for its organic, vegan and made in France products, the Centifolia brand stands out with its impressive range of effective and healthy hair care products. The "Sublime Brilliance" range is enriched with ORGANIC Raspberry extract which illuminates and protects the hair and with vegetable keratin which revitalizes and coats the hair. The plant-based formula includes a mild, 100% natural fragrance. The hair is light and soft to the touch. Easy to style, they regain a natural shine.
Shine detangling balm – CENTIFOLIA – 7,99€
A vegan scalp scrub
This ginger hair & scalp scrub is made with 90% ingredients of natural origin and enriched with vegan keratin. You can use this exfoliating treatment to get rid of dandruff and scales, once a week, instead of your shampoo. While you massage the equivalent of a walnut on wet scalp, enjoy the texture of this scrub. It lathers and the walnut and coconut pieces gently exfoliate your scalp. Results ? Fresh-smelling hair and a healthier scalp…ready to function better and stimulate hair growth.
Ginger hair & scalp scrub – THE BODY SHOP – 18€
An organic and vegan range with vegetable keratin
Energie Fruit, the French brand known for its effective and low-cost organic care made in France, is back with a new range of Vegetable Keratin dedicated to dry and difficult to straighten hair, enriched with Monoi, Rose oil and organic Argan oil. .
The disciplining shampoo nourishes and softens the hair fiber for a smoothing effect without frizz. We note that it is sulphate-free and is ideal for Brazilian smoothing since it allows not to rub the fiber and thus durably protect the smoothing.
The Detangling Mask also deeply nourishes hair damaged by heated appliances. Its formula acts as a protective barrier against external aggressions for supple, shiny and delicately scented hair.
Disciplining shampoo – ENERGIE FRUIT – 5,90€
2-in-1 Detangling Mask – ENERGIE FRUIT – €6.50
A restorative vegan oil
This ultra-concentrated, ultra-light and one-of-a-kind restorative hair oil. It protects against heat and eliminates frizz.
Real care, it repairs, strengthens and hydrates all types of hair, namely straight, wavy, curly or frizzy. It dramatically increases color shine, softness and vibrancy, while minimizing flyaways, and provides heat protection. We note that the packaging is eco-designed.
Hair repair oil N°7 – OLAPLEX – 29,90€
A hydrating vegan mask for dull hair
No more dry and dull hair, and above all welcome the mask with organic vegetable oils good for the hair and the planet! On the menu: a powerful cocktail of organic jojoba oil, organic sweet almond oil, organic coconut oil, castor oil and aloe leaf juice to nourish, hydrate, smooth, soften and repair the hair fiber.
Vegan Moisturizing Mask – CUT BY FRED – 36€
A treating vegan color
After 3 years of scientific research, Aveda has developed an exclusive, vegan alkalizing technology that makes coloring more effective and healthy. This alkalizer improves color penetration, works faster to cover 100% gray hair, brings mirror-like shine even to hard-to-maintain copper reds, and creates endless shades with an expanded shade range. At the heart of the formula: certified organic avocado oil, certified organic baobab oil, organic sacha inchi oil, a cocktail harvested with sustainability to nourish the hair fiber and preserve its health during the coloring process.
Full Spectrum Permanent vegan color treatment – AVEDA – to discover in a selection of salons
A vegan range to add volume
The Saint Algue brand recently launched "Respect", a range of natural professional skincare products with vegan, certified organic formulas and eco-responsible packaging.
At the heart of the range, an ideal duo for hair lacking in volume with a formula enriched with fermented blackcurrant and organic aloe vera which brings body and substance to the hair fibre. The Densifying Shampoo makes the hair thicker, voluminous and sheathed from the root while cleansing and detangling without weighing down the hair. The Densifying Care helps to hydrate in depth.
Densifying Volume Shampoo – SAINT ALGUE
Densifying Volume Treatment – SAINT ALGUE
A hydrating and detangling vegan mask perfect for curly or frizzy hair
This moisturizing mask is made with aloe vera, macadamia, jojoba, glycerin, provitamin B5 and essential oils of rosewood and grapefruit. It contains a fortifying cosmetic active ingredient: provitamin B5. It makes the hair stronger and shinier. It is the ideal active ingredient for sensitive and itchy scalps. Suitable for all hair types, it will delight people with difficult to disentangle, split ends and dry hair. It makes the hair soft, silky, without smothering it. Grapefruit essential oil is photo-sensitizing.
Repair Time Extra-Nourishing Cream Mask – LES SECRETS DE LOLY – 19,90€
A vegan scalp moisturizer
Once exfoliated and cleansed, the scalp can sometimes become dry. Then bet on this light, milky serum contains ingredients that mimic the function of natural moisturizing factors produced by the skin.Helps protect the skin barrier of the scalp to maintain and promote hydration of the scalp.
Scalp Moisturizer – THE ORDINARY – 11,90€
Elizabeth Sall