Last weekend, at Ho Xuan Huong Gymnasium in Ho Chi Minh City, many young people with long hair came to participate in a charity event. They cut their hair to give to breast cancer patients. Many touching stories have been shared here.
>> A mother facing breast cancer
>> Skin cancer: be careful when working outside
>> Creation of a bone cancer research laboratory by Vinmec in Japan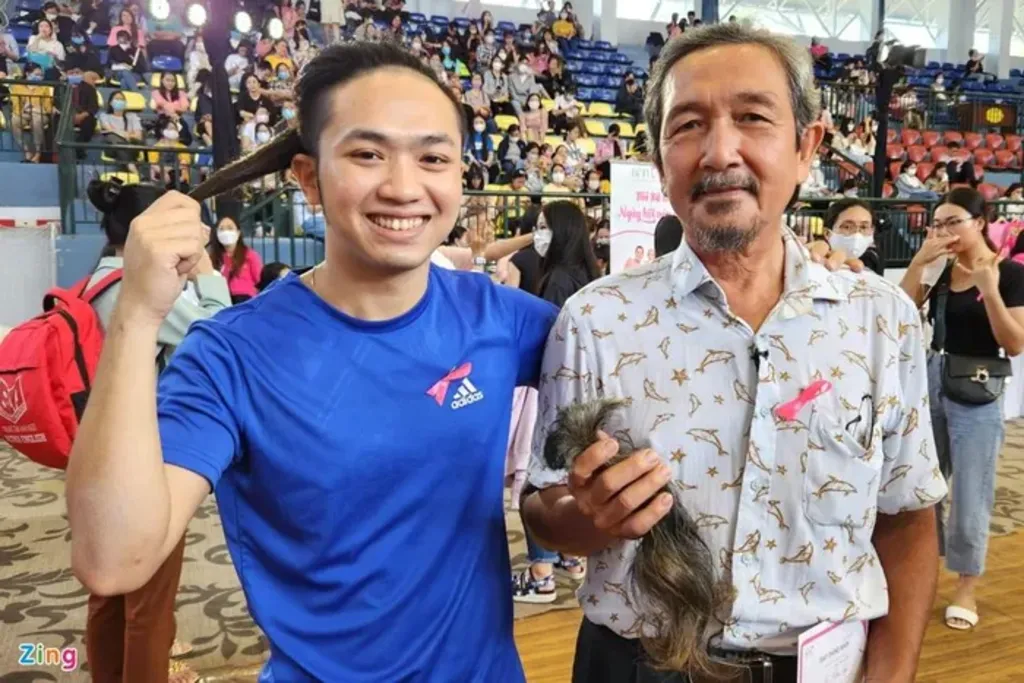 Thanh Dat (left) and Mr. Khac Duy during hair donation activities.
Almost two years ago, 25-year-old Thanh Dat decided to stop cutting his hair. Her goal was to take care of them and wait for them to reach the right length to donate them to breast cancer patients in Vietnam.
On October 30, Thanh Dat attended Ho Xuan Huong Gymnasium to participate in the Pink Hat Festival, a Vietnam Breast Cancer Network hair donation event. He was excited by the lively atmosphere of the event but also a bit nervous. A year and a half ago, Dat started growing out his hair. He admits that it was a bit lonely and difficult. At first, her long hair was often the focus of discussions between neighbors. His family often asked him to cut his hair short"to look like a normal person".
Besides, her new hairstyle was also causing her a lot of trouble at work. As a civics teacher, Dat is held to strict appearance requirements. Despite social and professional pressures, the 25-year-old didn't hesitate to keep his hair. In addition to Thanh Dat, more than 500 other young men devote time and effort to taking care of their hair. For them, it is a gift full of love and encouragement for breast cancer patients.
Looking forward to D-Day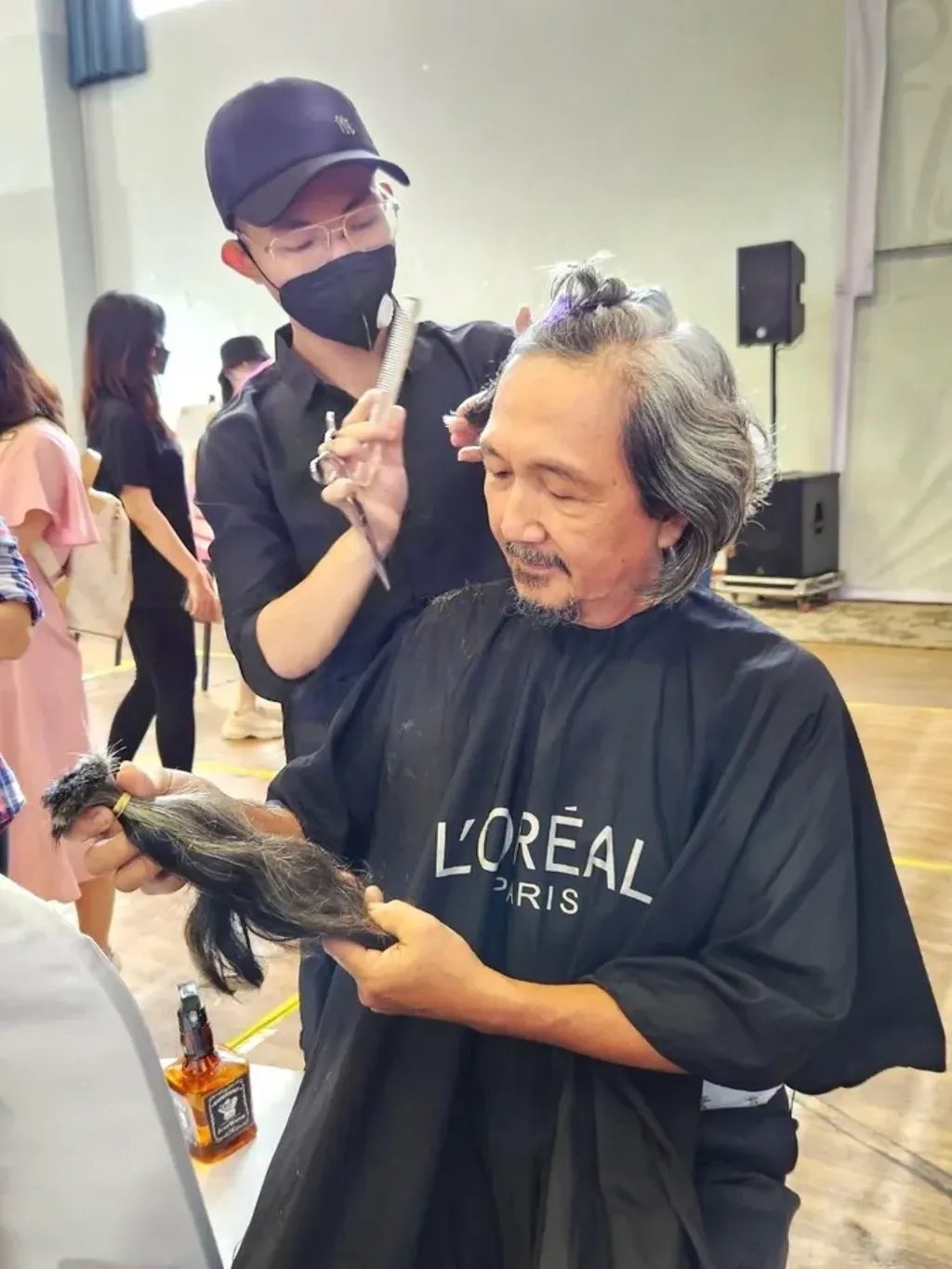 Tô Khac Duy, 61, came to donate his "pepper and salt" hair to elderly people suffering from cancer.
Talking with Zing, Dat explains that he had anticipated all the risks before starting his project. He still has a steady income from freelancing. In fact, what concerned him the most was how to keep his hair healthy, to meet the donation criteria. "I've been prioritizing smoothing products lately, even using coconut oil in the skincare process. Every time I brush my hair, I feel pain when I see it fall and litter the floor. The process helped me better understand women's love for their hair, which gave me even more motivation to offer them.r," he concluded.
Tô Khac Duy, 61, also caught the eye with her "salt and pepper" hair. He had to leave his house in Bên Tre at 5:30 a.m. to be on time. He's always smiling when he talks about the reasons why he kept his hair for the past three years. In 2019, Mr. Duy read about the need for salt and pepper hair for elderly cancer patients.
Since appearing with long hair, he has often been teased by his colleagues and friends. Whenever asked why, Mr. Duy laughed and moved on. It wasn't until her hair reached the desired length that it was ready to be given away. Holding a neatly tied 30cm long lock of hair, the 61-year-old couldn't help but be moved. He considers it one of the best decisions he has ever made. "After today, I will continue to grow my hair and invite my wife and children to participate. I don't know how much time I have left, but I hope to have the opportunity to donate hair with all my family", said Mr. Duy with joy.
The greatest pride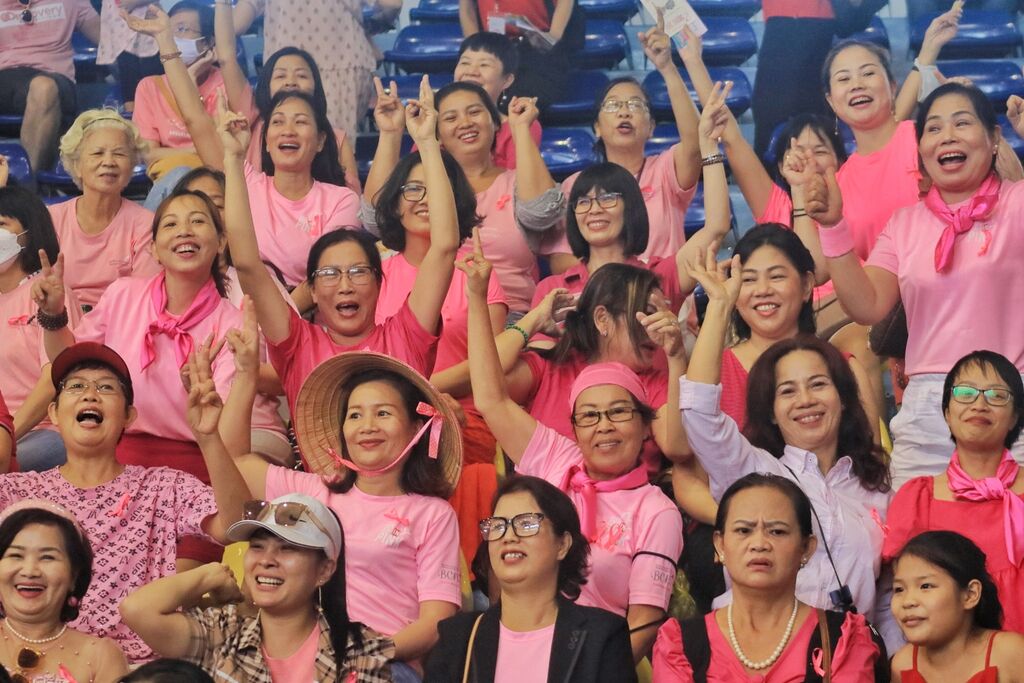 Many volunteers admitted that they weren't thinking of cutting their hair.
For Bao My (23, Go Vap district), her beautiful waist-length hair has become her pride since elementary school. She takes care of her hair with natural care, avoiding the use of chemicals as much as possible. She thought she would keep her hair shiny until she was old. However, everything changed the day her cousin was diagnosed with breast cancer. After watching her loved one shave to start chemotherapy, My decided to say goodbye to long hair.
"My parents had strongly opposed it, thinking that I could encourage it in other ways. However, whenever I think of the dark hair she always cherishes, I want to make that wish come true.", said Bao My. Before the first cut, she closed her eyes to stay calm and she finally breathed a sigh of relief after the first cut locks. Seeing her new look in the mirror, Bao My laughed because she was not used to the mid-length hairstyle. Although she is a little worried about the reaction of those close to her, she remains convinced that everyone will gradually understand and support her decision.
Meanwhile, Thao Linh (18) was brought to the donation center by her mother. After 2 years of taking care of it, her hair has grown to its desired size. According to Linh, it is not easy to have hair of good enough quality for donation. To be valid, natural hair must be at least 25cm long, and chemically treated hair (permanent, dyed, etc.) must have a minimum length of 30cm. Every day she wants her hair to quickly meet the standards. However, when she prepared to "sit in the hot seat", Linh was a bit restless. "I think that's the common feeling of a lot of girls. We consider our hair an important part of ourselves. I hope the feeling of regret will pass soon, so that I have the motivation to keep growing my hair.", she shared.
Some 1500 wigs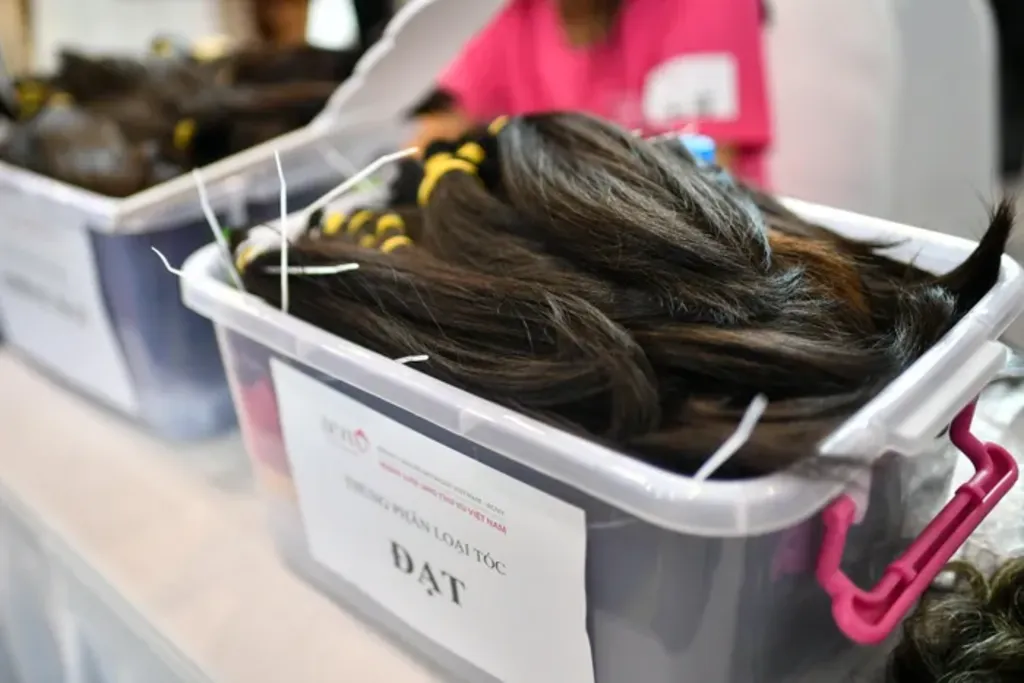 All stages of cutting, tying, classifying hair are well taken care of.
When speaking with reporters, Quoc Khanh's hairdresser, who directly cut the volunteers' hair, expressed his respect. Although he has been in the profession for 10 years, Khanh can't help but be touched before cutting some hair for donation. Important, the hairstylist should carefully discuss the length of the cut to avoid annoying or irritating people.
"I'm always happy to touch long hair. Not to mention that they are used to donate to cancer patients, so treasuring them is the highest priority. Each step must be taken care of so that the hair has the best quality", did he declare.
The Vietnam Breast Cancer Network also supports the process of preserving donated hair. Because it's only done manually, organizers have to be thorough at every step, from receiving, filing, to processing. Curls should be dry, not tangled or moldy and tied neatly.
According to the representative of the organization, it is not possible to accurately calculate the needs of patients for wigs. In fact, every time 50 to 100 wigs are produced, they are shipped directly to affiliated hospitals, so there is no waiting list. In the event that patients wish to receive the hair, patients can go to the Hair Library located at the Network office.
"It takes 4-7 curls to get finished products, besides the processing process is quite expensive, depending on the hair salon. That's why we've only donated 1,500 wigs in 7 years of existence. This number is not large, but it represents the love of 200,000 volunteers. Besides donors, we clearly see the happiness and confidence of cancer patients when they receive new hair. Hair donation is an act of spiritual support for patients, helping them to be more confident and to feel that they are not alone in their cancer journey.", added the representative of the Vietnamese Breast Cancer Network.
Text and photos: Quang Châu/CVN
.