Game news Evil West: Release date, gameplay, coop, all about this Far West-style God of War!
With God of War Ragnarok on our doorstep, it's already time to consider what's next! Yes, what are we going to be able to play after the so-called GOTY? We have the answer… Evil West, a crazy action game in a supernatural Wild West. A kind of mix between the PlayStation blockbuster and Weird West. Does it hook you? So here is all the information about it.
When is the Evil West action game release date?
We start with the most important. Evil West will be available on next November 22 on PC, PS4, PS5, One, Xbox Series. If you follow the news of this action game, you may have noticed that it was originally supposed to be released in September. "Evil West is being released on five platforms, including several generations of consoles," explain studio Flying Wild Hog and publisher Focus. "It is essential to refine our game… It is a goal that we have always pursued"! Luckily, you don't have to wait very long. See you in November to play "Evil West".
What is Evil West? Does it look like God of War?
Evil West is a third-person action-adventure game, with an important focus on combats, narration (we talk about it right after). In this sense yes, we can consider it as a 'close friend of God of War', with clashes that take place both at a distance and in close combat. As in the PlayStation game, it is even advisable to mix the two! For the rest, you pilot Jesse Rentier, one of the last members of a guild of demon hunters who protect humanity. So you imagine it, you're going to have to kill a bunch of them.
What is the scenario and the story of this Evil West?
On the sidelines of its supercharged action, Evil West seems, surprisingly, to also emphasize the narration. The few presentation videos thus reveal carefully staged cutscenes, and secondary characters who are just as much. Yes, this dear Jesse Rentier will not be alone in his mission. In particular, he can count on the help of his father, William, who brought him up at the Rentier Institute, the famous hunters guild mentioned earlier. This can also be renovated to unlock skills. And that's not all, because Edgar, your faithful partner, is also there! All in all, you won't be too many to unravel the mystery of a conspiracy of vampires, at work in the greatest secrecy. All this will take you to visit oil fields, infested mines, canyons and ghost towns.
Is it possible to play with two players?
Good surprise, yes! It is indeed possible to play Evil West with 2 players! On the title's Steam page, we can read: "solo or co-op, hunt and eradicate bloodthirsty monsters in style". At the moment, we don't know much more. We imagine that the second player will pilot Edgar, faithful companion of Jesse – former member of the Rentier Institute guild.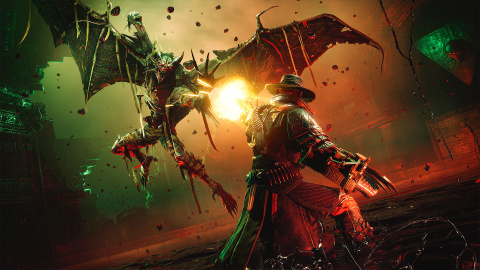 In terms of gameplay, Evil West relies on a mix of ranged and melee action. The hero can thus count on several weapons, like a colt, capable of triggering several blows quickly; a rifle, which can target enemies' weak spot; a shotgun or even a flamethrower or a machine gun. Everything promises to expand over time – but here, we must not neglect the importance of the gauntlet in close combat! By dint of sticking pies to your opponent, the latter will start to blink, opening the way to a kind of very powerful finish move (like in Doom). To listen to the developers: the most effective is still to mix the two. As indicated in our preview, everything is very robust, with the possibility of blocking, dodging, even parrying. Possibilities for more fun.
What is the Evil West progression system?
We end with everything related to the progression system. Beyond unlocking various weapons and tools throughout the adventure – Evil West features a skill tree for each of these tools! All this translates into points to spend, just to be able to dump more bullets, give them a chance to ricochet, or recover ammunition if you manage to hit a sensitive point of the enemy. Eventually, it will also be possible to infuse the arsenal, with for example lightning… Your gauntlet will then be able to chain the blows at an impressive speed. In short, everything seems to be implemented so that we take full pleasure.