Focus on solids
In addition to being less expensive than conventional beauty products, solid cosmetics allow us to save a lot of money and waste. Indeed, even if their price is a little higher to purchase, they last much longer than the liquid versions. Better still, healthier, eco-responsible and just as effective, they are easily transported without risk of leakage and are authorized in cabin suitcases. Toothpaste, perfume, shampoo, conditioner… all your needs are within easy reach.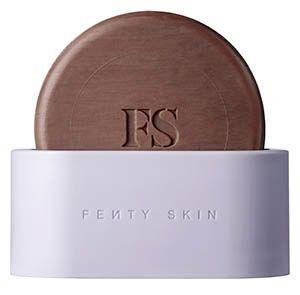 Cocoa Cleans'r Soothing All Over Cleansing Bar, Fenty Skin 13 € (excludes Sephora)
solid perfume, Lamazuna 18 €
solid shower gel, Natural Cosmo €7.30
solid shampoo, Joya Soaps, €6.10
Radiant Skin Face Scrub, Unbottled €12.90
Prefer XXL formats
Because large capacities always offer more attractive prices, we bet on XXL formats which, in addition to being economical, are suitable for the whole family. In the shower, make way for large cans of shampoos and shower gels, good for the planet and the wallet!
Refreshing shower gel, Nat & Nove Organic €3.95
Surgras Bath Shower Gel, Cavaillès €9.90 the liter
Shampoo for the whole family, €11.90
Invest in multi-purpose care
All-purpose cosmetics, that's a good idea! Face and body moisturizer, global care oil or double-use makeup, we opt for beauty products designed to act on several parts of the body at the same time. For example, since hair and skin are made up of similar proteins, the active ingredients in certain treatments are just as well suited for one as for the other. For make-up, the same goes, you can completely divert its main use: a lipstick can be used as a blush, a brown mascara can be applied to the eyelashes as well as the eyebrows and the hairspray sprayed on a brush teeth helps fix the eyebrows.
Multi-purpose cream with sweet almond oil, Level €6.40
Versatile moisturizing balm, Freshly Cosmetics 22 €
Lip + Cheek, Milk Makeup 23 € (excludes Sephora)
Universal moisturizing balm, Fleurance Plain €7.70
Face body hair beauty oil, Terraké 37 €
Anti-waste solution
If we refer to the proper use of make-up removal, you must use a cotton pad for each area of ​​the face and use as many as necessary until the make-up is completely eliminated. Suffice to say that it's a hell of a budget. The trick to avoid breaking the bank is to invest in washable and reusable fabric discs, gloves or make-up remover towels which also come in exfoliating versions.
Set of 3 make-up remover squares, Oceopin 16 €
Water-based make-up remover glove €17.90 (on apofrance.com)
Weekly pack of washable make-up remover cotton pads, esteem & sense €17.50
Kit of 5 reusable make-up remover towels, Make Up Eraser 19,90 € (excludes Sephora)
Choose rechargeable
Less polluting and less expensive than beautifully packaged beauty treatments that also pay for the packaging, refillable products are a good way to reduce plastic waste. The idea is to buy the content and its container, then to continue with the purchase of a refill (cheaper) that you just have to transfer into the bottle you already have.
Eau de toilette Wood & Powder, 100BON 37 € and 59 € 200ml refill
washing oil, SVR €19.50 and €17.50 1 liter ecofill
free cream, Free Cream €29.90 ecocharging and 15 € the pot
compact powder, Zao Makeup 21,90 € and €9.90 charging
Invincible Mascara, Clever Beauty 28,90 € and €24.90 charging
The canon trick, the "BeautyMix"
Ecological, healthy and economical, this robot (129 € on beautymix.com) allows you to make your own tailor-made cosmetics with ingredients of biological origin. Easy to use, just pour our magic recipe in, let it heat up, mix and you get a 30 ml jar of cream as effective as in perfumery and about 10 times cheaper!
MAUREEN MARCHAL