1. PREPARE THE GROUND WITH HOT
Forget dry shaving! The skin must imperatively be moistened with warm water beforehand. The perfect time to shave? After the shower or after applying a hot cloth to the face: the pores are then opened and the hairs softened. Cutting the hair is thus facilitated and the risk of irritation minimized.
2. CLEANSE TO CLEANSE THE SKIN
To limit the risk of infection, favored by microcuts linked to shaving and often invisible to the naked eye, it is strongly recommended to rid the skin of all impurities with Marseille soap or a cleansing lotion specially adapted to your skin. .
3. EXFOLIATE TO SOFTEN IT
Performed once or twice a week, the exfoliation not only removes dead cells and impurities from the face, but above all softens the skin. During regrowth, the hairs then come out more easily and ingrown hairs are thus avoided, forming unsightly and sometimes painful pimples.
4. CHOOSE A WRAP-UP SHAVE CARE
In order to allow the razor to glide better and protect the skin from irritation and cuts, it is essential to adopt a shaving care product (soap, gel, foam, cream, etc.) to be applied to moistened skin before passing the blades. .
5. GET THE RIGHT RAZOR
Poor quality blades – and what's more, being used too long – and too much pressure when shaving are the other culprits behind cuts and inflammation. It is important to change your razor regularly and possibly opt for a version with several blades and/or a protective blade that absorbs pressure. In addition, care should be taken to perform slow, slightly supported movements, and to shave in the direction of the hair to avoid irritating the skin.
6. RINSE TO CLOSE PORES
Freshly shaved, run cool water over your face to close pores and rid your skin of hair and shaving product residue. Then pat your face dry with a towel. Don't forget to clean the blades with clear water to avoid the accumulation of bacteria.
7. MOISTURIZE TO SOOTHE
Last step (incompressible) of the shaving ritual: hydration. Finish by applying a comforting treatment, ideally specially designed for aftershave. Generally formulated from vegetable oils and butters, chamomile and antiseptic active ingredients, it will soothe the skin, protect it but also cleanse any micro-wounds and thus prevent the proliferation of bacteria.
1. One tube of this unscented gel is enough for 55 days of daily cleansing. Face cleanser, Wilkinson Sword Barber's Style, €9.90 for 147 ml.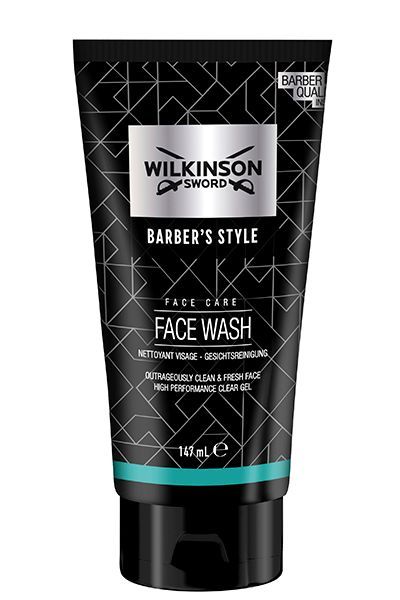 2. Eco-chic: presented in an elegant glass bottle, this natural shaving cream is refillable. Shaving cream in a glass bottle, What Matters, €15.90 for 90 ml (then eco-refill at €13.90 for 180 ml).
3. Guaranteed for life, this clever razor incorporates an exfoliating blade. Razor and its exfoliating bar, Gillette Labs, €22.90.
4. This cocktail of natural active ingredients relies on charcoal particles to exfoliate and absorb excess sebum. Oily Skin Face Scrub, Bulldog on blissim.fr, €5.90 for 125 ml.
5. A fireproof aftershave imagined by the new concept of barber hairdressers present throughout France. Aftershave cream, The Barber Company, €18 for 125 ml.
Marine Boisset