Among the natural hair care products that can be found on the market, there is no doubt that this one finds its place at the top of the podium.
Vegan, made in France, and containing only 12 ingredients, zoom on a hair mask that is all good.
The care our hair has been waiting for
Named Ideal Aloe Argan, this Yodi hair mask both good for the planet and for the hair, is one of the first and only hair masks to contain no water or preservatives. A veritable treasure trove of benefits for all hair types, this sulphate-free treatment has nothing to envy its competition, and finds its strength in a composition of 70% pure organic aloe vera juice, which hydrates and fortifies the hair by depth. First important point therefore, when we know that many skincare products are sometimes formulated with up to 80% water, thereby reducing their composition of active ingredients, and therefore their effectiveness. Transparent and placed in an aluminum pot, we are more won over when we know that this Yodi treatment contains only 12 ingredients, and that's it!
@yodibeauty Taking care of yourself is also having fun. #naturalbeauty#yodibeauty#plaisir#cosmetique#momentpoursoi♬ original sound – Yodi Beauty
Enriched with organic argan oil and hibiscus flower acids, it is a real concentrate of benefits that nourishes and regenerates the hair fiber, while providing shine and softness to the hair.
Essential for protecting the scalp and fortifying its capillary mass, Ideal Aloe Argan is also an excellent ally for detangling its lengths! Indeed, and if you thought that natural products were not effective enough to discipline your hair, think again. Tested and approved by us, successful bet for Yodi, which seems to make no mistakes, and has transformed our fine and damaged hair after only a few weeks of use, making it shinier and much easier to style.
Perfect for all hair types whether curly, dry, damaged, or even oily, it meets all expectations, repairs and hydrates without weighing it down, and offers amazing results from the first use, thanks to its creamy texture. and melting that rhymes pleasure and sensoriality.
To be used as a classic treatment mask to be left on for 10 minutes after shampooing, it can also be used as a touch-up treatment for curly hair, at any time of the day.
Easy to distribute over the whole of the hair, this mask with a delicate fragrance of natural origin covers the lengths and rinses very quickly, without leaving any greasy film or cardboard.
From the first use, the hair is easy to comb, shinier, and much softer. Easy to disentangle, they become treatment after treatment, much more disciplined, hydrated, and durably protected.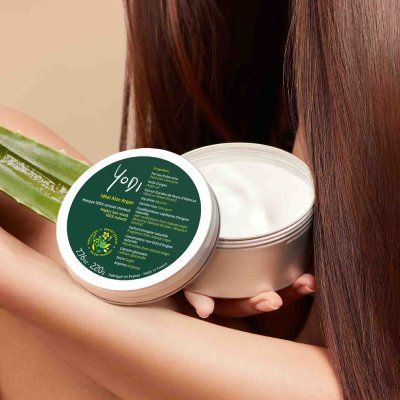 Ideal Mask Aloe Argan Yodi, 37,90€
This article contains affiliate links that may be subject to remuneration from our partners.
JA