The Green Sciences¹ are based on three pillars: the Green Cultivation² – the cultivation of plant raw materials promoting biodiversity and the preservation of ecosystems –, the Green Transformation³, or the use of eco-friendly processes such as biotechnologies, eco-extraction and green chemistry, which transform vegetable raw materials into high-performance ingredients and finally, the Green Formulation⁴, which consists of selecting and combining the most relevant ingredients to offer unique efficacy and sensoriality. Here are four flagship products under the magnifying glass.
VITAMIN C⁵ CREAM SERUM
Unstable when exposed to oxygen and light, vitamin C is difficult to include in skincare formulas. Faced with this challenge, Garnier laboratories use vitamin Cg, a stabilized derivative of pure Vitamin C, an ingredient of natural origin obtained from corn starch through a Green Transformation⁴ process and incorporates it into its new Vitamin C⁵ range. . The 2in1 Vitamin C⁵ Cream Serum thus combines the effectiveness of a Vitamin Cg⁵ radiance-boosting serum with the 72-hour hydration of a cream. A must for a healthy glow!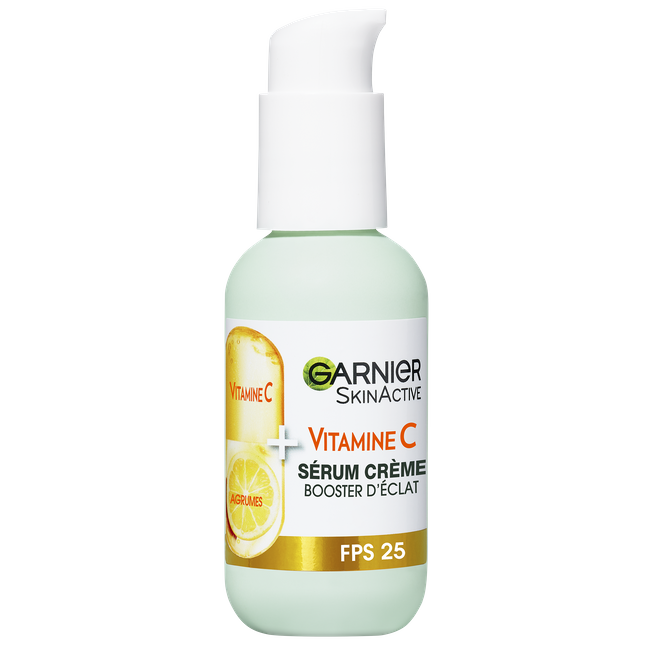 THE BODY SUPERFOOD RANGE
With its new Body Superfood body care, Garnier incorporates a Green Formulation performance engine, Oleo Blend technology: a mix of shea butter and fatty esters obtained by green chemistry processes, for intense nutrition. A new generation of treatments that adapts to different needs: nourishing, repairing, soothing and moisturizing up to 10 layers of the epidermis⁶, with vegan⁷ formulas made up of up to 97%⁸ of ingredients of natural origin.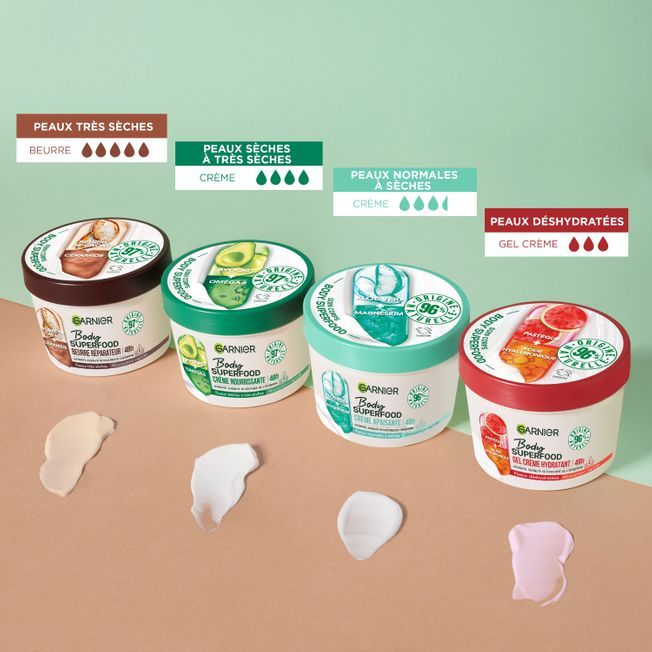 THE BB CREAM
Known for its moisturizing and plumping properties, hyaluronic acid is present in Garnier's iconic BB Cream. Obtained by biotechnology, this moisturizing ingredient is of natural origin, thanks to lactic acid bacteria nourished with glucose and wheat proteins. Limiting the use of natural resources, this process makes it possible to obtain an effective hyaluronic acid, with a reduced environmental impact. And in a single gesture, the BB Cream unifies, corrects, illuminates, hydrates and protects the skin with an SPF 15.
ULTRA GENTLE LEAVE-IN CONDITIONER
On the hair care side, Garnier recently launched its first range of leave-in conditioners, an alternative to rinse-out conditioners. Optimal performance driven by Green Formulation thanks to Oleo Blend technology in formulas with 98% ingredients of natural origin, providing more nutrition to the hair, and an improved environmental impact. No more wasted water! Its concentrated format lasts up to two 200ml bottles of traditional conditioner and saves 100 liters of water⁸ per tube. Results ? This conditioner offers a better environmental footprint with 63% less water use.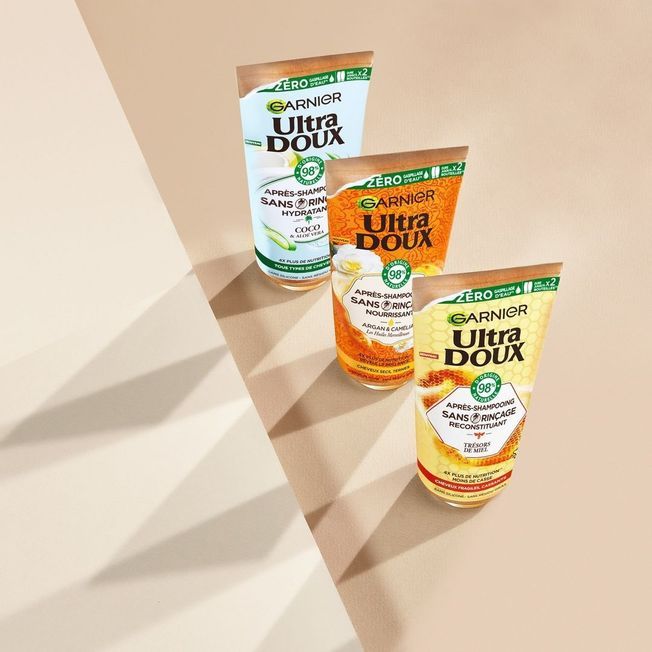 ¹ Green sciences
² Green Culture
³ Green transformation
⁴ Green Formulation
⁵ Vitamin C derivative
⁶ Upper layers of the epidermis
⁷ No ingredients of animal origin
⁸ The remaining percentage is intended for sensoriality and conservation.
⁹ Rinse water only
¹0 According to conditioner category based on the Scientific Committee on Consumer Safety (SCCS) 14.28 uses x 7 liters of water saved per wash.