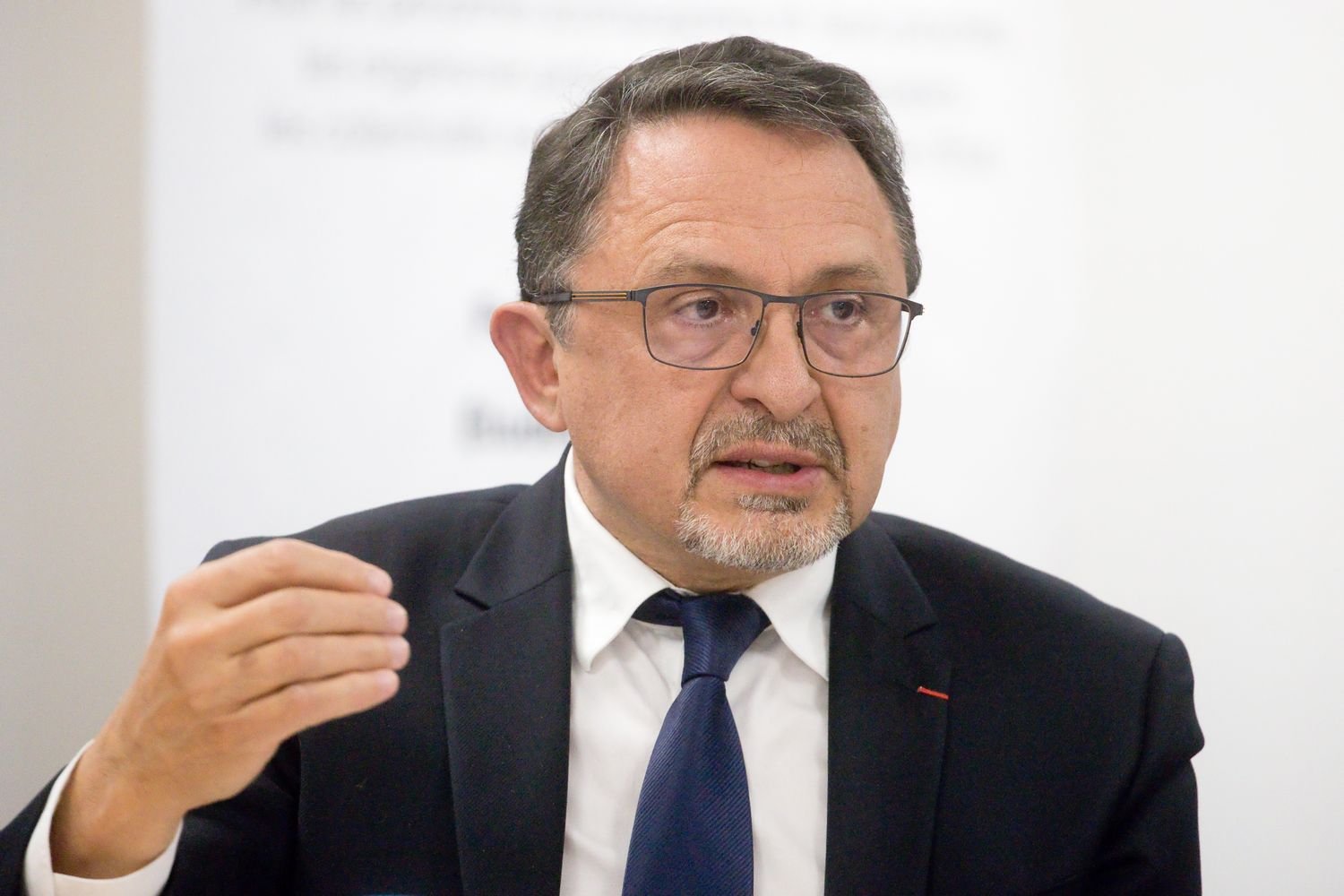 Faced with the demand for a new right to die with dignity, Didier Martin and Fadila Khattabi chaired a round table, this Monday, November 7, in Dijon, on the offer of care for people at the end of life and the possible conditional decriminalization of euthanasia allowing active assistance in dying.
During the presidential campaign, Emmanuel Macron had made a commitment to establish a citizens' convention addressing the delicate subject of the end of life and which could possibly lead to a referendum. Re-elected, the president was able to rely on two opinions from the National Consultative Ethics Committee for Life and Health Sciences (CCNE) issued in September. Two different opinions highlighting the complexity of the problem.
In its majority opinion, the CCNE paved the way for "a move towards active assistance in dying" – provided that the legislator takes up the subject – evoking "the possibility of legal access to assisted suicide" for "adults suffering from serious and incurable illnesses causing refractory physical or mental suffering whose prognosis is committed in the medium term" (read the review).
Since 2016, the Claeys-Leonetti law has regulated the end of life of terminally ill patients, it prohibits euthanasia and assisted suicide but allows "deep and continuous sedation until death" for terminally ill patients in very great pain. , whose vital prognosis is committed "in the short term".
A campaign commitment by Didier Martin
During the campaign for the legislative elections, in Côte-d'Or, the outgoing deputy of the first constituency Didier Martin (RE) had noticed that the subject of the end of life was regularly discussed at public meetings. He also pledged to hold local debates once re-elected.
Didier Martin is a neuroradiologist by profession. Last October, the deputy was appointed full member of the CCNE. He will participate in an evaluation mission of the Claeys-Leonetti law requested by the social affairs commission.
State of play with professionals and committed citizens
This Monday, November 7, 2022, with Fadila Khattabi (RE), MP for Côte-d'Or and President of the Social Affairs Committee at the National Assembly, Didier Martin gave the floor to health and medical professionals. -social as well as association representatives and local elected officials during a round table organized in Dijon at the Regional Center for Studies, Actions and Information of Bourgogne-Franche-Comté (CREAI), chaired by Jacques Nodin.
Conceived as an inventory of the current situation, everyone was able to present their experience of palliative care and their approach to a way of dying with dignity. The discussions focused in particular on advance directives as well as on the nuances between assisted suicide and euthanasia.
"The quiet debate on the place of death in our society"
At the end of the discussions, Noël-Jean Mazen, a lawyer by profession and president of the Center for Studies for Home Care, Help and Support (CESAAD), offers an initial summary.
"There is the debate on autonomy, it is the central debate. Behind, there is the quiet debate on the place of death in our society. However, for centuries, death was something normal. (…) Death, we wanted to exclude it from our society, like the old, like the disabled.
"The debate is old. Seneca said 2,000 years ago '(…) I choose my house, I also want to choose my death'. Behind it, there are problems in different dimensions. There is the political dimension: (…) you are asked for your opinion, a real opinion, there will be debates for six months. This is progress."
"Some people said 'there have been lots of laws, it stutters'. No, it doesn't stutter. For forty years, everything has changed, our society has changed. (…) We must also assume. (…) The big reform is that we were short term before the advisory committee told us 'medium term'. That's what the debate will be about."
The place of nurses in advanced practice
"The psychological dimension is absolutely essential. It is necessary to start with the training of the medical staff, nurses, not to forget the nurses in advanced practice (IPA) and to create a specialty in the matter. They will be there more easily than the doctor, they will be there to accompany the doctor, to act as an intermediary, it is extremely important that society recognize palliative care as a real specialty.
"The person's opinion must be as free as possible. This means that it takes a long time to explain. However, very often, in the medical world, the doctor does not have time. This is where I also come back to the IPA. We have to be able to go all the way. I personally believe that a time of consultation by a psychologist or a psychiatrist should be useful (…) to confirm or invalidate the freedom of the patient, the fact that there was no pressure from the family, there was no there was no pressure from society and that the person really decided.
Didier Martin notes "a request from some of our fellow citizens for active assistance in dying"
"This is an initiative that we are taking to take stock of how people die today in France, under what conditions, at home, in nursing homes, in hospitals. (…) Reflection is how to die well to get out of the loneliness of some desperate with suicide, to get out of a legal and ethical blockage for certain professions at a time when the law is at a stage. In front of us, there is this general reflection over several weeks, several months, on how things can evolve in the face of a request from some of our fellow citizens for active assistance in dying. It is not the reverse, it is not the caregivers who must make a patient consent to assisted suicide or euthanasia. It's quite the opposite, it's how we can decriminalize euthanasia to meet this demand, with respect for everyone's conscience, with respect for society with, on the one hand, an individual ethic, a request to hear a free choice to be actively helped to die and, on the other hand, a society with principles of collective solidarity for the protection of vulnerable people, whoever they are", explains Didier Martin at the end of the round table.
Fadila Khattabi wants to strengthen access to "quality palliative care"
"We must have a debate with the French," adds Fadila Khattabi, referring to the mobilization of regional economic, social and environmental councils to fuel the reflection. "If we have to change the Claeys-Leonetti law, we must already assess what exists. (…) There is a first work that will be carried out by the social affairs commission. At the same time, I asked the Court of Auditors for a report on palliative care in France and a financial figure. Also, a comparative study with other European countries."
"We know that palliative care in France, there is not equal treatment throughout the territory. There are territories that are very well endowed and others not at all endowed. If we must allow the person to choose their end of life, they must also, upstream, be able to access quality palliative care, which is not the case today. (…) We must be able to allow people to choose their end of life", adds the MP.
"The Kouchner law and the first version of the Leonetti law prohibited therapeutic relentlessness," recalls Didier Martin, "they indicated that there was no obligation for a patient to accept treatment and that the teams should not not pursue unreasonable care to the extent that the prognosis [vital] was very committed and without a therapeutic solution".
"What is taboo is death", notes Didier Martin
"It's still taboo but the French want us to move forward on this subject," insists Fadila Khattabi. "What is taboo is death. That's the big question," rebounds Didier Martin. "In society today, these questions are addressed. We also live in an aging society where progressive neurological diseases develop, where cancer develops at a final stage, where also in the elderly develops a polyinsufficiency of vital functions which make renal dialysis, excessive infusions and chemotherapy. All this is now being addressed by doctors."
"Deep sedation", an "active and legal euthanasia"
"A doctor, professor of resuscitation, co-director of the Regional Ethics Area, answered my question on how deep sedation continues today until death", relates Didier Martin. "He clearly said, 'This is active euthanasia' in that you stop life support and give strong drugs for analgesia and sedation. We are already, in certain extreme situations, resuscitation in particular, in front of an active euthanasia which exists and which is legal.
"This sedation is also practiced in certain palliative care units and in certain home hospitalizations. We cannot say that euthanasia does not exist in France. The euthanasia we are talking about in a possible future bill is to respond to someone whose life-threatening prognosis is very short term, who is facing intolerable suffering and who is asking for either assisted suicide , a lethal injection. That's what it's all about if we take the case of what is happening in Switzerland and what is happening in Belgium, "he continues.
"There is today in France a legal void, therefore an inequality on this ultimate care which is active assistance in dying, an inequality between those who can go to Switzerland or Belgium and those who cannot", points out the deputy.
"It's not about giving license to kill"
"People have to express their will. It is the medical profession that agrees. It is not about getting patients to consent to euthanasia. It is a matter of the medical profession – in a form that remains to be defined and under very strict conditions – being legally authorized to consent to the patient's request for euthanasia. It is not a question of giving license to kill , specifies Didier Martin. "The law must be respected, it is up to us to make the law, that is to say to set the legal framework in which this request can be heard and accepted."
"The law of the Republic is metaphysically neutral"
Among the panel of professionals or civil society actors confronted with people at the end of life, a philosopher took part in the debates. On the other hand, the choice was made by Didier Martin to meet religious during another time of exchanges.
"The bishops of France have spoken of a 'red line' [lire la tribune]. As for the other denominations, the expression is less formal. There will be a time when it will be interesting to hear them because they will express themselves," he says.
And the deputy underlined that "when we make French law, we do not take metaphysical considerations into account. We can hear what society expresses, including through religions, but the law of the Republic is metaphysically neutral".
Debate around the documentary "The words of the end"
During this month of November, the social affairs commission will therefore launch its mission to assess the Claeys-Leonetti law. The report of the Court of Auditors on palliative care is expected in May 2023. At the same time, public debates will take place around active assistance in dying. Possible end-of-life legislation could be debated in parliament in late summer 2023.
As part of this reflection, Didier Martin is organizing a film-debate on November 21 at Darcy, in Dijon, around the documentary "The words of the end" in the presence of Doctor François Damas and the director Agnès Lejeune (read the press release). The film focuses on medical consultations at the end of life and on the legislation in Belgium which has decriminalized euthanasia to allow lethal injections.
Jean-Christophe Tardivon