Published on
Updated
The Inkey List is the brand that decided to say no to imperfections while respecting the skin. It solves every skin problem thanks to the use of cosmetic active ingredients. Are their products effective? I tested two just for you!

Taking care of your skin can quickly become a difficult task. Between external aggressions such as pollution, the appearance of imperfections or skin dryness, our skin can encounter real problems. Results ? The complexion becomes greyish, then it lacks radiance and elasticity. To remedy this, many cosmetic products exist. Starting with those from The Inkey List!
Founded by Colette Newberry and Mark Curry, the young English brand, which was born in 2018, offers treatments to perfect the skin. Know that his specialty is one of a kind! At The Inkey List, accuracy is key. Each product contains mostly only one cosmetic active ingredient to respond to a well-defined problem. Exit the long composition lists, get to the essentials! Eager to learn more about The Inkey List, I decided to test two products.
The brand promise
The Inkey List is on a mission to make beauty routines more specialized and easier to create. Whatever your problem, the brand has the solution to offer you! She didn't do things by halves and surrounded herself with the best dermatologists. Here, the brand innovates and stands out from its competitors. How ? By focusing on a single asset for a product. In addition to advocating quality, The Inkey List wants to simplify formulations for the customer. The latter knows directly what he will bring to his skin. And for good reason, the name of the key ingredient is written on the packaging. On the budget side, the brand claims to be accessible to everyone. We can confirm this because the products do not exceed 25 euros. Incredible, isn't it?
The course of the test
I had the chance to test two products from the brand. On the program: the 20% niacinamide face serum and the succinic acid anti-blemish treatment. Here is a combination of products that promises to have a much brighter complexion.
It is the serum that balances excess sebum and improves skin texture. Designed to reduce the appearance of pores, it is mainly composed of niacinamide. This active ingredient, better known as vitamin B3, is a powerful antioxidant beneficial for the epidermis. It is therefore with pleasure that I am about to use this product for the first time. I first cleanse my skin with a moisturizing cleanser. Once it is clean, I apply a dab of product on my fingers. The product is found on my face and there, I am pleasantly surprised. It is a gel texture that penetrates directly and provides a feeling of freshness. In a few circular movements, the trick is played. Results ? The skin is much brighter and softer. Throughout the day, the product acts without our paying attention to it and regulates sebum. My face is well matified and I can wear make-up without any problem.
Benefits
Its packaging: aesthetically, the black and white tube is very chic. We only want to use it (but also to take a picture of it). At the pump level, no product is wasted.
Its texture: in gel, it is easily applied to the skin and provides a feeling of freshness.
Its composition: incredibly simple, it focuses on niacinamide. The brand avoids mixing several powerful cosmetic active ingredients.
His price : it costs around 17€, a decent sum for a quality anti-blemish treatment.
Its mattifying power: it can be used alone or as a make-up base because it tightens the pores.
The inconvenients
Its capacity: although a single hazelnut is enough to treat the entire face, a 60ml capacity would be perfect for long-term use in a beauty routine.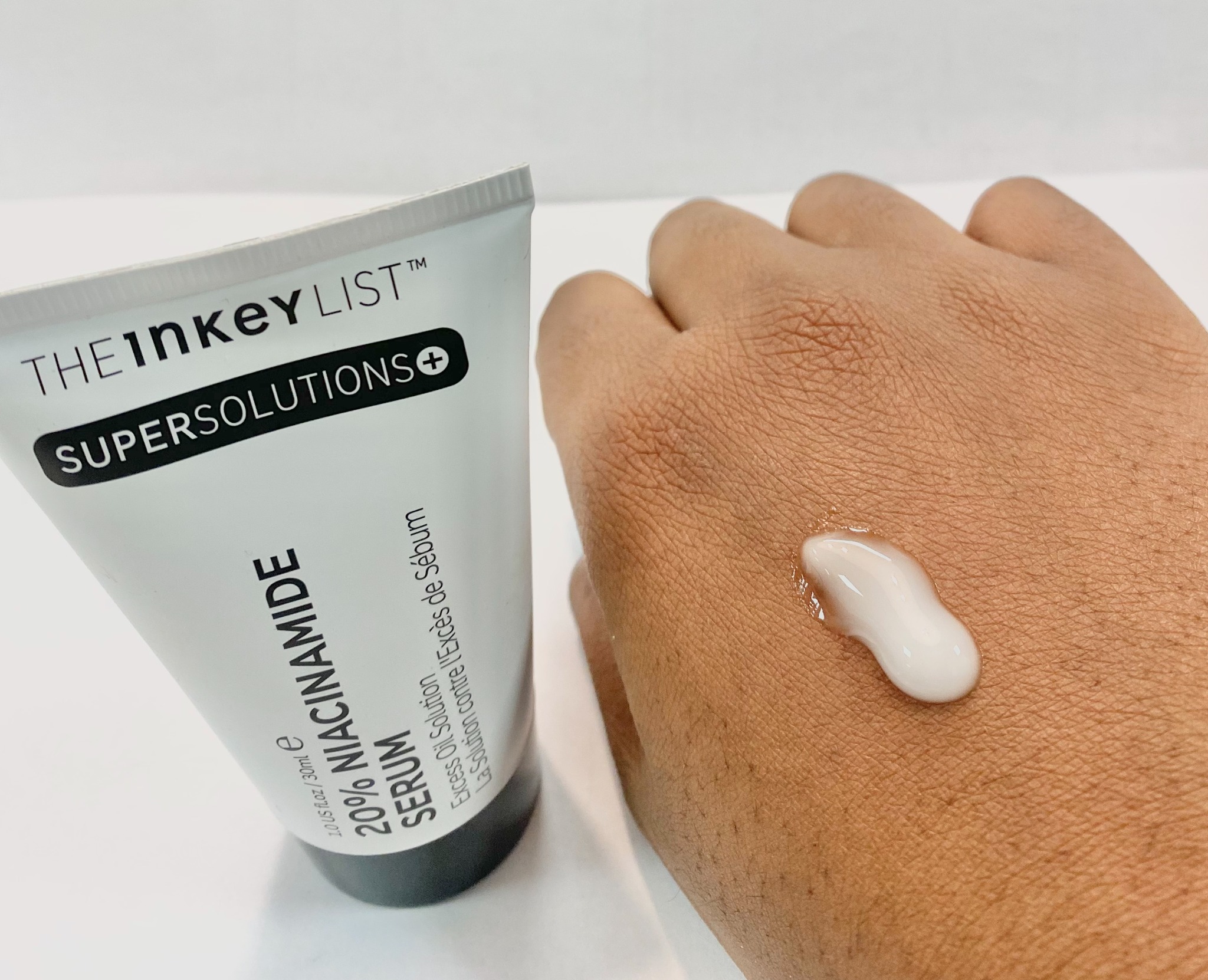 > Buy The Inkey List 20% Niacinamide Serum
This is a treatment that targets imperfections in depth. Having a skin with a few pimples and brown spots, it is timely. It consists of succinic acid, an active ingredient that serves as a gentle peeling to exfoliate the skin and unclog pores. Salicylic acid, sulfur powder and hyaluronic acid are added to the formulation to make the treatment non-drying. I decided to use it at night after cleansing my face. Its texture is very surprising because I am dealing with a light green gel. I apply a hazelnut on my fingers and then on my face. Once applied, the gel does not penetrate immediately. I have to do a lot of circular motions for my skin to fully absorb it. That's why I recommend incorporating it into your evening routine. Although it takes time, the epidermis is ultimately hydrated and mattified. From the first days of application, I feel that my skin is less oily. To reap all the benefits, it takes about 5 weeks of use.
Benefits
Its packaging: I literally fell in love with this black and white tube. Very elegant, we almost want to keep it as a decorative object. At the pump level, no product is wasted. I like !
His color : this gel is out of the ordinary with its green color that really catches the eye. We have fun using it.
His price : it costs less than 10 euros, which is a real advantage for a treatment against imperfections.
Its capacity: it contains only 30ml of product but a single hazelnut is enough to treat the whole face.
The inconvenients
Its penetration: you have to take the time to make it penetrate using circular movements.
Its use : although it is possible to use it throughout the day, I recommend applying it at night. Its slightly too rich texture could weigh down your makeup.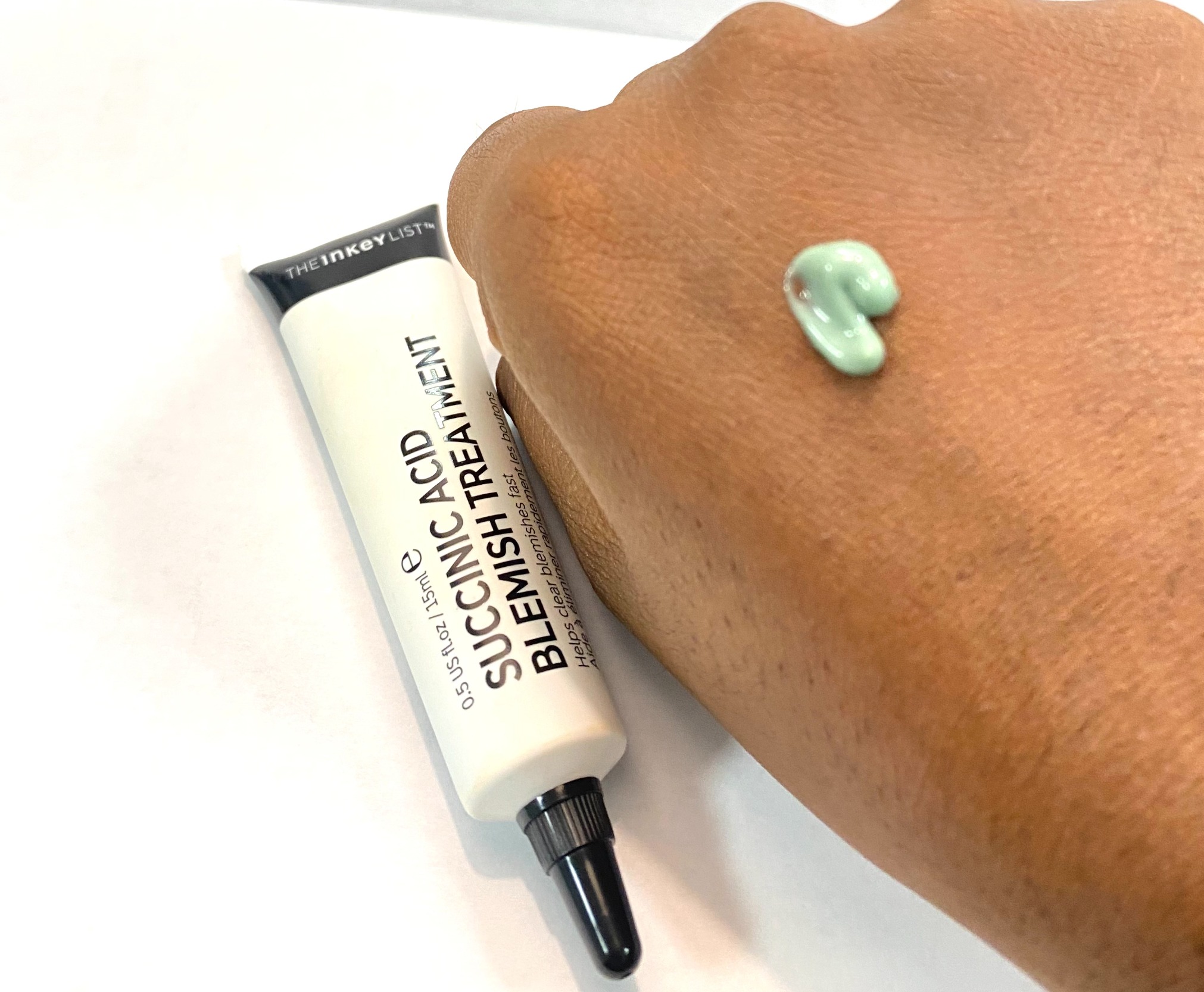 > Shop The Inkey List Succinic Acid Anti-Blemish Treatment
My opinion on The Inkey List
So seduced or not? That's a big yes! With The Inkey List, we go straight to the point and as a user, I feel totally confident. The niacinamide serum meets my expectations in terms of application and results. Having slightly dilated pores, I feel that my skin is treated over the days. Optimal results will come after one month of use. The anti-blemish care, meanwhile, requires more practice but it is worth the detour. By following the right instructions, results will be seen within a few weeks. I therefore recommend this combination of products for those who want to fight against their imperfections.
What products to add to maximize the effects of a The Inkey List routine?
If you want to attack a skin problem in depth, know that there are other products from the brand. The Inkey List has worked to meet everyone's needs!
For acne-prone skin with imperfections and dilated pores
Want to go to war against imperfections? Do not hesitate to fall for the vitamin C serum, perfect for pigment spots. The C-50 serum is more intended for dilated pores, while the lactic acid treatment is suitable for acne-prone skin.
For deeply hydrated and nourished skin
For beautiful hydrated skin without dryness, bet on the hyaluronic acid serum, the Q10 antioxidant serum or the moisturizer with Vitamins B, C and E.
To fight against skin aging, The Inkey List is not to be outdone. We recommend the retinol serum and the peptide moisturizer. As for the eye contour (which should not be neglected), opt for the light cream with retinol.
Why use a The Inkey List routine?
This is the ideal routine for those who want to take care of their skin without inconvenience and hassle. Perfect for beginners and experienced alike, it can solve several problems at the same time. The brand does everything to make the user feel comfortable. The main active ingredient of each product then works its magic on the skin, in particular thanks to its good concentration. It should also be noted that The Inkey List products adapt to all budgets. Thus, you no longer have any excuse to get the skin of your dreams.
.