WHAT IS "SILVER HAIR"?
Translated from English, the "Silver hair" literally means "silver hair". The idea is to bring relief to gray and/or white hair by opting for a cold, pastel or metallic patina and giving them maximum shine. To achieve this effect, the hair is worked from a white fade.
FOR WHO ?
On the catwalks, in magazines or in the street, we can see that there is no age to display the "Silver hair" trend. From young women who want to stand out or follow the trend to fifties who bet on the glam rock effect of a modern and rejuvenating look, everyone goes there. Rather recommended on light hair, this trend adapts however to naturally dark fleeces, provided you are vigilant and rigorous about maintenance, which requires much more attention and regularity.
HOW DO WE DO ?
Essential, the first step is to entrust your head to the expert hands of a colorist trained in this technique in order to proceed with the discoloration. Under no circumstances should you try the experience yourself at home, at the risk of having to go back to the salon to repair the damage. At home, you just take care of your hair with appropriate care before going back to the hairdresser, about every three weeks.
MAINTENANCE OR NOTHING!
Did you know ? white hair lacks pigment and is drier and more brittle in nature, which makes it vulnerable to contact with air, light, heat and pollution: it oxidizes faster, yellows and becomes dull . To limit breakage, it is therefore advisable to use gentle products and preferably, specially dedicated to gray or white hair. To do well, in the shampoo department, we put on a specific treatment that we alternate with a sulfate-free shampoo to prevent the color from bleeding. Ideally, we limit the washes to one per week, or even two if it is really necessary, no more! After careful rinsing, follow up, once a week, with the application of a polar blond or silver repigmenting treatment, designed to intensify the color and neutralize unsightly reflections. Leave to act for a few minutes on towel-dried and detangled hair so as to distribute the material evenly, then rinse thoroughly with cold water, to smooth the scales and thus display maximum shine. Once a month, apply a moisturizing hair mask and daily, place a few drops of nourishing dry oil on the lengths and ends.
Also very important, do not overlook the thermo-protective spray that is sprayed all over the hair before blow-drying to form a shield against heat, pollution and UV rays.
1. Mask So Silver, Matrix, 31 €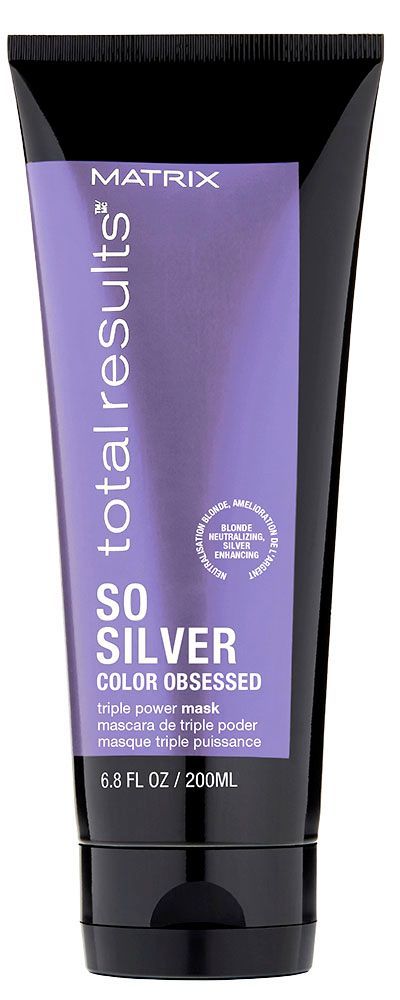 2. Science Silver Shine Shampoo, Carrefour, €1.99
3. Phyto Argent anti-yellowing shampoo, Phyto, €10.50
4. Radiance Care Balm Okara Silver, René Furterer, €16.90
5. Cold blonde repigmenting care – anti-yellowing, Leonor Greyl, €45.20
6. Hair ink, Maison Flamel, €66.50
7. Anti-yellowing mask, Coslys, 21,21 €
8. Age Perfect Color Enhancer "Touch of Silver", L'Oréal Paris, €12.30
9. Silverati Shine Pomade, Oribe, €30.
10. Blond Absolu fortifying thermo-protective serum, Kérastase, €32.90
11. Solid shampoo for white hair, Cosmo Naturel, €7.30.
MAUREEN MARCHAL