Google has announced augmented reality (AR) shopping features, such as a photo library to help you choose the right shade of foundation and the possibility of virtually trying on sneakers at home. Recently, Google search has also been enriched with a visual experience.
Check out the new features announced in detail below.
Find your foundation shade
Thanks to a new AR shopping feature introduced by Google, it's much easier to find the right foundation. The new photo collection, which was created with the help of cosmetics companies, features 148 models featuring a variety of skin tones, ages, genders, face shapes, ethnicities and skin types .
This library, powered by technology from Google, is a big step in transforming the way people buy makeup online by making it easier for you to see how different products will look on you.
Here's how it works
Use Google to find a foundation shade in a range of costs and manufacturers. To help you decide which one is best for you, you'll see how this foundation looks on models with similar skin tones to yours, including before and after photos. Once you've found the foundation that's right for you, all you have to do is choose a merchant to buy it from.
According to Google, photos of foundation on mannequins don't always reflect the variety of buyers, and sometimes you can only find images of the packaging. It is therefore difficult to find the right shade and the right product. More than 60% of online beauty shoppers decided not to purchase an item because they were unsure which shade to choose, and 41% returned an item because it was the wrong shade.
Try the products in 3D and virtual reality
Google is helping customers find more things using 3D and augmented reality. Similar to home product offerings in AR, you can now buy sneakers in AR. Starting today, you can spin, zoom, and view shoes in your area to decide if the color, lace, or sole matches your style.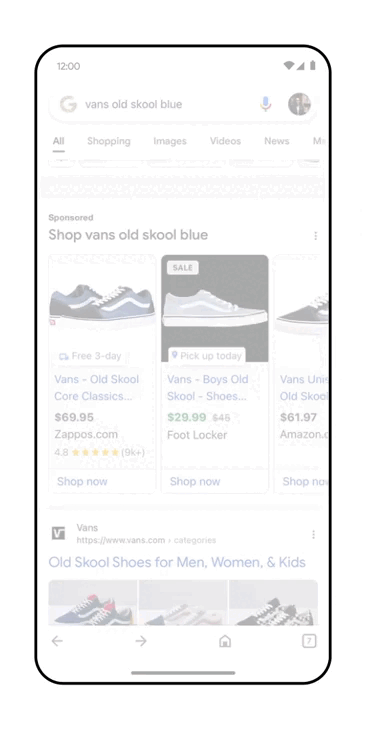 Users can start looking at products from Saucony, VANS and Merrell now, with more coming soon. It was also clarified that any brand with 3D assets for shoes or homewares can now participate. Just search for a type of shoe.
Brands have a significant opportunity with 3D imagery, which shoppers engage with 50% more than static. Google revealed in September that it was investing in new technology to create 3D shoe models, a time-consuming and costly process for businesses.
According to Google, visiting a store cannot be replaced. However, these features can help you get there when you can't. They will continue to make shopping online more realisticso you can buy with confidence and feel like you're there.
Commenting on the announcement, Danielle Buckley, Product Manager, Consumer Shopping, said:
There's something special about shopping in a store: the lights, the scents, the music. While we can't experience all of these little details when shopping online, we're making big improvements to virtual reality shopping on Google to bring the most important part of a store, the product, to life.