"For who would see my vermilion cloud up close! Each point is a star and each star a sun. wrote Victor Hugo. For Adrien Vouillot, a young entrepreneur, these stars are poppy seeds in the middle of vegetable oils and glycerine, with amber notes. In order to reconcile ecology and pleasure, the latter launched his artisanal soap brand Møtsent. From Victor Hugo to Paul Verlaine via Charles Baudelaire, each soap formula is inspired by a poem.
After ten years of working abroad, the Covid repatriated Adrien Vouillot to Franche-Comté. If it is "by chance" that Adrien created his company, his motivation is to put the right words all in poetry, in order to reconcile consumers with ecology. "Sometimes we have the impression that we're being given lessons," says Adrien. But why know them rather than anything else? "There was something that attracted me with the soaps, I wanted something from the region while having this modern, contemporary side" he explains.
An ancestral know-how
Preservatives, foaming agents, synthetic fragrances, parabens… These are the components of an industrial soap. At Møtsent, the soaps made by Adrien are "cold saponified". A technique as old as the world, based on a chemical reaction that occurs by mixing fatty substances (such as vegetable oils and butters) with a strong base based on soda for the manufacture of solid soap, or potash for liquid soap. "Vegetable glycerin produces a moisturizing effect for supple and soft skin," says Adrien. "Unlike Marseille soap, he continues, which is made in a large pot, where salt water is added to remove the soda. Except that the salt water will carry the glycerin, hence the fact that the Marseille soap pulls the skin. Moreover, this type of soap was originally a detergent and not a soap for the skin," emphasizes the young entrepreneur.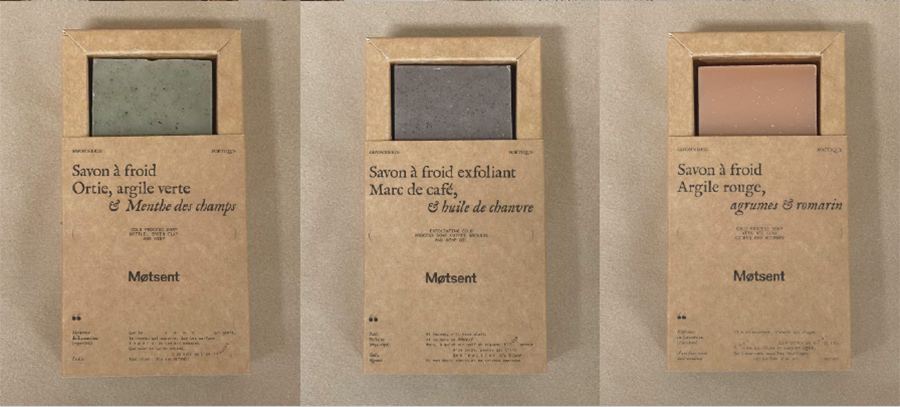 Eco-friendly right down to the packaging!
66.6 kg is the number of plastic waste produced per person per year in France. 552 million is the number of plastic bottles thrown away per bathroom in one year. The question of packaging is therefore just as important as the composition of the product. After studying all the options in terms of eco-responsible packaging, Adrien Vouillot opted for kraft paper packaging (biodegradable) for solid soaps and recycled plastic bottles for liquid soaps. Also, the young man works as much as possible with local people or businesses. The poetic soap factory takes care of your skin while taking care of the planet through an ode to softness and pleasure.
To consult the range of these poetic eco-designed soaps, go to Instagram! A site is in preparation: www.motsent.com
Practical information to contact Adrien the creator of poetic soaps:
07 88 56 87 31
info@mosent.com
4J Chemin de Palente, 25000 Besançon