PRESCRIPTION LAB X IRO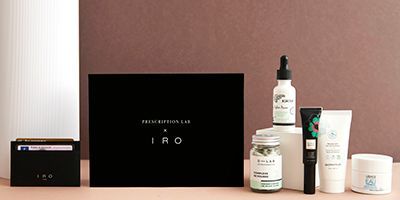 For its November box, Prescription Lab is teaming up with the trendy ready-to-wear brand Iro Paris. In addition to a selection of beauty products chosen for the season (Saève radiance serum, D-Lab hair loss treatment, etc.), a sleek, chic and timeless leather wallet has slipped into your package.
November box, Iro x Prescription Lab, €20.60.
ADOPT X MR MADAME
2The 12 best-sellers of Adopt, the brand of perfumes made in France at affordable prices, have been dressed up with emblematic characters Monsieur Madame. Mrs. Know-it-all, Mrs. Câlin or even Mr. Tickle… Which olfactory profile best represents you?
Eau de parfum 30 ml, Monsieur Madame x Adopt, €9.90.
PAT McGRATH LABS X BRIDGERTON
To celebrate the second season of The Bridgerton Chronicle, Pat McGrath Labs reiterates its collaboration with the hit series, signed Shondaland and Netfl ix by offering a royal collection of 11 makeup products.
Bridgerton II x Pat McGrath Labs collection, exclusively at Sephora, from €33.
KURE BAZAAR X CLARA LUCIANI
On the occasion of its 10th anniversary, the green nail polish brand Kure Bazaar has developed a shade for Clara Luciani, the buzzing French singer. Grenade (in homage to its flagship title) is a red in its own image: luminous, rock and elegant.
Kure Bazaar nail polish, €16.
LANCOME X BEARBRICK
Welcome to Happy, the new Bearbrick resulting from the collaboration with Lancôme. The opportunity to dress up the brand's 3 best-sellers (Clarifi c Essence, Advanced Génifi c serum and L'Absolu Rouge lipstick) with the most hype toy of the moment.
Bearbrick x Lancôme collection, from €36.50.
PAUL & JOE BEAUTY X CINNAMOROLL
Cinnamoroll, the adorable little puppy born on a cloud, imagined by Sanrio, celebrates its 20th birthday at the same time as Paul & Joe. The perfect opportunity for him to meet Gipsy & Nounette, the two cats of the designer of the brand, for a collection of 7 ultra kawaii products.
Cinnamoroll x Paul & Joe Beauté collection, from €10.
THE FREE CREAM X LOUISE MISHA
When the bohemian universe of the ethical brand Louise Misha meets La Crème Libre and its skin-friendly formulas, the result is two eco-responsible boxes, adorned with a signature floral motif, highly desirable for fall.
Boxes Louise Misha x La Crème Libre, from €59.
SHEGLAM X WILLY WONKA
And let's go for the colat show! Budget make-up brand Sheglam dives into the world of Tim Burton with this chewable collection, inspired by the film Charlie and the chocolate factory.
Willy Wonka x Sheglam collection, from €3.49.
MORPHE X ABBY ROBERTS
Guitarist, make-up artist, tiktok artist… Abby Roberts has more than one string to her bow. For his collaboration with Morphe, the British artist with millions of subscribers frees himself from all codes for a collection that is more arty than ever. We fell in love with the set of brushes and the mixing palette, precise but fun!
Abby Roberts x Morphe collection, from €16.
FREDERIC MALLE X PIERRE HARDY
Pierre Hardy, the shoe designer, is stepping into beauty by dressing up Éditions de Parfums Frédéric Malle with his signature print. Graphic and geometric, this limited edition for the holidays oozes style!
Travel spray, 10 ml, Frédéric Malle x Pierre Hardy, €100.
BEAUTY X GANNI SUBMISSION
Arriving just in time for the holidays, this capsule collection of natural glitter makeup is the result of the collaboration between Ganni, the cutting-edge Danish fashion brand, and Submission Beauty. Developed to be biodegradable, these eucalyptus cellulose flakes contain no plastic. A godsend for a reasoned but brilliant New Year's Eve!
Glitter, 6g, Ganni x Submission Beauty, €25.
MAC X MARVEL STUDIOS
MAC X MARVEL STUDIOS Designed for super heroines, this collection of 26 make-up products, with intense and vibrant colors, accompanies the release of Black Panther: Wakanda Forever the latest fi lm from Marvel Studios, in theaters since November 9!
Black Panther Collection: Wakanda Forever, MAC Cosmetics, from €23.50.
Marine Boisset