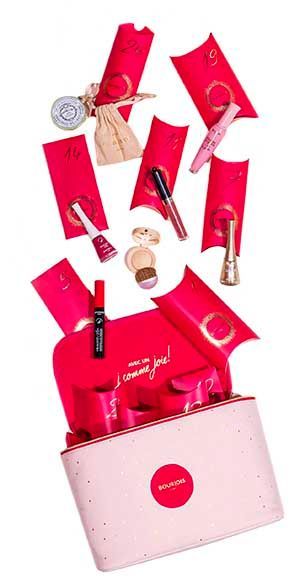 Bourjois (bourjois.fr), 119 €
For who ? Beauty has no age, this Advent vanity is for all the coquettes on the planet!
On the inside : 24 make-up products dedicated to the beauty of the eyes, lips, complexion and nails in sales format, including a jewel to discover on D-Day.
WE love : the last box which contains a surprise signed by Atelier Emma & Chloé, creator of stainless steel jewelry.
Benefit Cosmetics, 70 €
For who ? Those who want to have everything at hand to concoct the most beautiful party look on New Year's Eve.
On the inside : 12 make-up treasures including 2 foundation bases, a bronzer, a healthy glow blush, 4 mascaras, an eyeliner and something to sculpt your eyebrows (pencil and tinted gel) for a "wow!" look! »
WE love : The choice of different products, just to test and train before the big day.
Guinot, 95 €
For who ? Followers of professional treatments recognized for their efficiency and extreme sensoriality.
On the inside : an assortment of 24 face or body treatments, beauty accessories and Masters Colors make-up.
WE love : numbered cotton pouches that can be reused next year with a selection of products of your choice.
Clarins, 112 €
For who ? Those that combine efficiency and well-being thanks to natural treatments with gourmet textures and comforting scents.
On the inside : A selection of best-sellers in mini format, face and body treatments as well as a range of make-up products dedicated to lip beauty.
WE love : This calendar is to build and compose yourself by placing the small gifts in the boxes of our choice.
Paul & Joe Beauty, 129 €
For who ? We love this adorable round box filled with individual pockets, each containing a little treasure of beauty.
On the inside : 2 kits, limited editions of make-up, accessories, face and body care which, in addition to making us beautiful, sublimate the bathroom thanks to their colorful prints full of gaiety.
WE love : the unusual shape of this round calendar which can be used as a box of secrets, jewelry or… love notes!
Rituals, €99.50
For who ? Do you want a relaxing and well-being break, this tree is made for you!
On the inside : Candles, diffuser, treatments dedicated to the pleasures of the bath, the beauty of the face, body and hair with, as a bonus, nestled in box 24, the too cute mini version of the Rêve de Hanami eau de parfum.
WE love : the 3D version of this calendar that blows the spotlight on the real tree!
Zalando, €129.95
For who ? All beauty addicts who wish to treat themselves to inaccessible treatments at a reasonable price.
On the inside : Products that are both cult and luxurious, niche brands to discover as well as a range of novelties, all representing a value of more than €500.
WE love : Made from recycled paper and packaged in 100% recyclable kraft, this calendar respects the environment.
The Mini Macaroon, €64.95
For who ? Varnishes and DIY addicts (Do it Yourself)
On the inside : Everything you need to treat yourself to a gel manicure, worthy of a pro and… that lasts: stickers, 6 mini varnishes, a mini top coat, an LED lamp and its USB wire, a nail file and 10 removal patches .
WE love : The new limited edition polish colors offered by this calendar.
Nocibe, €49.95
For who ? Selfie pros keen to display a "more than perfect" face thanks to face care and make-up.
On the inside : From make-up removal to care, via make-up and accessories, this box contains everything you need for a "zero defect" complexion.
WE love : the box surmounted by a mirror, reusable as a mini dressing table.
The Body Shop, 55 €
For who ? The adventurers who will delight in treatments loaded with ingredients and scents from the four corners of the world.
On the inside : 24 surprises devoted to the pleasures of the bath, the beauty of the face and body, all available in gourmet fragrances.
WE love : this calendar was produced in partnership with the mango seed oil producers of Manorama Industries in India, thus offering them employment prospects and financial independence.
MAUREEN MARCHAL