Fatigue isn't the only factor behind dark circles and puffiness. Although lack of sleep directly impacts the appearance of the eye contour, stress, an unbalanced diet, skin aging and even heredity promote the appearance of blue, brown or purplish areas on this fragile area.
Five times thinner than the skin of the face and poor in collagen and elastin fibers, it marks much more, to the great displeasure of those who wish have a radiant complexioneven in the middle of autumn.
Also to discover: Self-massage of the eye contour: the right gestures for a pretty look
If there really are no miracle tricks to make fine lines disappear or remove dark circleshowever, we can conceal signs of fatigue with a few makeup artist tips. Similarly, certain treatments, necessarily accompanying a balanced lifestyle, prove to be precious allies for invigorating the eye contour. We have tested several new features and here are the ones that are among the best of the moment.
Krème Anti-Fatigue Eye Care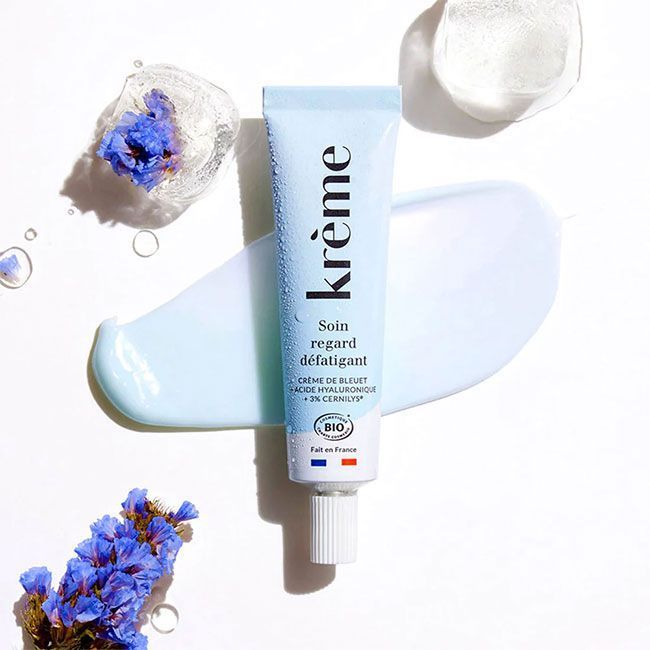 What's in it?
100% natural, this organic treatment (Cosmebio certified) contains no perfume or preservative. Made in France, it highlights 3 plant active ingredients grown in France: hyaluronic acid from Brittany, probiotics taken from Corrèze and blueberries picked from Auvergne. They act together to soothe the eye contour, reduce puffiness, rebalance skin flora and improve skin hydration (+42% for 24 hours).
These anti-fatigue ingredients are associated with a patented active ingredient: Cernilys, dosed at 3%. From French blue cedar, grown in Aude, it stimulates microcirculation and reduces oxidative stress. As a result, 4 times more luminosity and 39% less blue, red and dark circles.
Our opinion on Krème Anti-Fatigue Eye Care
We love the light and melting texture of this new treatment. Just apply a very small amount of its bluish formula – about half a grain of rice – to treat the eye contour, even particularly dehydrated. After a few light pressures, it penetrates quickly and immediately soothes any feelings of discomfort.
Immediately, the epidermis is softer; after a few minutes, the eye contour smoothes out and dark circles are slightly less visible. As the days go by, the skin is smoother and the look seems more open. A welcome cocoon gesture on the arrival of the winter frosts.
Krème Anti-Fatigue Eye Care, €19.50 for 15 ml
On sale in pharmacies, at Monoprix and on kreme-paris.com
Sève Vitale Regard Anti-fatigue Eye Serum by Oppidum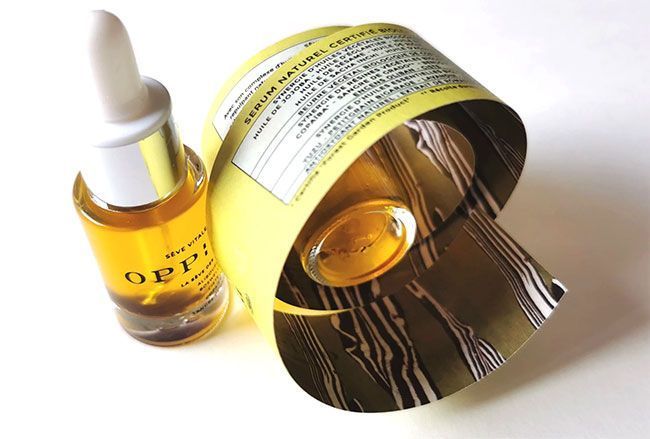 What's in it?
100% natural, 100% organic, vegan and completely water-free – like all skincare products from the very attractive Tarn brand Oppidum – this eye serum is packed with precious active ingredients. In its oily base (Rice bran, Jojoba, Ricin, Sacha Inchi…) are coiled resins (Olibanum incense, Siam Benzoin, Labdanum…), plant extracts (Jasmine flowers, Rosemary leaves) and specifically selected essential oils (Yuzu, Sweet Fennel seeds, Yuzu bark…).
Our opinion on Sève Vitale Regard Anti-fatigue Eye Serum by Oppidum
Initially, the idea of ​​applying oil to the eye contour can be confusing. However, from the first use, we were conquered. What a pleasure to massage this delicate area to wake it up in the morning and pamper it in the evening – a simple drop is enough!
Rich enough to nourish and promote hydration, its texture can, fortunately, be forgotten once it has penetrated the epidermis. Make-up can be applied a few minutes after application without a greasy effect. Smoothed, the eye contour seems less dry, firmer, more soothed. The treatment brings real luminosity to the eyes and puffiness is reduced under the effect of tensor and draining active ingredients. It's one of our favorites of the season.
Sève Vitale Regard Anti-fatigue Eye Serum, Oppidum, €45 for 5 ml
On sale in a selection of natural shops and on oppidum-france.com.
Talika Eye Detox Dark Circles and Puffiness Gel

What's in it?
Concocted with 95% natural ingredients, this bestseller launched in 2005 has recently been reformulated. Putting an extract of brown algae, Chromadetox, in the spotlight, it promotes good microcirculation in the eye contour and reduces redness. Adenosine and Caffeine also tone the epidermis, while Cornflower floral water and hyaluronic acid soothe and smooth it.
Our opinion on Talika Eye Detox dark circles and puffiness gel
Very fresh, this gel instantly awakens the eyes. Penetrating quickly, it allows you to apply your concealer shortly after, without forming fluff. Particularly suitable for young and dehydrated skin, it softens the eye contour and depuffs it, while slightly smoothing the first fine lines. An ally of choice when you want to reduce your puffiness in a few minutes!
Eye Detox dark circles and puffiness gel, Talika, €24.90 for 10 ml
On sale in parapharmacies, at Sephora and on talika.fr